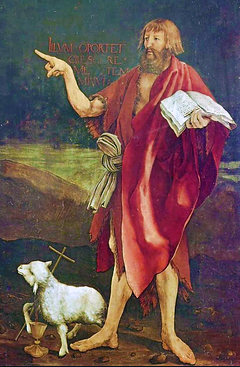 Lamb of God
2nd Sunday of Ordinary Time (A)
(Jn 1:29-34)

John the Baptist had a special calling. God revealed to him that "a man is coming after you who ranks ahead of you because he existed before you." His mission was to identify that man, and help others find him.

I was once asked by the bishop to pick up a new priest at the airport who was coming to the diocese. How would I recognize him? Unfortunately, the bishop didn't have too many details. But there was no doubt when the people were coming through the gate and our eyes met: there was an instant recognition among priests, you just know. Of course, it helped that we were both wearing clerics.

When God asked John the Baptist to welcome His Son and bring him to the world, John must have asked God, "how will I recognize him?" And God said, "On whomever you see the Spirit come down and remain, he is the one." John must have baptized thousands of people, but when Jesus of Nazareth came forward he knew. All four Gospels recount how John literally saw the Holy Spirit come upon him like a dove. He immediately recognized the one he had been sent to find. He knew what to look for, and as soon as he saw Jesus, he identified him: "behold, the Lamb of God who takes away the sin of the world."

I think this is our big challenge today. Recognizing Jesus. John the Baptist fulfilled his mission 2000 years ago, clearly identifying Jesus, presenting him to the world, and telling his people to go and follow him. How well are we doing that today? How well do we identify Jesus in our midst? How well do we present him to the world? How well do we get others to follow him?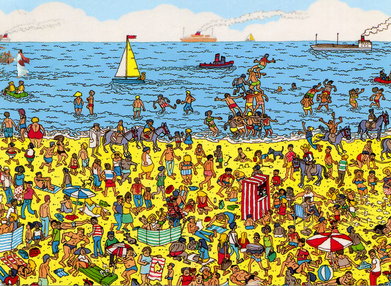 Where is Jesus today? Where do you find him? This is related to the question of which church is the true Church? Each group seems to have their own brand of "Jesus." I like watching televangelists: Jesus is a magic formula who will bring you health and wealth if you learn to say his name right ("JAY-suhz").

To others he is a Bible-based figure who brings salvation easily and quickly when you surrender to him in blind faith. You simply pick up a Bible and read, then say a prayer, but there is little awareness of how Jesus has worked in the Church for 2000 years of history.

To others, Jesus is pretty vague. He teaches about doing good to others and feeling good about yourself. Jesus is completely non-threatening, always affirming, and basically everyone goes to heaven. We must accept everyone and everything, not make life difficult for people, and always be politically correct.

To others, Jesus is an intense emotional experience flowing from conversion, that is expressed in exuberant praise, often with tears and tongues. I remember a billboard in our town once that said, "Let JESUS happen to you."

Going to different denominations, you will find all sorts of tastes and flavors of "Jesus": he is almost like a soft drink: you can find regular and diet, caffeine or caffeine-free. A lot of people just shop around until they find the brand of "Jesus" they like best.

There is no doubt that meeting Jesus results in many of these things, which certain denominations tend to emphasize: blessings & miracles, love of Scripture, faith & surrender, noble intentions and goodwill, charismatic gifts.

But there is only one Jesus. He is not different now from when he walked on the earth. He is not one thing yesterday and a different thing tomorrow. Jesus is not one person for you and another for me. Only one man is Jesus, and he is the one pointed out by John the Baptist, when he said, "Behold, the Lamb of God who takes away the sins of the world."

John didn't say, "Behold, the King! Behold, the miracle worker! Behold, the liberator and savior of the nation!" Even though these things are true, people had great misconceptions about the Messiah, looking for a political liberator, or a wonder worker. Jesus shunned those who treated him that way. Instead, John calls him the Lamb of God.

Of all the titles John could have used, why did he call Jesus the "Lamb?" The lamb is what was sacrificed in the Temple as an offering for sin. The lamb is also what was eaten at the Jewish Passover meal. During a Passover, Jesus became the lamb sacrificed on the cross for the sins of the whole world. At the Last Supper, when all the Jews were eating lamb, Jesus took bread and gave it to his apostles saying "take and eat it, this is my body," and the same with the wine saying, "this is my blood."

Jesus is the Lamb whose blood takes away the sin of the world, and whose flesh is consumed by the faithful. That is who he is; that is why he came. And that is what you find right here in the Eucharist, in the Sacrifice of the Mass.

When you are looking for Jesus, ask yourself, where does John the Baptist today point out Jesus as the "Lamb of God who takes away the sins of the world?" Since the time of the early Church, Christians have always heard these words of John in one place: in the Liturgy of the Mass. Down to the present day, whenever we fulfill Jesus' command to come together and "Do this in memory of me," we proclaim "Behold the Lamb of God who takes away the sins of the world; blessed are those who are called to the supper of the Lamb."

Where is Jesus today? Surely he is present in some way in other places, but only the Catholics imitate John the Baptist who actually pointed him out: "Behold, This is the Lamb of God…" You can only say that when you have the Eucharist.

Look around, go visit all the different churches, then study history and come back to the Catholic Church. Don't settle for diet versions or imitation brands. You want the real thing, the Real Presence.

Our first task, like John the Baptist, is to identify him. It would be good for us to recognize Jesus more clearly in our midst. Sometimes we as Catholics don't recognize Jesus in the Breaking of Bread, even though he is right here.

After identifying him, our next task is to present him to the world. Here too we often fail. People should see Christ in our lives, and the witness of our love and good works. Often, the reason we do not give convincing witness, is because we ourselves never recognized Jesus clearly to begin with.

John prayed and fasted in the desert many years before he recognized Jesus and saw the Holy Spirit. In the same way, our faith must grow and be purified for us to recognize Jesus. Like the Pentecostals we sometimes need that intense charismatic experience to set our hearts on fire. Like the Evangelicals we need to discover the power of God's Holy Word in the Bible. But it must all lead to adoration, to the Holy Eucharist, Jesus himself present in our midst as the "Lamb of God who takes away the sins of the world." Blessed are those who are invited to the supper of the Lamb!

Fr. Glen Mullan