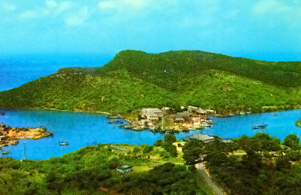 Fr. James Farfaglia talks with
Al Hughes talk about his exciting new book entitled
PARADISE COMMANDER
---
Fr. James:
I enjoyed reading
Paradise Commander
. I know from personal experience that writing a book is quite an amazing adventure. What inspired you to write a book about your own personal conversion?
Al Hughes:
While commanding Antigua Air Station, West Indies, so much happened, often humorous, I often said without real intent, "I could write a book!" As my conversion began with a flood of miraculous events, "I could write a book" began to take hold of my life. From time to time I wrote notes and snippets, drafted chapters; established a chapter sequence that kept changing on me. The manuscript was a long time coming. In retrospect,
Paradise Commander
could not have been completed without the insights gained in my religious calling: my post- Air Force 25 year avocation as a lay catechist and retreat master.
Fr. James:
In the preamble of your book you write, "It was no surprise that from the ripe old age of 14, I declared myself an agnostic." Can you explain to me and to our Catholic Online readers what it is like to be an agnostic? What goes on inside the soul of someone who claims to be an agnostic?
Al Hughes:
In the epilogue, I mention the existence of unknown unknowns. There are many facts and issues we do not know and do not know that we do not know. I was un-churched and un-taught in spiritual matters. You can't delve into matters you don't know exist! I could not ask questions about matters hidden in my personal set of unknown unknowns. However, the indifference and disbelief my parents demonstrated was clear. Juveniles often do as their parents do.
Fr. James:
What about the atheist? Practically speaking, you know, based on the day by day stuff, is there really that much of a difference, or what is the difference?
Al Hughes:
The agnostic knows he can't prove a negative. One only can say that he has no evidence of the positive. (There can be no evidence of nothing!) When the atheist with his own set of unknown unknowns states with conviction that there is no God, he makes a very real faith statement. He cannot prove it, but believes it, often with militant results.
Fr. James:
But, as a self-declared agnostic, you met, fell in love and married your wife Jeannie who has always been a devout Catholic. How does that happen? Is love that blind or is that a part of God's plan that you talk about in your book?
Al Hughes:
You ask a biological question! Nature has its ways. I was not opposed to the faith of others. Before the wedding Mass, the priest was interested in one key issue. Would I interfere with the Christian education of our children? My answer was, "Why would I interfere? I have nothing to offer them, but Jeannie does!" He was satisfied. As to God's plan, our meeting and wedding was so improbable (she from Seattle, me from south Louisiana, meeting at a marina in Florida where we both lived on adjacent sailboats), it would seem in the context of all else that happened, only God could put that scenario together.
Fr. James:
From the very beginning of your book you talk about your extensive military career in the Air Force and your assignment on the beautiful Caribbean island, Antigua, West Indies. Can you give us a quick summary of your military experience and what it was like to live in Antigua?
Al Hughes:
Sure. Through the rank of Captain, I managed development of special purpose radars for Cape Canaveral and the Caribbean air stations. Newly a Major, I was assigned as a Senior Director of the Space Defense Center; later a crew commander of the Ballistic Missile Early Warning System near Fairbanks and still later as Commander of Antigua Air Station. I completed my career as a Lieutenant Colonel, conducting strategic planning for Air Force Systems Command.
Antigua? Paradise! I said it best on page 26. "Characteristic of the Eastern Caribbean, Antigua is an island of easterly trade winds, of swaying palms, cheap rum, and steel bands playing to tourists on moonlit beaches; land of a gentle, long suffering but joyous people of quiet dignity; descendants of African slaves." As a bonus, Antigua was transitioning from colonial status to independence. We worked with the British Empire at its twilight!
Fr. James:
It was at Antigua that you had a profound religious experience that brought you to join the Catholic Church. Although you explain this amazing journey in your book with great detail, can you tell our readers about your conversion experience? I am sure that they will be very moved by your story.
Al Hughes:
I was at an impasse: looking for evidence of God. From page 135, "I was frozen in my dilemma, could not get to God, so The Voice came to me! He broke the ice with a subtle proposition of relationship. I soon realized that knowledge, wisdom and understanding flow from God through relationship, not only or first from my own mental gymnastics!" With relationship established, in short order He delivered a series of unmistakable miracles and directed me to the Catholic Church. After baptism I encountered the Holy Spirit. We committed our lives in total obedience to the will of God. All of this happened between mid-November 1978 and mid-February 1979. He since has guided all our moves and apostolic works: the latest is Paradise Commander.
Fr. James:
Once your conversion took place, what was your wife thinking all of this time? Did she remain quiet and just sit back and watch the whole thing unfold? Did she encourage you? Did she push you a little? Or was your religious experience in Antigua so clear that you did not need any pushing?
Al Hughes:
Jeannie never, ever pushed. After the conversion events began, she admitted that she had been praying for my conversion for eleven years. As the conversion events unfolded and the years went by, she was a participant, not an external witness. She lived it, as did I. We shared information on everything that went on. Still do. Some of that is evident in Paradise Commander.
Fr. James:
What would you say today to people that are searching for the truth? Also, what would you say to people that are considering the Catholic Church as their Church home?
Al Hughes:
Avery Cardinal Dulles once wrote a book titled Models of the Church. He points out that "Church" is thought of by people in various ways: a building, or the hierarchy of the priesthood and so forth.
The best model is the one proposed by Saint Paul. The Church is the assembly of its members as the Body of Christ, with the resurrected Christ as the head.
Since the living head of The Church is the way, the truth and the life (He said so, Himself!), then The Church in union with its head is the Truth. The mission of Christ's own Church is faithfully to teach Christ; not to "evolve, update or modernize" the church to keep pace with secular trends. God does not change. The Church has to be the very definition of orthodoxy. Christ only organized one church. It seems natural that when I posed in prayer the question "Which Church?" the immediate answer was "Your spiritual home is the Roman Catholic Church." Why go anywhere else?
Fr. James:
How has the Charismatic Renewal been influential in your life?
Al Hughes:
Most directly, through the indwelling of the Holy Spirit (Paradise Commander, chapter VIII); secondly, through studies leading to a Benedictine certificate in Spiritual Direction and some of the studies for a Master of Pastoral Ministry at Seattle U. and finally, through long participation with the Southern California Renewal Communities (SCRC), Dominic Berardino, President.
Fr. James:
Since your conversion, you have been very active in the Catholic lay apostolate. You have been very active in the day by day experiences of parish life. What would you say to Catholics that might be struggling with their faith? What would you say to those who are fervent and enthusiastic?
Al Hughes:
I would say, "To know and not to do, is not yet to know." I would quote
Fr. Georges Florovsky
: "The Church gives us not a system, but a key; not a plan of God's city, but the means of entering it. . he who has studied only the plan risks remaining outside and not really finding anything." So get with the program! Pray for Relationship! Find where the work of the Church needs help and serve. You are a member of Christ. Move it! Don't just sit there! Of course you are bored! You aren't doing anything! Read! Study! Explore the City of God! Participate! "To know and not to do, is not yet to know."
Fr. James:
Finally, Al, what hopes do you have for your first book? Are you hoping that it will help a lot of people? Do you have any plans for a second book?
Al Hughes:
It is as you wrote for the back cover, Fr James. "If you are seeking the truth, read this book. If you have found the truth and need some inspiration, read this book." Much of our apostolic work focused on Catholic converts, but there are far more candidates for conversion already in the Church. If I have helped to awaken even a few to embrace the reality of relationship with the Living God, I am content.
A second book? The epilogue of
Paradise Commander
is what we would term in the Air Force, a "Lessons Learned Report." It offers some detail, but is necessarily short. It has planted many seeds which I would like to cultivate. I have a title and a chapter sequence. Time to get back to work! This interview, itself, inspires me to "Get with the program!" one more time.
Fr. James:
Thanks Al for your time and thanks for taking the time to write this excellent book. I am sure that
Paradise Commander
will inspire a lot of people.
Paradise Commander can be purchased online from Amazon.com.
Lt. Colonel Albert E. Hughes, (USAF RETIRED) holds an M.S. (with distinction) in Systems Management from the Air Force Institute of Technology, an M.M. in Pastoral Ministry from Seattle University (Jesuit) and a Certificate in Spiritual Direction. He taught adults for 25 years as a Catholic catechist and retreat master. He lives in Corpus Christi, TX with his wife Jeannie.
http://www.catholic.org/homily/yearoffaith/story.php?id=49770