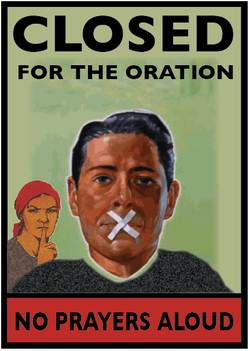 Sometimes everyone knows I am doing something either wrong, disgusting, or just silly, but no one has the courage to tell me. Then, voila, one day I am told and I cringe with shame.
This one seems funny now, so many months after I was told, but it didn't seem funny then.
"Ronda, you annoy at lot of people around you at Mass by whispering the rosary or other prayers. Why do you do that?"
I didn't know I did it, the habit is so automatic. Many years ago, when I first became a Catholic, pre-Vatican II, I noticed old ladies praying the rosary during the Mass. I thought they were kinda too senile to read the prayers in the Missal. I made a vow when I was 25 to pray the rosary every day with the intention that my husband become a Catholic. It took 20 years, but he did become a Catholic. In the meantime I got to love the rosary. They say we all have tension in different parts of the body. Some in the neck, some in the shoulders. Well, my tension is in my hands. I used to knit constantly, even in the dental chair!
At one point I started praying the Jesus prayer on the mercy chaplet beads between things. Since that chaplet bracelet is on my wrist all the time, I slowly drifted into praying on them during Mass.
This was conscious, but I really didn't notice that I had gone further, by whispering the prayers!
I remembering reading some liturgical document after Vatican II that told pastors not to admonish old people who prayed the rosary during Mass. Even if they should be praying the words of the liturgy instead, they were probably too habituated to the older mode that it would just hurt them to insist they change.
But, now, admonished for actually annoying other people next to me, I knew the game was up. The only way I have found to change is to clench my few lower teeth into my upper dentures with passion so that, at least, any prayers I may be using as a sort of mantra, will not be "showing."
The wider relevance of this story is not about praying the Mass, but really about how little we know ourselves!

Do you dare ask people who know you well what little habits you could easily change that could be a relief to them?