My grandson-in-law, Sean, who is in RCIA in Ann Arbor, Michigan reported this
wonderful miracle that happened at his parish Church, St. Thomas: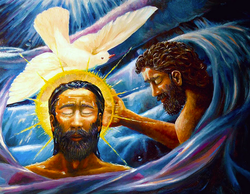 "A few years ago there was an older woman in RCIA. She had trouble believing that baptism actually does something (i.e. confers grace). She just thought it was a nice symbol and that's it.

So, at the Easter Vigil, when we get confirmed and baptized, the priests take parishioners from the pews to wash their feet with baptismal waters.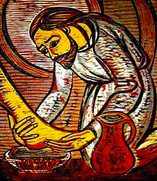 Incidentally, they picked out this woman. She didn't want her feet washed because she had horrible chronic sores on her feet. The priest convinced her to come up anyway and she consented to have one foot washed. So, they washed her foot, and sure enough it was covered with painful, open sores. Then they continued on with the ceremony, baptized her and confirmed her and everything. Everyone at church witnessed this.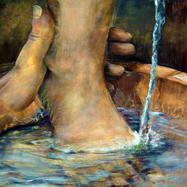 Later that night she went home and forgot about everything. She took off her shoes and realized that her one washed foot was completely healed! But the other foot was still afflicted with sores! She came into church the next day and showed the priest and all the other newly baptized people just how powerful the baptismal waters are!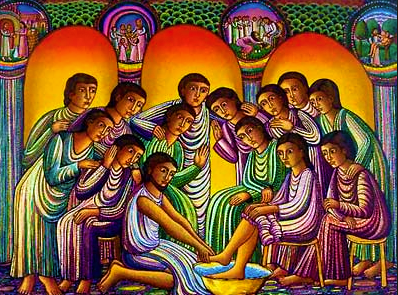 ---
A friend of mine, who is a writer, much influenced by Flannery O'Connor wrote about this true life incident. I am including it not for the sake of ridicule of people like the one featured in the story, but rather as what we used to call "a slice of life." You could smile at the description but then finish by praying for those with such afflictions.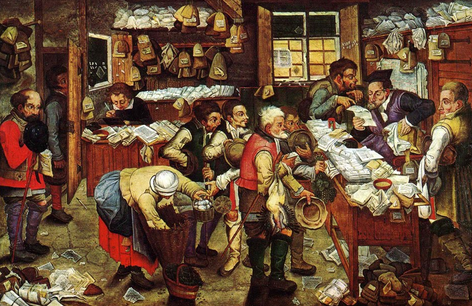 "Should've backed right out the post office doorway when I saw the line of twenty waiting customers. But, no, I *had* to mail the taxes and so became Customer 21. "Breathe through your nose, Pat," I advised myself, "as shallowly as possible. And don't touch anything!"
Fore and aft of me people were sneezing and gurgling phlegm. One couple began arguing in a romance language. Despite an official sign prohibiting cellphone usage, half a dozen defiant types kept right on yacking. Customer 22 coughed on my head. ("Don't touch your hair, Pat! Try not to breathe at all!")
As always, I'd kept my opaque dark glasses on while standing in line so no one could complete the shattered/horrified look on my face. Plus, I could appear to be staring at the ceiling while in fact scrutinizing everybody ahead of me in order to determine who had a bomb.
Customer 17 caught my eye because she was extremely tall, even more unkempt than I, and had the most unusual neck I've ever seen: it went from the tip of her chin to her collarbone in a 45-degree sweep, like a sort of cowling; no jaw definition at all. And she'd styled her reddish hair the way Bette Davis had begun to do in her seventies.
It wasn't until Customer 17's turn at the postal clerk's counter, with her back to me, that I got a glimpse of her physique: linebacker shoulders tapering to impossibly narrow hips which could not carry the spandex pants she was wearing and so their waist had slid down and I found myself gazing upon the upper regions of a hairy buttocks that most certainly belonged to a man. The voice that boomed from Customer 17 was also distinctly male. ("Now would be a good time to stare at the ceiling, Pat!")
I'd no sooner looked away when Customer 17 became offended. The postal clerk had addressed her as "Sir" and she'd growled, "I have a deep voice but I'm ALL Woman!" And before the clerk had finished sneering, "Sor-ry, my mistake," Customer 17 had pulled taut the front of her yellow sweatshirt, indicating the presence of a bosom -or something *like* a bosom. At this, Customer 22 snorted and muttered disgustedly, "Jee-zuss!"
Customer 17 whirled around to confront those of us standing in line. "Who said that?!" she demanded.
Customer 22 took a step forward -the toe of his shoe bumped the heel of mine- and smirked, "I did... LADY." ("Get ready to run, Pat!")
The two postal clerks on duty had backed away from their counters and were exchanging coded glances that either meant 'call the cops' or 'I'm betting five bucks on Customer 22'.
Customer 17 sized-up Customer 22 and in a haughty theatrical voice accused him of being a cad. A CAD! That's what Bette Davis would've said!
If I'd been counting ceiling tiles as I'd meant to be, I would've kept my mouth shut; instead, the sound of that seldom-heard word -in the grotty downtown Hayward post office, no less!- made me laugh out loud.
Customer 17 glared at me. I lifted up my sunglasses (please note my approbation!) and chirped, "Great word, sister!" She smiled and turned back to the postal clerk, who, after all this foreplay, had to inform her that the business she needed to conduct would have to be transacted at the main post office across town.
"Which bus goes there?" she asked.
"I dunno," the clerk replied.
Customer 17 turned back toward the line of impatient customers and asked for bus guidance. When no one said anything, Customer 22 gruffly told her she could walk to the main post office in fifteen minutes. "Just go straight -I mean, west- down D Street and turn left when you come to the police station. The post office is right next door."
"Is that really where it is?" Customer 17 asked the clerk.
"Yes," he said, "but it might be more than a fifteen-minute walk."
"But I CAN walk there?" Customer 17 pressed.
"Yeah, sure," the clerk said. "You probably COULD get there in fifteen minutes," he lied, eyeing the mammoth line that had developed.
Customer 17 left.
Customer 22 barked, "JEEZUS H. KEE-RIST!"
The postal clerk told him he was 'mean', but said it with a smile.
The line began to move again and soon it was my turn at that clerk's counter. "What can I do for you today, young lady?" he asked genially.
I so badly wanted to reply, "I have a soft voice but I'm ALL Man! A retired Air Force Colonel, as a matter of fact, but you may call me 'Sir'!"
If I hadn't suspected that Customer 22 would've torn me to pieces on the spot, and if I'd remembered to breathe shallowly and not touch my hair, I just might've done so..."

---