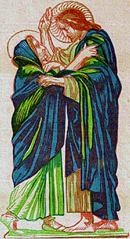 Dear readers,
Quite a few readers liked very much the quotation from my upcoming book: Toward a 21st Century Catholic World View (new title). Since Goodbooks Media plans to publish it, Jim Ridley suggested
I start
a new blog
with chapters from that book. You will find that in a separate blog from now on.
Here I will continue with less organized thoughts.
The one on my mind today is how much affirmation means. We used to call it simply encouragement. When someone expresses delight, joy, or gratitude for something I said, did, or wrote, I feel such happiness. This is not an ego-trip, it is simply that we all need to complete the circle of love with affirmation for gifts received.
If you don't usually affirm people verbally for their good deeds, try and see what a difference it makes to do so.