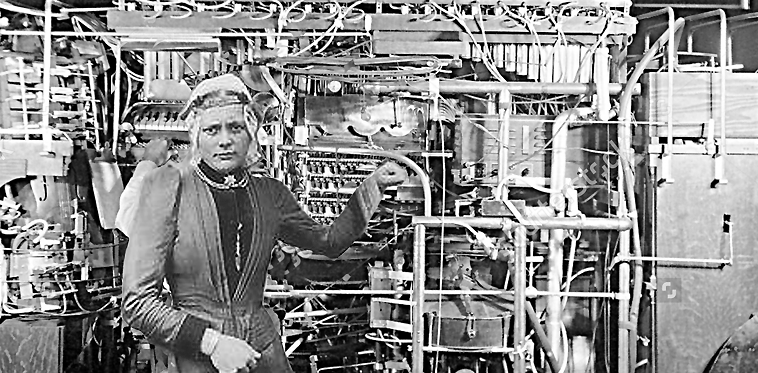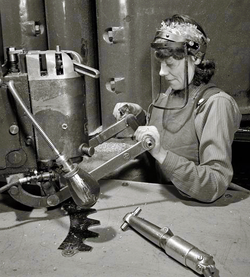 As all my regular readers know, I have this hatred of tech because I am so bad at it. But I found an unexpected reason to love it. Now, when I am teaching, the minute a question arises I have no answer for, someone hits his/her iPad and finds the answer!
One cute one was this. I was teaching my students about God's omnipresence and I thought of the old Gospel Song: There's No Hiding Place Down Here. Immediately they found it on their computer and we could also listen to this old 1930's song!
Ronda: Do you think it is good to do those cutsey manipulative things with people telling them I am manipulating them beforehand?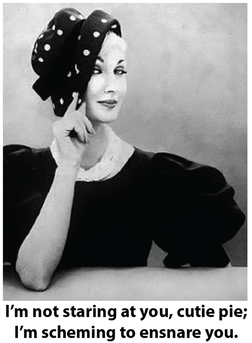 Jesus "seemed" to reply: It would be even holier to patiently await the unfolding of events, but as a bridge those jokes are better than petulant nagging with underlying rage.
---
Some new friends
​ who are very spiritual liked those "messages" from God from 2008
​I entitled God Alone is Enough.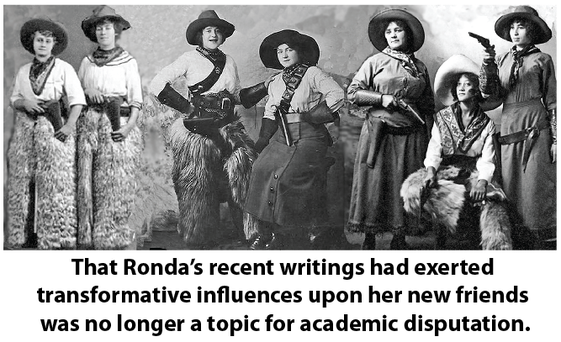 I put lots of paragraphs from them on this Blog a while ago. At the end of the printed version it says that if anyone wants to read some of these that started again in 2014 and are ongoing I would e-mail them.
​Here are some you might like also, remembering that I am not claiming that these had to have come from Jesus, vs. from my unconscious, sub-conscience, or?????? I think always that they are better than anything I think so probably from a good supernatural source.

(Note: I don't quite know what to make of the fact that Jesus seems to want to talk to me a lot in my own lingo except that He did that with others in the past in locutions, talking in their kind of language, such as regal language as in calling Himself her king when talking to Teresa of Avila, who lived in the time of kings.)

May 26, 2014
Ronda: I am reading about the horrible demonic temptations and physical sufferings of Blessed Angela of Foligno.​​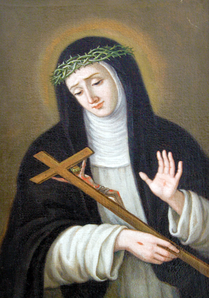 ​ Jesus: Because of your physical and spiritual comparative frailties, I did not permit such temptations for you, but I have given you much mental pain, darkness and aridity to purify you. I am bringing you out of that period into a time of greater union and joy even as the pain of maternal anxiety for your daughters continues. Do not fear! Hour by hour, minute by minute, bring your thoughts and feelings to Me.
Ronda: Thank You for my so wonderful on campus Vietnamese sisters, and so wonderful Distance students lapping up the insights on obstacles to love that the Holy Spirit has given me throughout so many years. (These are in the book Way of Love). It is wonderful that they are bringing forth such good fruit.
Jesus: I have always told you that I wouldn't have anyone to teach the truth if I had to rely only on saints!
Ronda: I see, in my heart, You smiling as you say this.
Jesus: Think of your dear mentor Dietrich Von Hildebrand and how he became much more holy in his last years and also Alice Von Hildebrand now, the same. Do you see that what I am giving you as words in the heart now, 6 years later than the ones you assembled as God Alone, are sweet and tender and less philosophical? That is because you are overflowing with philosophical insights, and what you need more are sweet and tender good thoughts to overcome your anxiety.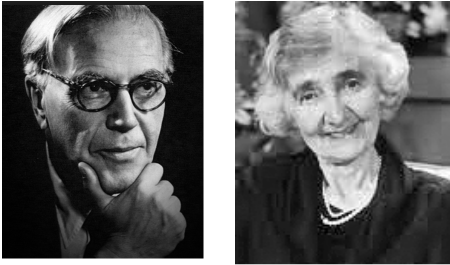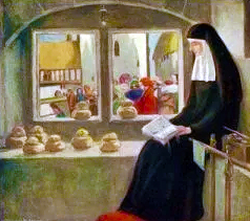 May 27, 2014
Ronda: I know that You are even more present in the chapel in the tabernacle, but somehow I resist going there and prefer my little room for prayer in spite of distractions.

Jesus: I want your room to be as close as possible to an "anchor hold" for you because when the seminarians come back (after the summer break) rarely will the chapel be just you and I. When you don't have guests, I want you to be very, very, close to Me here in your room. I have given you this very small sign of a feeling in the center of your body. It is not a sensational sign like a stigmata or transpiercing, but it is so you can feel drawn inward since you are often much too outward. During your time of quiet prayer, after reading or giving Me your concerns, go into that place and say My holy name, quietly. I cannot give you My peace, as I so wish to do, if you are always excited or agitated by your works and dreams. These are good but they need to be transfused with My peace if you are to be purified and sanctified. Do not do or plan anything you don't have to do until after Holy Mass and make this inward time truly the most desired part of your day. I will talk to you this way during your quiet time to woo you into this new rhythm.
Ronda: Yes. I surrender.

I thought for half a day that everything had come together and that I could launch forth into the future without anxiety.

Jesus: To be My bride is to be like Me both as I was on earth and now as I am in heaven. So, in your soul there must be the partaking of the pain in the hearts of all those you meet; sometimes hidden pain and, at the same time, small pieces of the joy you will one day have in heaven. Do you understand? These fluctuate in you moment by moment and are part of the cross of being more contemplative. I could take away the pain part, but then you would be less like Me, and ultimately much less the holy self you can become with My love expanding even more your heart. Peace is not the absence of pain as you wish it would be. Because you have such conflicts with some others, you want to avoid partaking of the many layers of pain in their hearts and souls, but you cannot become closer to these others without such mutual participation in each other's pain.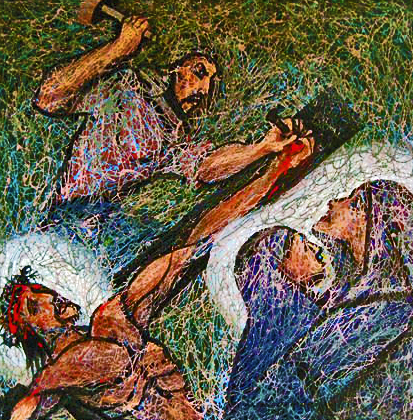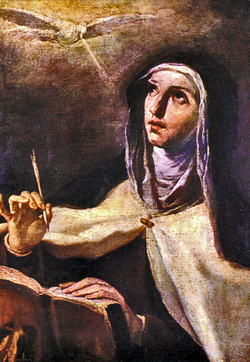 May 22, 2014
Ronda:
A sort of a prayer on who I am:
Oh, dear Jesus, without You I am a co-dependent, rage-aholic, workaholic basket case indeed!
But with You, I was saved from young adult suicidal tendencies to become:
A Catholic, a wife and mother – maybe "C-" in some ways but in others ways, eventually "B+"?,
A witness as a daily communicant,
A Catholic philosophy teacher – about "B+" but with innumerable students who loved me and benefitted greatly,
A Catholic writer – "A-" in terms of popularizing Catholic philosophical and spiritual truth !
A Catholic speaker for parishes, conferences, TV and radio - A – maybe, judging by responses.
A Dedicated widow - "B+" in terms of following my own rule of life.
A good friend to many, many people You have sent to me.
A receptive client for the healing of me by many therapists and spiritual directors!
So, dear Jesus, why do I still feel so insecure?
I hear You tell me – ​

Jesus: "My sweet little Ronda. I love you so much. I let you feel insecure, so that you will the more rush into My arms for comfort and strength. I promise you that if you give me the time each day to come to you in My way, even if You don't always feel My presence or understand, I will carry you over the rest of Your life into My home. Trust! Trust! Trust!
​
I woke up next morning with this thought: Of course, if everything revolves around my roles I feel insecure vs. in a more contemplative mode seeing my life more as being moved into the being of God!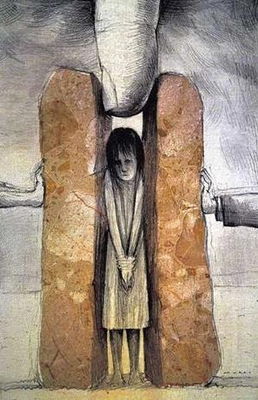 May 23, 2014
Praying today while reading on and off the mystical writings of Bd. Angela of Foligno, it seemed to me that Jesus is telling me:
Jesus: "See how original and unusual Blessed Angela of Foligno was? Can't you see that from your unusual background onward, your life has been unusual yet blessed? You are always imagining that you have to be like some ideal image of a contemplative nun. But I have made you something so different. I want you to be a very active but mystical personality in my Church. That has risks, but also pluses.
Yes, I want to modify certain extremes of a kind of restless, ditzy, as you would say, ADD type. Yes, I want peace for you in the depth of your soul, but meanwhile, you mustn't chide yourself so painfully for being jumpy even during your prayer time.
You are correct in thinking that I want to squeeze from the last decades of your life even more writing, speaking, teaching and witness to others. But, simultaneously, at this time of summer with less obligatory work, I do want for you to come closer to Me, not just in quiet prayer time but all the day. With all this I want you to be joyfully, very joyfully, confident. Every time waves of anxiety course through your body, gently bring it to Me, offering it for your daughters in their present struggles."
​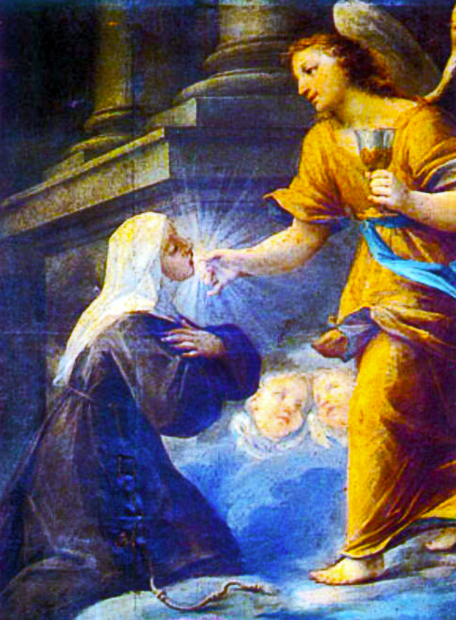 May 25, 2014
I read some Bd. Angela and took a nap. When I awoke I felt a deep intense inner sense of God.
Ronda: Jesus, I am so unsure. I do something full of spontaneity, but then wonder if it is just ego-mania or truly just manic.
Jesus: Because you are so analytic, as a philosophical thinker, you can take absolutely anything and see many different angles and judgments of it. This is a shadow side of the gift. I don't want you to do that. I want to use your whole self with all its facets to build the kingdom of love. Do you see how this analytic side helped you write a friend to keep him from over-reacting about Pope Francis? It is good to pray to the Holy Spirit before doing anything but I will bring good out of it even if you do something that is not perfect. Just bring it to Me every time you have anxiety about it. You cannot have My peace, if you are always analyzing everything too much. Part of this is fear of being disliked so that when you go forth spontaneously you think that someone will judge you harshly. Now, let go of all of this and hide in My heart. See, I am taking you deeper within Me. Can you feel the difference? Instead of wondering if this admired person or that would question this, remember that you are not he and I go differently into him than I do into you. I want you to feel Me inside you so that you will stop obsessing about the future and just know that wherever you go or stay I am there.
Ronda: Yes! Yes! Yes! Jesus, I trust in You.
Jesus: Now, love and do as you will.