When I lived in Sedona, Arizona, many years ago I made friends with a wonderful spiritual woman. A few years ago she wrote her first novel. It is about a New-Age woman and a Catholic woman walking through the famous red rocks of that part of Arizona who are kidnapped. IN the course of the novel I found great insights into the differences between New Age and Catholic thought in a "user-friendly" mode of fiction. Try it you'll love it.
Ever Green by Sandy Anderson














I read a long autobiography of the famous Jesuit, John LaFarge, son of the famous American painter. I found this little gem of spiritual humor:

"Ministering to children in a TB hospital, I met a boy with only 32 cents to his name who had lain four years in a bed on the top floor of the TB pavilion and had only one worry in the world: "Why does God seem to treat people so unequally? "The rich folk in Fifth Avenue, NYC (then a posh part of the city) have only hell to look forward to; yet He's given me, a sinner, His grace and with it the hope of heaven."


A friend commenting on my being always working as a teacher, writer, speaker, etc. said: Ronda, you just keep going like a Duracell battery.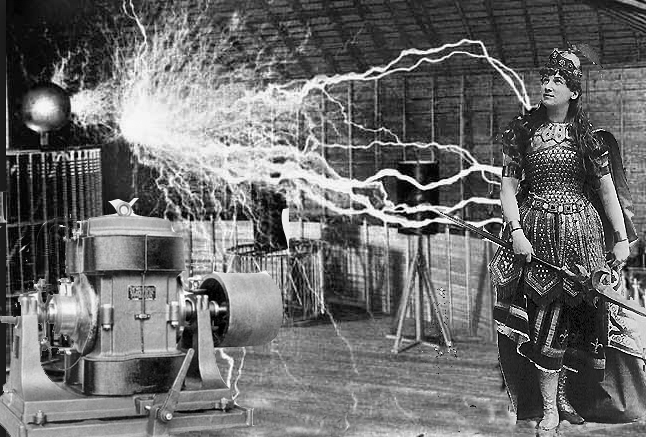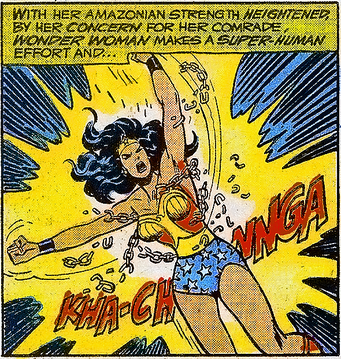 Sept. 13,2015
A terrific homily from the deacon who, with his wife Ruth, wrote with me the book What the Saints Said about Heaven, and who reads this blog, said I could put up this homily of his that I thought very powerful.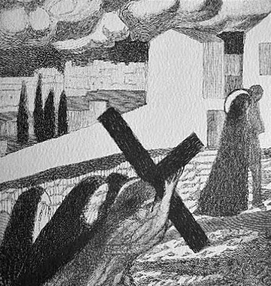 IN THE SPRING OF 2004, MEL GIBSON'S MOVIE TITLED "THE PASSION OF THE CHRIST" WAS RELEASED. MANY OF YOU HAVE NO DOUBT SEEN IT. THIS FILM PORTRAYS THE LAST 12 HOURS OF THE LIFE OF JESUS. THE MOVIE, HOWEVER, WAS NOT WITHOUT CONTROVERSY, BECAUSE IT GIVES A VERY REALISTIC PORTRAYAL OF THE CRUCIFIXION. IT IS A VERY BLOODY FILM, A PORTRAYAL OF OUR LORD'S SUFFERING THAT CAN ONLY BE DESCRIBED AS GRUESOME. IT DOESN'T WHITEWASH THE DETAILS. RATHER, IT TELLS IT LIKE IT IS, IN ALL OF ITS UGLY DREADFULNESS. AND THAT IS PRECISELY WHAT MAKES SOME PEOPLE UNCOMFORTABLE WITH THIS FILM. THEY DON'T LIKE THE REALISM; THE REALISM OF DEATH BY CRUCIFIXION. UNDOUBTEDLY, THAT IS WHAT UPSET THE DISCIPLES IN TODAY'S GOSPEL AS WELL. WE ARE TOLD THAT, IN THE COURSE OF THEIR JOURNEY, JESUS BEGAN TO TEACH THE DISCIPLES THAT HE MUST SUFFER GREATLY, AND BE REJECTED, AND BE KILLED. THIS WAS UPSETTING NEWS, AND THESE DETAILS WERE MORE THAN PETER COULD STAND. SO, PETER TOOK JESUS ASIDE AND BEGAN TO REBUKE HIM. NOW, THE DICTIONARY SAYS THAT TO REBUKE SOMEONE IS TO SPEAK TO THEM IN AN ANGRY AND CRITICAL WAY. IT WAS LIKE PETER WAS SAYING TO JESUS; "ARE YOU OUT OF YOUR MIND?" CRUCIFIXION? YOU MUST BE CRAZY! WE DIDN'T SIGN UP TO TAKE PART IN ANYTHING LIKE THAT!" AND UPON HEARING THESE WORDS, JESUS TURNED THE TABLES AND REBUKED PETER AND SAID, "GET BEHIND ME, SATAN. YOU ARE THINKING NOT AS GOD DOES, BUT AS HUMAN BEINGS DO." FOR "WHOEVER WISHES TO COME AFTER ME MUST DENY HIMSELF, TAKE UP HIS CROSS, AND FOLLOW ME."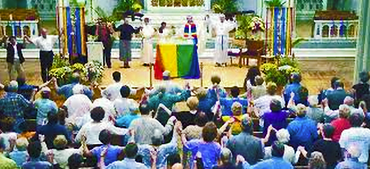 WOW! THAT'S POWERFUL STUFF. THAT'S CHRISTIANITY 101 IN A NUT SHELL. AND SO, IF YOU ARE SQUEAMISH ABOU MERELY WATCHING A PORTRAYAL OF THE CRUCIFIXION OF JESUS IN A FILM, LIKE THE PASSION OF THE CHRIST, THEN LET THESE WORDS OF OUR LORD SINK IN A LITTLE BIT. BECAUSE, ACCORDING TO THE GOSPEL, IT'S NOT JUST TO JESUS THAT THIS KIND OF STUFF IS SUPPOSED TO HAPPEN, BUT WE, HIS FOLLOWERS, CAN EXPECT TO SHARE IN THAT SORT OF TREATMENT AS WELL. BUT CONTEMPORARY CHRISTIANS DON'T SEEM TO EXPECT IT. BECAUSE, OVER THE CENTURIES, AND ESPECIALLY IN THE MODERN ERA IN WHICH WE LIVE - THE WANING DAYS OF INSTITUTIONALIZED CHRISTENDOM - THE DEMANDS OF FOLLOWING CHRIST, OF TAKING UP ONE'S CROSS, HAVE BEEN GREATLY DIMINISHED AND DILUTED IN COMPARISON WITH THIS GOSPEL MANDATE, SO THAT PEOPLE DON'T OBJECT LIKE PETER DID. SUCH IS PARTICULARLY TRUE IN THE SO-CALLED ADVANCED WESTERN NATIONS OF THE WORLD, LIKE THE UNITED STATES. IN SUCH PLACES AS THESE, QUITE OFTEN CHRISTIANITY HAS BEEN SO DOMESTICATED THAT IT RESEMBLES LITTLE MORE THAN A SOCIAL CLUB, A GATHERING OF LIKE MINDED PEOPLE WHOSE PRIMARY PURPOSE WOULD APPEAR TO BE TO MAKE THE WORLD A BETTER PLACE IN WHICH TO LIVE. THIS IS NOTHING NEW, HOWEVER. DECADES AGO THE FAMOUS THEOLOGIAN H. RICHARD NIEBHUR CRITICIZED THE LIBERAL SOCIAL GOSPEL, DESCRIBING ITS MESSAGE AS, "A GOD WITHOUT WRATH, BRINGING MEN WITHOUT SIN, INTO A KINGDOM WITHOUT JUDGMENT, THROUGH THE MINISTRATIONS OF A CHRIST WITHOUT A CROSS." THAT DESCRIPTION DOESN'T MUCH SOUND LIKE THE CHRISTIAN CHURCH TO ME. IT SOUNDS MORE LIKE A SOCIETY OF SOCIAL WORKERS. IT IS PRECISELY THIS CONFUSED, COMPLACENT, SELF-SATISFIED, AND UNCONCERNED SITUATION IN WHICH VAST STRETCHES OF WHAT PASSES AS CONTEMPORARY CHRISTIANITY FINDS ITSELF TODAY: DRAINED OF THE BLOOD OF CHRIST UNTIL IT IS SPIRITUALLY ANEMIC, AND DEVOID OF ANY REAL CONVICTION OF FOLLOWING JESUS IN THE WAY OF THE CROSS. HOW DIFFERENT THIS IS FROM THE EARLY CHURCH. THEY HAD NO SUCH CONFUSION, NO SUCH COMPLACENCY, NO SUCH LETHARGY. THEY KNEW THAT IF THEY WANTED TO BE AUTHENTIC FOLLOWERS OF JESUS, THEY HAD TO COMPLETELY DEDICATE THEMSELVES TO THE GOSPEL. THEY KNEW THAT IF THEY WANTED TO BE GENUINE FOLLOWERS OF JESUS THEY HAD TO WILLINGLY TAKE UPON THEMSELVES THE PERSECUTIONS AND TRIALS OF THEIR LIVES THAT RESULTED FROM THAT DEDICATION, AND ULTIMATELY BE WILLING TO GIVE THEMSELVES IN SACRIFICE FOR THE CROSS OF THEIR LORD.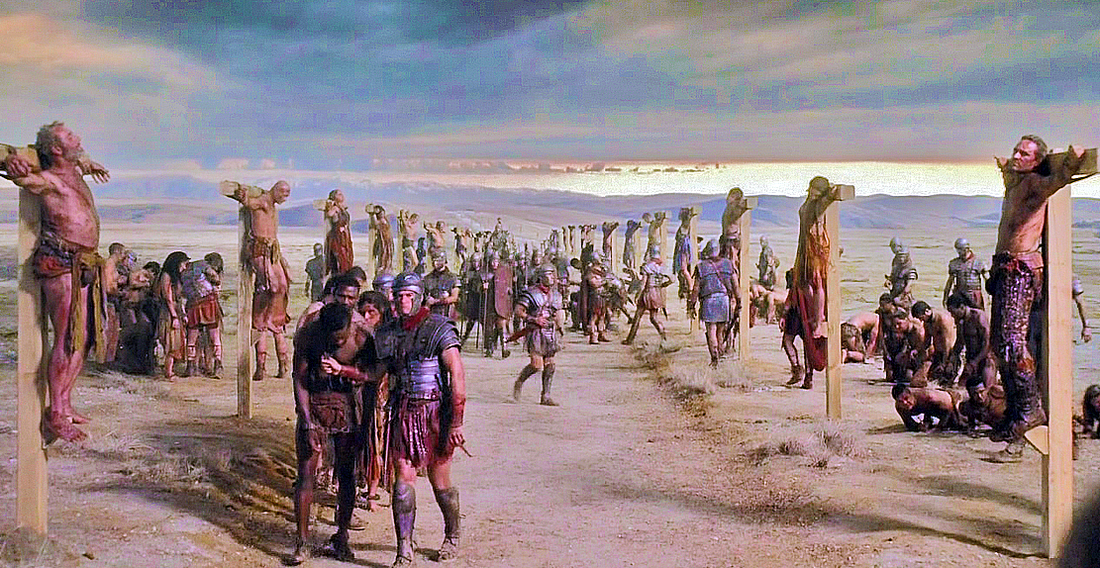 THEY KNEW ALL OF THIS, FOR AFTER ALL, THEY WERE THE CHURCH OF THE MARTYRS. THEY DID NOT COMPROMISE, NOR DID THEY BECOME SELF-SATISFIED AND UNCONCERNED. AND NOT JUST THEM, BUT THROUGHOUT THE CENTURIES WHENEVER THE CHURCH AND THE TRUE FAITH HAS BEEN ATTACKED - FROM WITHIN OR FROM WITHOUT - THERE HAS ALWAYS BEEN THE FAITHFUL REMNANT WHO WOULD NOT BEND THE KNEE TO CAESAR, BUT WHO WILLINGLY DENIED THEMSELVES, TOOK UP THE CROSS, AND FOLLOWED AFTER THEIR LORD. MY FRIENDS, I AM NOT A PROPHET. I HAVE NO CRYSTAL BALL AND NO PARTICULAR GIFT TO LOOK INTO THE FUTURE AND TELL YOU WHAT IS ABOUT TO HAPPEN. MY INSIGHTS ARE SIMPLY MY OWN AND NOT ANYONE ELSES. BUT IF WHAT I FEEL IS ACCURATE, TO PARAPHRASE BETTE DAVIS, "FASTEN YOUR SEAT BELTS, IT'S GOING TO BE A BUMPY RIDE!" YOU SEE, I FEEL THAT THE TIME IN WHICH WE ARE LIVING - THIS VERY AGE - IS A CRITICAL, CRUCIAL ERA FOR THE LIFE OF THE CHURCH AND FOR CHRISTIANITY IN GENERAL. AS SOMEONE RECENTLY SAID: "THE WORLD TODAY IS A HUGE WHITE AND RED MARTYRDOM FACTORY!"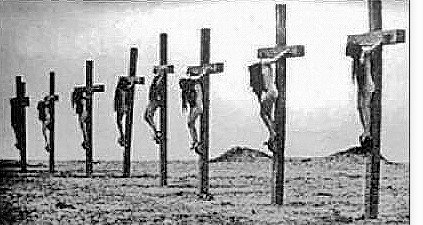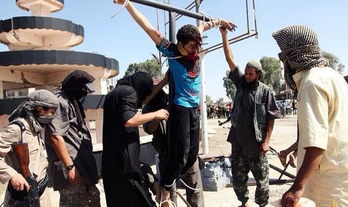 THE TRUTH OF THAT STATEMENT IS READILY APPARENT. ONE EXAMPLE IS THE DEMONIC WORK OF ISIS IN THE MIDDLE EAST - WITH THE RED MARTYRDOM OF SCORES OF CHRISTIANS; THE FORCED EXPULSION OF CHRISTIANS FROM THEIR HOMES; THE DESTRUCTION OF ANCIENT CHRISTIAN HOLY PLACES, AND THE SEXUAL RAPE AND SERVITUDE OF COUNTLESS OTHERS. THESE ARE SIGNS OF THE TIMES. BUT WE DON'T NEED TO GO THAT FAR AFIELD TO FIND SUCH SIGNS. HERE AT HOME, THE IMPOSITION OF SO-CALLED HOMOSEXUAL MARRIAGE UPON THE NATION, THE ADVANCEMENT OF THE RADICAL GAY AGENDA, AND THE ACCOMPANYING DESTRUCTION OF TRADITIONAL MARRIAGE AND FAMILY VALUES IS ANOTHER EXAMPLE. THEN THERE IS THE PERSECUTION - THERE IS NO OTHER WORD FOR IT - OF CHRISTIAN ORGANIZATIONS FOR REFUSING TO PROVIDE THEIR EMPLOYEES ARTIFICIAL CONTRACEPTION AGAINST THEIR RELIGIOUS BELIEFS; AND, OF COURSE, THERE IS THE CONTINUING MURDER OF NOW OVER 60 MILLION UNBORN CHILDREN BY ABORTION, ALONG WITH THE RECENT REVELATION OF THE BARBARIC PRACTICES OF PLANNED PARENTHOOD; AND THE LIST COULD GO ON AND ON. ALL OF THIS POINTS TO A TIME OF TRIAL, A TIME OF TESTING AND TRAVAIL THAT IS COMING UPON THE CHURCH AND UPON FAITHFUL CHRISTIANS. AND IF THIS IS NOT THE ACTUAL END TIMES, EVEN IF THE END DOES NOT OCCUR FOR ANOTHER THOUSAND YEARS, THERE IS STILL THE REALITY OF OUR OWN APPROACHING END. EACH ONE OF US WILL ONE DAY MEET OUR OWN PARTICULAR JUDGMENT AT THE TIME OF OUR DEATH, AND FOR MANY OF US THAT MAY BE SOONER RATHER THAN LATER.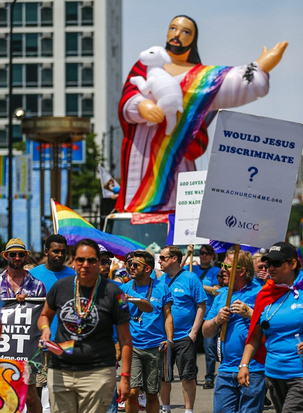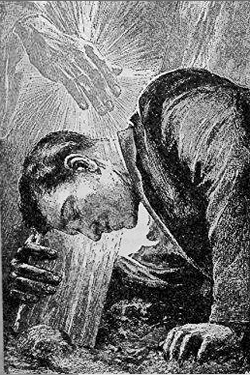 WHAT DO THESE REALITIES SAY TO US, AND HOW DOES TODAY'S GOSPEL SPEAK TO THOSE REALITIES? IF IT SAYS ANYTHING, IT SAYS THAT THE TIME OF HALF MEASURES IS OVER. LUKEWARM, FEEL GOOD CHRISTIANITY SIMPLY WILL NOT DO. COMPLACENCY, SLOTHFULNESS IN THE FAITH, LETHARGY IN OUR RELIGIOUS LIVES, MUDDLING ALONG WITH A GO ALONG TO GET ALONG ATTITUDE, SIMPLY WILL NOT DO, NOT IF WE ARE TO STAND WHEN THE GOING GETS EVEN TOUGHER IN THE DAYS AND YEARS AHEAD. RATHER, WE MUST EXAMINE OUR HEARTS, AND MINDS, AND LIVES AND SEE WHAT IT REALLY IS THAT WE ARE LIVING FOR. IS IT FOR JESUS CHRIST AND THE ONE TRUE FAITH, OR IS IT FOR SOMETHING ELSE, SOMETHING LESSER? TRUE COMMITMENT, TRUE GRIT, IS WHAT IS CALLED FOR IN THESE DAYS, A RECOMMITMENT TO THE TRUTH AND TO LIVING THE TRUTH, COME WHAT MAY, IS WHAT IS NECESSARY IN THESE PERILOUS TIMES. IN OTHER WORDS, NOTHING LESS THAN DENYING OURSELVES, TAKING UP OUR CROSS, AND FOLLOWING IN THE FOOT STEPS OF JESUS WILL DO. NOTHING ELSE WILL SAVE US. NOTHING ELSE WILL BE OUR DEFENSE WHEN WE STAND BEFORE GOD AT THE END TO GIVE AN ACCOUNT OF OUR LIVES. AND SO, I LEAVE YOU WITH THIS ADMONITION: PRAY TO THE HOLY SPIRIT THAT HE WILL ILLUMINATE YOUR HEARTS AND MINDS TO SEE WHERE YOU MUST CHANGE IN ORDER TO BE A GENUINE FOLLOWER OF CHRIST. EXAMINE YOUR CONSCIENCE, AND BE BRUTALLY HONEST WITH YOURSELF. THEN GO TO THE SACRAMENT OF RECONCILIATION AND MAKE A GOOD CONFESSION, AND LEAVE THAT SACRAMENT RECOMMITTED TO THE CHURCH, TO THE MAGISTERIUM, TO THE EUCHARIST, TO THE WORD AND SACRAMENTS, TO PRAYER, TO THE ONE TRUE FAITH, AND TO THE TRUTH, DETERMINED TO LIVE IT OUT IN THOUGHT, WORD AND DEED NO MATTER THE COST, REMEMBERING THAT IT WAS JESUS, NOT DEACON BALLARD, WHO SAID: "WHOEVER WISHES TO COME AFTER ME MUST DENY HIMSELF, TAKE UP HIS CROSS, AND FOLLOW ME. FOR WHOEVER WISHES TO SAVE HIS LIFE WILL LOSE IT, BUT WHOEVER LOSES HIS LIFE FOR MY SAKE, AND THAT OF THE GOSPEL, WILL SAVE IT." AMEN.