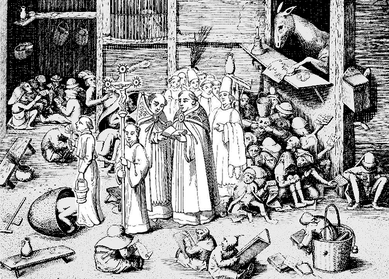 I am in Morganton, North Carolina, visiting one of my daughters and family for Christmas vacation. Daily communicants, such as myself, have a little dilemma on Christmas and New Years – if we go to midnight Mass and there is no daily Mass earlier that day, then we miss one Holy Communion. Some consider such dilemmas to be super-scrupulosity deluxe, but we dailies like to think that it is a special love bond with Jesus never to miss a Holy Communion. Sort of the way happily married couples feel if the spouse is on a trip. We miss the daily real presence of the beloved.
Anyhow, this year my solution was to go to the Hispanic 8 PM Mass Christmas Eve, and then hang around for the midnight Mass where family members would join me. I thought that being a dedicated widow with an hour of quiet prayer in my rule, extra hours in front of the tabernacle between these Masses would be glorious.
Those hours were glorious, but in a way different from what I expected!
Our town has many Guatamalan immigrants in it. The Church is very small. The Hispanic Mass spilled over into the Hall. When I arrived at 8 PM sharp both the chapel and the hall were stuffed with eager Guatamalan families about 750 strong! I never cease to wonder how these mothers and fathers never seem rattled if their kiddies are rolling on the floors during Mass. Sometimes anglos object if such families come to "our" Masses and the parents don't supervise their kids the way we do. Fr. Ken points out that, generally, hispanic kids keep coming to Mass when they are older, whereas ours, perhaps because they associate regimentation with Mass, are more likely to drop out.
Anyhow, I was the only anglo at this 8 PM Mass, since most of us who don't go to the midnight Mass, go to the 5 PM Mass, also full to the gills for Christmas. Immediately, when one of the younger single men saw the "gringa anciana" standing in the hall, he jumped up and gave me his seat. I was touched.
After the guitar Mass, I moved to the chapel expecting it to be empty. No way! For the Hispanics, the Church is their celestial living room. The priest could hardly get into the parish office to deposit the collection for choir members grabbing him to have their photos taken with him as a Christmas joy. Groups of teen-age boys, dressed to the nines, jumped up to the front of the altar and took photos on their I-pods, I-phones, whatever, of themselves in outrageous merry poses. Some of the families, however, brought the youngest child and sat him or her right in the large nativity and took photos of that. An engaged couple posed blissfully before the altar surrounded by well-wishers.
It was an hour before the Guatamalans cleared out of the chapel. Soon came the choir practicing for the midnight Mass. This choir is directed by a former concert organist and features glorious music at Holy Communion such as from composers such as Lassus and Victoria. The serious anglo Midnight Mass group came a half-hour early to be sure to get seats. The lights dimmed just before the Mass and everyone fell silent. A gong was rung and then came the chanting of the martyrology. Such a splendid way to signify that ours is not a mythic religion but a historical happening, re-enacted through the centuries. As Kierkegaard used to say "Christianity as a fairy-tale is charming. As a reality, it is terrifying." I wondered if Pope Francis was echoing that thought of the Danish Lutheran when he described St. Stephen's day right after Christmas as manifesting that Christmas is not a fairy-tale!
"In my house there are many mansions" could be seen as illustrated by the contrast between these 2 Masses. Like little Therese, I like to say "I take everything." Some of us, for many very good reasons, prefer one to the other, but we don't have to choose.
Meanwhile, our 70 year old plus pastor, the only priest in the parish, hardly slept before getting up for the 6:30 AM Mass. Only about 30 people come to that one, but our priest insists on the liturgical beauty of including this specific dawn liturgy. After that came another one at 9 AM so that old folks who don't drive when it is dark would have one to go to. That is 5 Masses in less than 24 hours. I love to recount these stories to the seminarians where I teach lest they think their study and prayer schedule now is too taxing.
On a different note: since I am big into simplicity of life in order to give as much as possible to the starving through Mother Teresa's nuns who surely don't waste any money on "overhead" administrative costs, I always find lavish Christmas giving upsetting. The rest of my family have no such priorities and with 10 around the Christmas tree and each present to be opened singly in view of the whole group, with bathroom and snack breaks, this lasted 7 hours! Each year I vow to spend the following Christmas at a monastery, but love for family always draws me back.
The day after, my oldest grandson, giver of fantastically funny creative gifts, happened to mention that he was going to the local post-office to give blood. Turns out he donates blood every 3 months and was last told by the organization that runs this that he probably saved 18 lives in the last few years. I lowered my head in shame for my harsh judgments of the gift-giving jamboree. I give money to the poor, but this young man is giving his life-blood!
When will I learn to rejoice that I have the sheer grace to easily live simply (I hate the up-keep of things anyhow – what you don't have you don't have to dust!), and rejoice in what others with grace do easily and cut out the judgment!