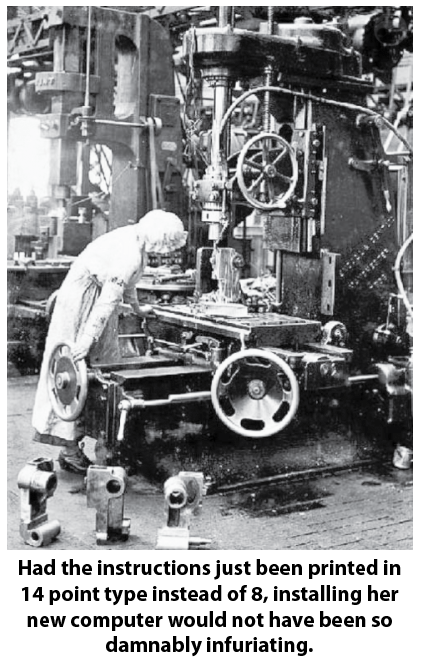 Here are some more thoughts about aging:

When I was a child most old people (anyone over 50) I thought of as sitting in rocking chairs on porches. Since I never liked rocking chairs, I didn't think of them as parts of my own old age, even when it was upon me.
However, of late, I understand this better. Having been a work-a-holic most of my life, I now, as a retired person, when I sit outside my apartment dwelling waiting for rides I find it wonderful just to watch the goings-on around me, such as…
Across the wide Ocean Front street a company is fixing up a large house. Every time I am out waiting for my ride I can watch their progress painting a long wall that guards the mansion from marauders.
I like to gaze at the palm trees in the island between lanes on this same street. The first time I saw palm trees when we lived in California I thought they were kind of silly compared to the great oaks of the Eastern country-side. But staring at them now I have come to see the charm of the wide palms blowing in the wind above the thin, thin, trunk.
Watching workers fixing a dam that was broken during the recent hurricane, I am fascinated to think what must be in the minds of these tough looking men whose daily tasks are so different than mine were in academe.
​I like to read novels, autobiographies, and biographies about people who lived through WWI and WWII. It seems to me that I am wanting to take, as it were, a God's eye view of history, before I leave this world.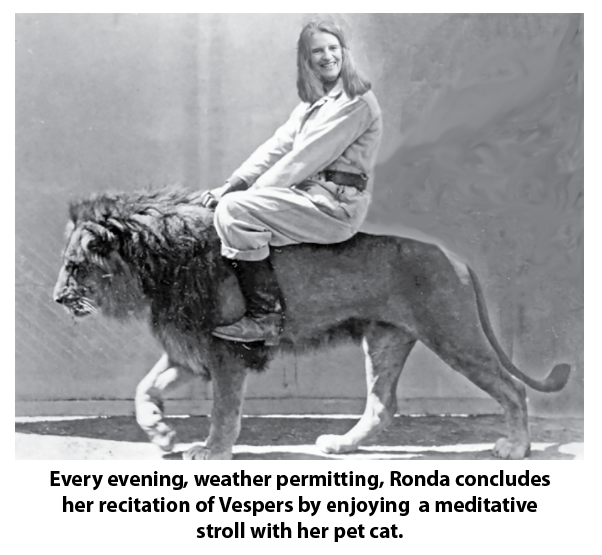 Pet Peeve!
I have come to hate the word "just." Not, of course, when it is about justice, but in the slangy perpetual form of:
"Now, Ronda, it's simple…JUST click on this, followed by that, followed by that, followed by that…and you will arrive at your goal on your nifty computer."
Yeah, sure! I added up 10 steps, most of which include references to things on the screen I have never touched, ever, ever, ever, and you pretend this is simple!!!!
"Now, Ronda, JUST follow the directions on the can, it's simple."
Yeah, sure! The directions are in tiny unreadable print. With my old weak hands I can't push down hard enough to release the top of the can."
"Now, Ronda, to take a cat on the airplane isn't that hard. JUST get sleeping meds for the cat from the vet, and put the cat in a carrier."
Yeah, sure! I don't drive. So, to get to the vet I have to ask one of my wonderful, benevolent volunteer drivers to waste a whole morning schlepping me to the vet, and then, since cat's don't have medicare, paying a fee just to get a tiny jar of liquid sleeping meds…and then try to keep the cat still while holding open its fierce jaws, to pour these meds down her throat…and try to fit me, my carry-on-bag, and the cat carrier into a wheel chair where sometimes the wheel-chair attendants JUST don't show up…"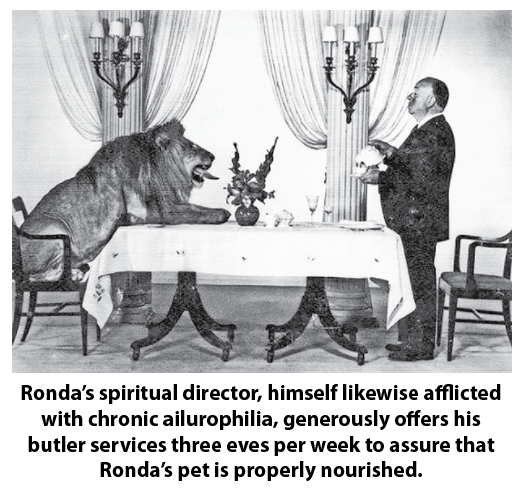 The rage at how knowledgeable, practical people, younger people try to cajole me into accepting impossible tasks leads, of course, to Confession once a week for yelling at the very dear people who are trying to help me!
Deep sigh!
What do you suggest I should JUST do in such situations????
​