I happen to have in one of my classes a South Korean writer and publisher studying for his Post Masters' degree here in the US with us. Here is the terrible thing he wrote in a paper: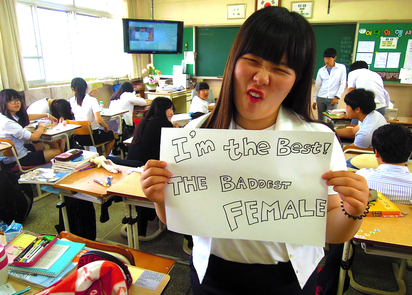 "The educational system in Korea today is an endless battlefield of competition. 'Winner takes it all' is the motto of Korean people; if you are the first in class, then you are considered a success in life. Because of this, children under highly competitive environment obviously grow up in all selfishness and parents support this as "right thing to do" only if their children can do better than others. In order to win over one another, students attend after school classes where Korean students pay significantly high fees to study more so that they can become top of the class. Because teachers can earn more money by teaching these private classes or at these private institutes, students know that the qualification of the teachers are far better in these private institutes than at school and, so, they have no respect for their teachers at school.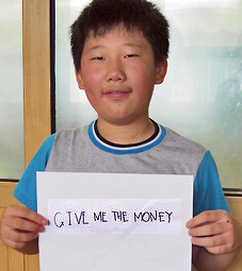 Simply put, in Korea there is no room for moral education. Rather, parents and students have no time for acquisition of virtue. Without a single doubt, you will hear back from students and parents in Korea working to become top of the class even if it meant giving away your virtue. Life's goal for Korean student is simple. Become top of the class, enter best university and most money making career and you are the winner of life.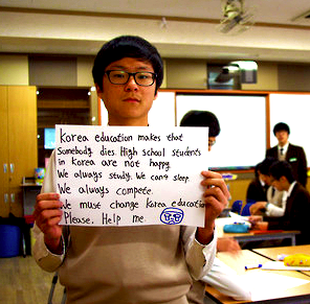 However, such life is not granted for everyone. Children who grew up with this one goal, do not know how to make any decision on their own when they are faced with their challenging environments. The consequence of lack of proper moral education, is that the suicidal rate for Koreans between the age of 10 -19 increased by 57% over the past 10 years, ranking 2nd highest in all of OECD countries. Among this number, 39% of the reason is due to bad school performance and an uncertain future due to bad school grades. This is a serious problem in Korea.


Children of this age group do not have anywhere to rely and ask for help when they are cornered with difficulty because everywhere in society, in school and even at home, they are only expected to "do well". Parents show extreme tolerance towards their children even in the wrongdoings only if they can be the top of the class. But no good intentions of the children is acknowledged but rather ignored when they do not perform well in school. There is a serious problem with the parents and the parenting standard in Korea today. They all want their children to become successful so that they can fulfill the dream parents failed to achieve. But as Carl Gustav Jung said, "the greatest tragedy of the family is the unlived lives of the parents."

How sad! Pray for them and for those tendencies here of parents to feel miserable if their children can't out perform them in one form or another!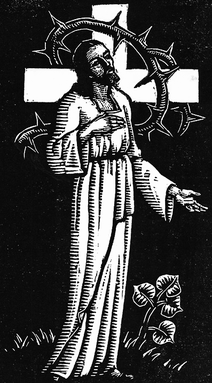 On a brighter note, I am off from Wed. – Easter Monday to Michigan where my grandson-in-law will be baptized. This is the one I probably wrote about who was an atheist socialist until he went to the Peace Corps to Malawi, African where a native Jehovah's Witness gave him the New Testament and he prayed to Jesus, though he didn't believe in God yet, but Jesus took away all his anger toward his family and others. So he figured Jesus must be God and remembered his wife's old granny, me, and her love of the Catholic Church. He came back from Malawi last year eager to become a daily Mass Catholic.




I am going to practice detachment by not bringing "my precious" lap top and just getting into the Triduum instead, so you will get a report on this blog after Easter but maybe not before.





May all you, dear readers, have a blessed Easter time no matter what crosses you are carrying. Let Him carry them with you.