FORWARD

Nine days before Pentecost I prayed a novena to the Holy Spirit each day. In the middle of the night after the Pentecost Liturgy I woke up suddenly at 1:30 AM. It seemed as if the Holy Spirit was speaking to me in my heart.
Since I believe that these are true, I am placing them before the reader. However, it is important that you know that in the tradition of the Roman Catholic
Church of which I am a member, there is no obligation to believe in the validity of any visions or words, audible or "in the heart." Such phenomena come under the title "Private Revelation." Approval of such by Vatican authorities means only that they contain no doctrinal errors or viewpoints dangerous to the faith, not that they are considered to be certainly from God. In any case, private revelation never has the status of Biblical Revelation. For example, Catholics are not required to believe the messages given even in approved apparitions such as those at Lourdes or Fatima.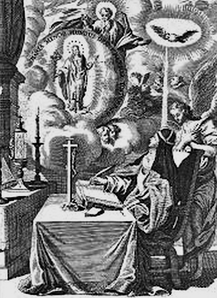 A distinction is also made between messages allegedly given to an individual for their own use and general messages designed to reach the public. Recipients of messages supposedly from God or others not on earth are always subject to the judgment of a spiritual director. Clearly, however, a message such as "God loves you dearly," is less questionable than one such as
"Tomorrow leave our familyforever and go to Jerusalem!" And both of these also differ greatly from ones such as "Tell, the world, the second coming will be in the year 2000!"
Another important note: there are at least two types of visions given to humans: 1) apparitions – these are experienced as outside of the viewer, just as we see natural objects and the people around us.
2) interior visions – these we see within the mind but they are strong, strong images, not like floating, fleeting images from memory or imagination. The same distinctions can be made between audible words that sound as if coming from without, and words inaudible to the ear but seeming to form themselves within the mind.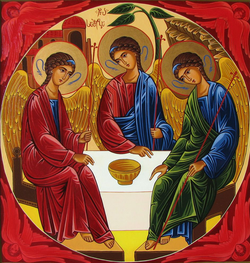 Here are the messages starting on May 13, 2008 which I alleged received as though they were meant to be shared with other. To avoid repetition I will not use the word "alleged" in every paragraph. I will assume the reader understands that I do not think I am infallible in thinking it is really the Holy Spirit or other Presences. Note also that when the Holy Spirit says "Us" or "We" I interpret that to mean a reference to the Trinity. Some early readers found that Us and We and Our disconcerting, seemingly more impersonal than I or Me. I wondered if I should substitute the word God for those words as in change a sentences such as "We want you to become more open to Us" to something like God wants you to become more open to God." I asked the Holy Spirit about this and seemed to get the reply: "No, we want you to become more accustomed to see each member of the Trinity as speaking with one voice for the three, therefore, as We."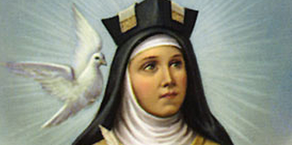 The words in the title: "God Alone: Solo Dios Basta" came to me in Spanish in the song based on the famous lines found in a breviary in the cell of St. Teresa of Avila after her death.
Here is the web-site version in English and Spanish): God alone is enough!

Nada te turbe;
nada te espante;
todo se pasa;
Dios no se muda,
la paciencia
todo lo alcanza.
Quien a Dios tiene,
nada le falta.
Dios basta.

May nothing disturb you!
May nothing astonish you.
Everything passes.
God does not go away.
Patience
can attain anything.
He who has God within,
does not lack anything.
God alone is enough!
May 13, 2008

Holy Spirit:

To prepare for eternity we want you to appreciate the beauty of creation and life even more, but also to relax your grip on it. Let yourself be wafted a little bit above everything, as if you were levitating.

About the Moral Law

St. Paul:
"Straight is the gate and narrow the way…." (Matthew 7:14)

Sin seems like liberation but turns to dust. You experienced this. In these times on the globe there is a clearer understanding of this because of the publicly viewed excesses and catastrophic penalties in the flesh. The hope of joy in procreative marital sex has been veiled because of divorce where the children can become pawns. So, the young people don't feel the secure nest.

There is need for strong open witness about the brambles on the strayed path
and the goodness of the straight path. This is being done in some contemporary
Christian teaching on chastity, where the witnesses are open about their experience. You need freedom in the Spirit to be honest… for the sake of liberation from a society as crazed on this as the pagan societies I preached to.

To be chaste people have to cleave to Jesus as I did with passionate constant prayer.