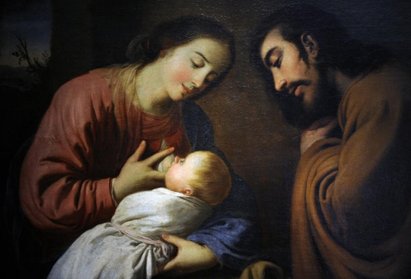 The image I got this Christmas to make into a prayer was that Mother Mary of the Nativity wants to feed my tiny soul – you tiny souls also??




Not a Christmas image at all but coming in response to some typical "holiday" scenes:


Sometimes the opposites among people are the hedonists vs. the wimps. The hedonists deal with the problems of life by immersing themselves in pleasures of all kinds. The wimps, like same, by the way, use money to avoid annoyances, frustrations and pain, as in pay someone to do whatever I don't want to do that is annoying, etc.

Sometimes factored into this opposition are that most hedonists are a lot more sensate (Myers-Briggs personality type) than intellectuals who pay much less attention to sensory pleasures since we live in our heads a great deal of the time.
---
Here are some excerpts from God Alone, the alleged words in the heart I thought I received from the Holy Spirit in 2008. See earlier post about why Catholics don't need to believe such messages and why sometimes it is good to believe them, especially when they are general true ideas such as these are vs. predictions with action items attached which require much more specialized theological discernment as in move to Jerusalem today to await the 2nd Coming:


May 16, 2008

(I woke suddenly with images of war. I have been reading about the Vietnam War
and the Iraq war).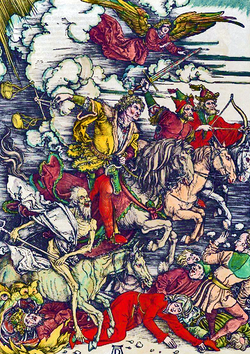 Jesus:

Wars are a shock treatment (we, the Trinity, permit) to break through the dreadful complacency of worldliness. What is important is not your analysis, but the cracking of the shell – the breaking through the illusion that you and others can make a paradise out of combined selfishness.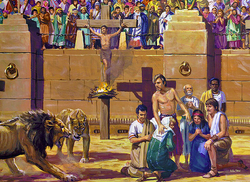 In the soul open to the need for God's love and for salvation, those instincts (for survival) are transformed in solidarity with others as you see in magnified form in the saints, who didn't choose evil as a desperate means for survival.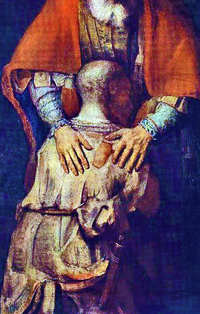 Shame

Jesus:

You are inclined to feel shame because you are vulnerable, instead of shame because you sin. The healing is to accept your creatureliness with childlike simplicity: "O, my Father in heaven, your little child feels weak, uncertain, and miserable. Lord have mercy," and then toddle along through your day as we strengthen you."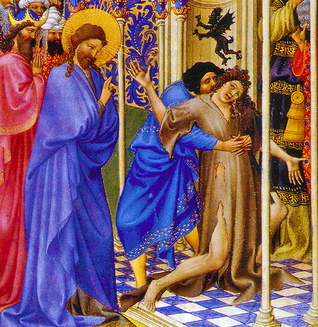 May 17, 2008
Healing
Jesus:
In healing try to see what the demon is of that problem. When I was on earth I often cast out demons. I didn't act as if "demons" was only a symbolic name for vague human forces. So, in asking for healing for yourself and for others of sin, it is helpful to ask to be delivered from that demon say of drugs or anger. It keeps you from belittling the problem or from acting as if these problems are just natural and inevitable reactions to exterior events in your lives.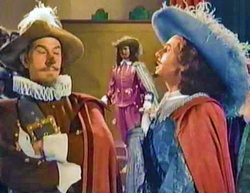 About Conversation

Holy Spirit:
There is a roughness in your talk, not only as in talk among embattled soldiers full of vulgarity and cursing, but also within your families. Teasing can be a form of fondness, but I am advising you to avoid harshness or the indifference of not greeting each other with words or gestures or smiles of welcome. It (rough talk) leads people to become shut up in cold defensiveness and then to seek relief sometimes in the comradeliness of shared addictions or in solitary addictions where there is a note of tenderness toward the self: such as "poor me. This drink will make me feel better, or this masturbation, this over-indulgence in food makes me feel good.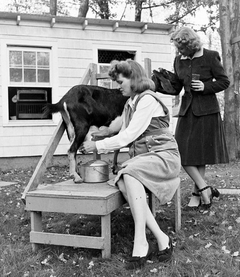 (Note from Ronda: I did not interpret the Holy Spirit to mean ordinary pleasures in life but addictions.)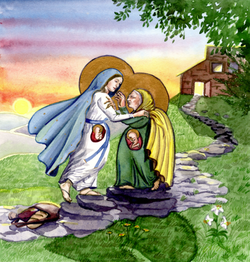 Politeness is good when it is an expression of respect, but it is even better when it overflows from solidarity and goodness of heart towards others in daily life. Watch the way genuinely loving people conduct themselves in these small aspects of life such as light humor, affection, affirmation. Don't write this off as
convention but learn from it and plunge yourself into the source: God the Father, "from whom comes all good gifts" (James 1:17)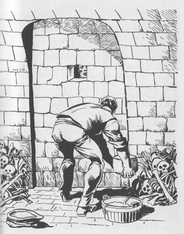 May 18, 2008
Hospitality
Holy Spirit:
Your homes, your doors, your arms, should be open wherever possible. How sad. So many locked houses and locked up personalities, as you say.
Yes, sometimes,locks are necessary. We know that, but it should be a sadness for you that this is so.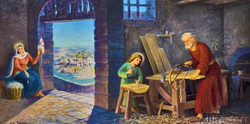 The house of Jesus, Mary, and Joseph was always open. The heart of Mary was wide open to the incarnation in her constant prayer; she let God stretch her –now you are rightly calling her the spiritual mother of the world.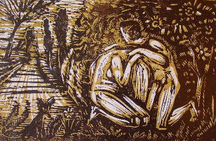 Are some of you even self-protected against God your Father, your Creator? Like Adam and Eve after the Fall, do you hide from God rather than walk with him?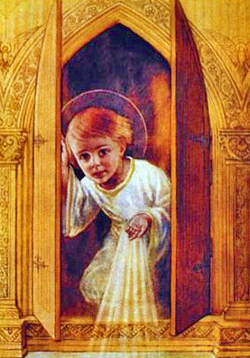 We miss you. A mother of a large family always knows when one does not come to the dinner table. We miss you when you don't come to the Eucharistic table. Unless you respond to the call with an open heart, how can you receive the Eucharist?
You have a thousand reasons to be locked in on yourself. We understand. But we knock. This time, open the door.