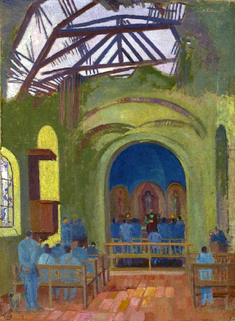 Previous readers of my blogs know that I am working on a massive project. It is a course and a book with the theme of "Reflecting Together: Toward a 21st Century Synthesis." The idea is that the Church of the second half of the 20th century was horribly polarized on many, many issues. Those of us in Catholic academe and those in parish ministries, certainly hope for something less conflicted for our new century. The plan I devised, hopefully from the Holy Spirit, was to put together a course with professors and M.A. students from Holy Apostles where each thinker would write about a particular topic such as liturgy or peace trying to take the best out of 20th century Catholic thinking for an over-arching synthesis.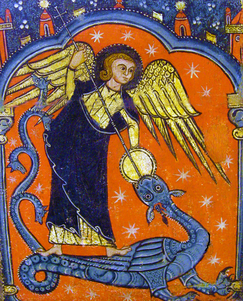 In the meantime, my granddaughter's husband, a former atheist Communist, wants to become a Catholic. He is in RCIA. I asked him to read the chapters of this draft-book to see what the youngest Catholic I know would think. He was to write short comments on each chapter. Here is what he wrote about a chapter on Pastoral Counseling by Marti Armstrong. I thought it so powerful that I wanted my blog readers to read it also:
Sean: "I have a general comment to make on the subject of pastoral counseling: evil exists; it's inside us and outside of us. That truth saves us from the tendency to objectify evil in the people we see around us. Nobody is evil incarnated. This was the fallacy I fell into as an atheist, that evil was best fought by fighting evil people. But evil is more like a disease that has infected us all. To fight the disease we have to heal ourselves and heal the people around us-- not destroy the terminally infected. Fight evil not the people and first learn to fight the evil within then you can take the battle outside yourself."


From Marti's chapter: During this century of great material advances, great conveniences and comforts, pain, especially spiritual and emotional pain, has become more intense and pervasive. As we look around us, and even within ourselves, we see unprecedented material blessings, yet astounding widespread spiritual, mental, and emotional wounds.

Sean: "This is something I really observed coming back to America from Malawi (where Sean was in the Peace Corps) There is an incredible woundedness here, so much fear, hostility and competition. This lack of human solidarity is unknown in a Malawian village. In our places of work we employ empty phrases like "professionalism" to mask our ruthlessness. In our personal relationships we stay cool and keep our distance instead of drawing ever nearer. We are so used to treating other human beings as means unto ends that we fail to see the pain it causes.

"How do we cope with this pain? It seems to me, many of us learn to put on a "thick skin", but in doing so we numb our humanity because we cannot selectively numb parts of ourselves. When we numb one piece we numb the whole.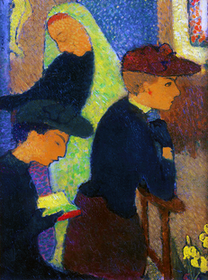 Marti quotes from an atheist: "It is difficult to imagine a set of beliefs more suggestive of mental illness than those that lie at the heart of many of our religious traditions". Similar ideas are being perpetrated by other aggressive atheists, such as Richard Dawkins and the late Christopher Hitchens."

Sean: "I remember the first time I entered a Catholic church when I was in my early twenties and a professed atheist. I'd never been in a church building prior to that day. It was not an event I could easily forget—it was dark inside at the end of the day, but little rays of light shone through the stained-glass and hung in the air thick with incense smoke from an earlier mass. There was a sense of stillness, of vastness, something now I recognize as holiness that I could dismiss, then, but could not ignore. The only sound to disturb the mysterious stillness was from a woman crawling on her knees praying the Stations of the Cross and I could do nothing more than perpetually glance over and think, "This woman is insane, these people are insane." But still there is something you cannot ignore.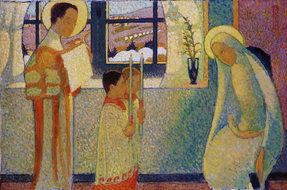 "I don't think these atheists are any different. The mysteries of the church are at the same time incredibly compelling—yet seemingly insane. I think of the many disciples that abandoned Jesus when he revealed to them the necessity of eating his body and drinking his blood. They could not believe that teaching. Rationally, it's nonsensical, but something, nonetheless, draws you in.

"At some point in our journey of faith, I think we all have to deal with this notion of insanity. I draw strength by recalling the saints and holy people and their works of mercy that may well have been dismissed as mental illness. In my own story of conversion, they might say my religious beliefs are insane, but we judge by the fruits and the fruits of my conversion paint the opposite picture: of one saved from mental illness, from addictions, wounded relationships, consuming anger and resentments.

"If God offers us hope and we choose despair; if He offers us joy and we take sorrow; if He offers life but we prefer death then, that, I think, is insane.

Marti: The decision to forgive, not necessarily the feelings of forgiveness, yields a significant and often energizing experience of freedom.

Sean: Before my conversion I was probably the most unforgiving person I'd ever known. Although I didn't realize it at the time, it was a form of self-made bondage. If you are hardhearted and unforgiving of other people's shortcomings, inevitably you end up holding yourself to the same hard-hearted standard. Forgiveness allows you to accept your own faults and love yourself for what you are (which is a glorious creation of God)."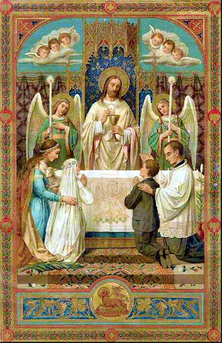 Marti: In the Eucharist, sometimes simply opening up oneself to the Presence and divine healing of our Lord is all that is needed for extraordinary grace, growth and personal inner healing or comforting of past and present pains in life.

Sean: "I can't agree with the author more in terms of the healing that Christ offers. In the first few weeks of my conversion I came to know that healing very well. I won't go into detail, but just say that Christ came in glory into my life, healed my heart of many years of pent up anger and resentment, healed many of my relationships and swept away a couple harmful addictions that had plagued me my whole adult life. I can say that, in the first few weeks of conversion, I experienced Christ mostly as a healer."