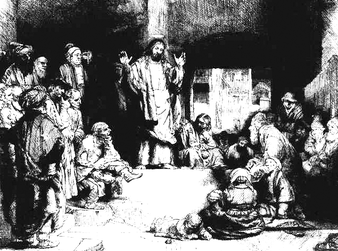 At the daily Mass in the little Church in North Carolina where I was visiting it was so sweet to see the mostly older people coming in a rain storm. Most were men. I was remembering how when I was defending the Church's stand against women priests a seminarian had this simple theory: The Priest is a leader. Most women like to follow men and so do most men so more will follow the priest if he is male.


A friend of mine, Ken Brinker, likes to say: Don't live rent free in other people's heads.

---
From Janis Dunne:
"Hope you find this humorous.

I was remembering my grandmother and the technique she used to keep me from getting out of bed at night once I was put to bed.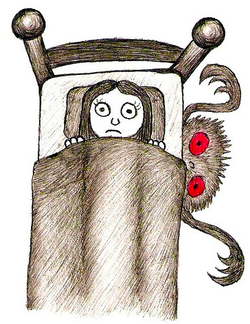 I was about 5 years old when I was visiting my grandmother and staying at her house. Evening came and I was put to bed for the night. I guess I was getting out of bed too many times and annoying her. She told me sternly, in spanish, that if I got out of bed any more, the devil was going to grab my ankles. Wondering where he would come from, I asked her, in english, where he was and she said under the bed. I was stopped in my tracks. As the night wore on, I had fallen asleep but woke up and had to go to the bathroom. A dilemma. I had no choice, I had to go. Thinking like a child, I figured if I jumped far enough, the devil could not grab my ankles. His arms could only be so long. I stood on the edge of the bed, with anxiety and leaped as far as I could. When I landed I was pleased to see that my ankles were free. I ran to the bathroom and when finished, made my way back to the bed. I stopped short, now what do I do? I walked back toward the bathroom, turned and ran toward the bed. As I came to the place where I had previously landed, I jumped and pounced perfectly in the bed. Mission accomplished. I got under the covers and went, very satisfactorily, to sleep. For some reason the thought of the devil being under the bed did not frighten me. Not sure why. I suppose if he would only grab me if I got out of bed, then I was safe. I would do this every time I got out of bed after bedtime and it was foolproof. I kept this up until Jr. High, even though I knew better.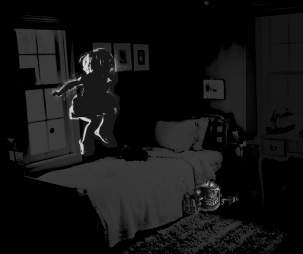 I am not sure if my grandmother ever saw me do this but if she did, I can only imagine her laughing. It did curtail any extra bedtime wanderings. I only got out if I had to and I always used my technique.
I guess the moral of the story is that even if your grandmother tells you something frightening, you survive, behave better and remember her fondly.
It makes me smile to think of her.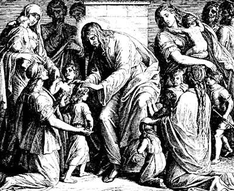 My priest here casually mentioned "Call any time if you need me." I said, "Oh? You check the voice mail box.?"
No, I answer the phone any time of night when no one is in the office to take calls."
What a priest! He is 75 years old and says 4 Masses every weekend and never goes on vacation because "I love my priestly life."


I was in angst over my family members. Jesus seemed to tell me this:
Jesus: Without making any decisions at all, now give each member of the family to Me; or better hold them in your hands, each one and, then, let Me take them from you, praying into Your hands and heart, take them.
"Now say goodbye to the project of trying to change them directly. Every time you think of them or of things you want to tell them, pray, instead, "into Your hands I commend the spirit of _________!"
Peace be with you.