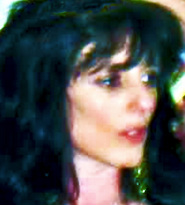 As many of you know, my daughter Carla has lymphoma. I am visiting her for a week at her home in North Carolina. She has been having wonderful mystical experiences of Christ sharing in her suffering, both visual and interior. I thought I would share with you some of the wisdom she is telling me as I sit and pray with her. She calls Index Cards the thoughts she gets in response to experiencing Christ as she stares at an enlarged portrait of the face of Jesus by the Armenian 20th Century painter: Ajemian.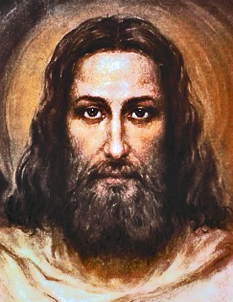 To picture Carla, she is wearing a bright fuschia silk nightgown, with either a casual looking brown wig or a black silk cap that looks like a flapper would wear, with a rosary around her neck. Her eyes are just like the eyes of Jesus in the painting of Ajemian. She is doing air-brush make-up which lasts 3 days.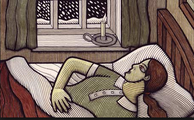 I commented about the cold in the house. Carla's husband, Steve, comes from England and he keeps it 60 degrees. We add spot heaters to where we are sitting or winter clothing. Carla responded quixotically "the cold is coming from within."

Carla's "Index Cards"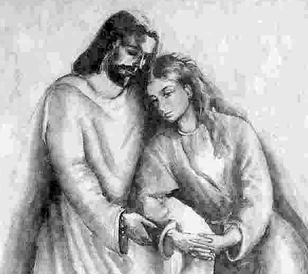 Gratitude: how would it be if someone gives you a wonderful gift and you just say, "Oh, thanks…now let's talk about something else…Instead now (so close to Christ) I feel a simple gratitude for everything.

Christ is more present in this house than before (her lymphoma was diagnosed). You have to shape your eyes to see correctly and then you can see what Christ wants you to do – like special glasses. Without the glasses it's just a pile of sand, but with them, the glittery pieces stick out.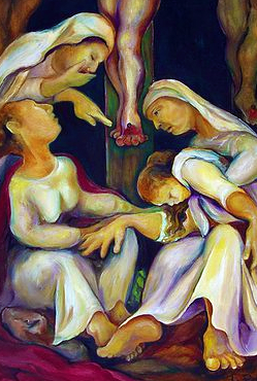 ….Hope is a dangerous thing. Hope is a temptation as well as a blessing. The temptation of hope is that things will work out my way. In the right way, it works out quite differently. That can look terrible. But it could lead to something more wonderful than you can anticipate. Our friend, Pat, says that if you can walk into every situation just with love and no desire to have your name attached, or idea that "I" will fix it, it will always work out well." She is more of an idealist. I think things are more mixed. You have to accept that you are imperfect.

Praying more in situations, I find that lots of good is happening that is not anticipated. The hard part of cancer (or any bad illness) is watching others who love you suffer. The glitter in the sand is seeing what the others do well vs. being upset with what they don't do well. Christ's answer is there.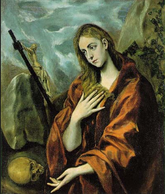 More and more you see the shadow of the self you are going to be and more and more you can see if you want to be that person. I have choices. This is now a unique opportunity of pre-shadowing. You have a shadow behind you, but sometimes you can see a shadow in front of you. About this you have a chance to make some choices.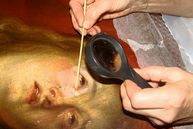 (On the issue of glamour and the cancer here is Carla's back story): I started losing weight over the last 5-10 years. I am 5'5". My biggest weight was 175 (after the last of 5 children was born). Then I became like I was at 14, hating being over-weight. I thought I wanted to be 130 and I went on the Nutra-System diet for 2 months. I got down to 135 and stopped the diet, but I didn't stop losing eight. Every 6 months I lost 2 lbs. and finally was down to 120 lbs. That was a right weight but I went down to 112 with the lymphoma. Now I have gained a little more weight. Suddenly I am a long, lean, model like body – looking the way I thought I always wanted. But my husband likes meat on a woman. I still have 34 DD breasts! I am compensating my husband on the thinness with make-up. I look now like a floweresque person, angelic, so I still look beautiful even if not sexy.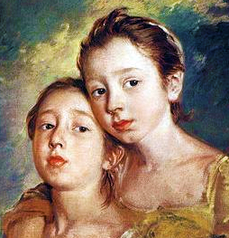 Now with this innocent, flowerlike face, I am back to how I looked at 14 before I tried to look sexy. Now I am more, again, like the poet girl. It is a little game I am playing.
I have great fear that with so much medicine I will not be able to work. To work helps me. My boss (she does computer work for an educational company, designing courses) is solidly behind me. He gave me an advance. (He felt bad that the company hadn't been able to provide health insurance).

(Diana, her identical twin, is here visiting to help). On the psychology of twins: As little girls, identical twins (typically) get a bag of cheese puffs. One holds the bag; the other one selects two puffs and puts them in the hand of the other. Everything has to be divied up and shared. We make room for the qualities of the other, because then we can share. The joy of being a twin is complete sharing.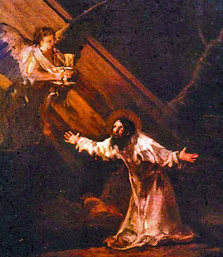 In every moment you have an opportunity for choice of lesser or greater communion with God and each other; with all stories being of infinite importance, so each story is as valuable as your own. All of this is related to some huge story which is God's story, great than we can understand. My little box of interpretations is completely wrong; as when I say: "this person didn't need this!" They are having the same opportunity to move into radiance. We don't get to know if we have done what was needed. There are millions of opportunities to do the thing we are asked to do by God. Surrender! Grow the right shaped eyes to do what becomes obvious without asking why.

I, Ronda, thought of the passage recently in the liturgy of the conversion of St. Paul and Jesus telling the convert to go to Saul even though he knew him to be the persecutor.

You get an impulse toward an action; like a command. You hear this thing that says "do this" that doesn't make sense, but you obey. What gets in our way is so much scrupulosity.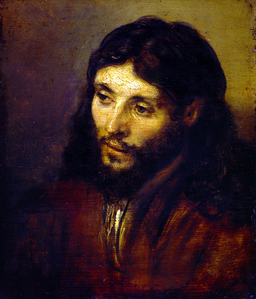 We were looking at Rembrandt's head of Christ. Jesus is not just sweet, but also fierce to go through all he had to do. Jesus is strong, powerful. Rembrandt's face is more like a saint than God (as man).

When we try to solve problems in a human way, we are full of self-justifications, whereas Christ can do something different. I am asking Christ, the real Christ, to reach all those I love, the way he is reaching me. I wanted to think it would be enough to have cancer and face these issues, and not have other problems with people. But I don't have a choice if I want the real persons.