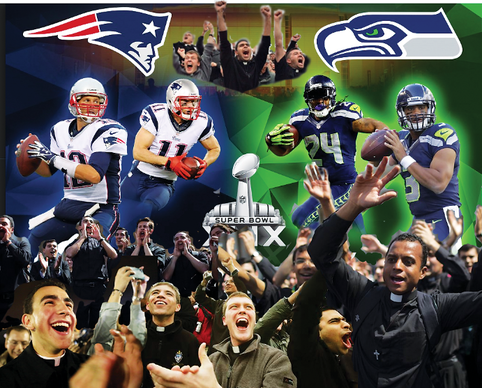 How hilarious to see 90 seminarians dressed in clerics with white collars drinking beer and yelling at the Super Bowl game in our cafeteria! It happens that they came right after evening prayer where seminary formal is required so they didn't change into civies, which they probably could have.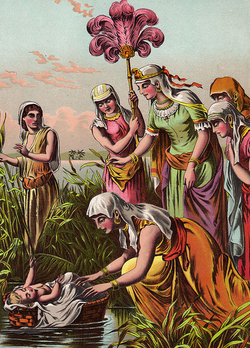 Best news is birth of my first great grand-daughter, Teresa, nickname Katsi in Michigan last week. She is the daughter of the grand-daughter whose husband was converted from atheism in the Peace Corps in Malawi, Africa. You have read some about him on previous blogs. It was a 34 hour labor!!! This was partly due to slow down methods such as labor in a bathtub.

My daughter Diana was present during this long labor and birth. I asked her if she noticed that when you give your whole self to help those you love, you feel the most fulfilled. Saint Pope John Paul II puts it that the purpose of this life on earth is "the sincere gift of self."

Go to 12/18/2014 for more about these "words in the heart" I am adding at the end of each blog.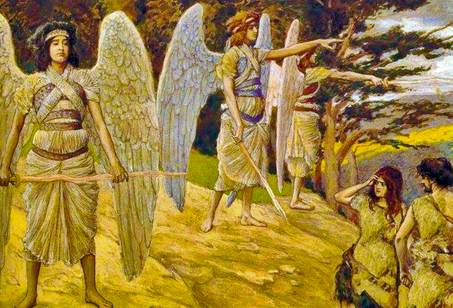 May 30, 2008

Breaking Down Barriers

Holy Spirit:
In the Trinity and in Paradise there were no barriers. Satan created the first barrier in his revolt and then Adam and Eve set up a barrier by disobeying God.
They exiled themselves from Us in this way. The physical exile was an outward barrier, the closed gates guarded by angels. Jesus' "all will be one" prophecy and vision removes the exile. "The veil of the Temple cracks" at the moment of His crucified death. You, as humans experience this pattern in microcosm. You begin a friendship with joy, feeling kinship and openness. Then come the surprising negatives and you exile yourself from each other. Instead you are to run to the heart of Jesus, dragging your image of your friend with you, and beg for healing love. Beg that the love of God in both your hearts can leap over the barriers or break them down.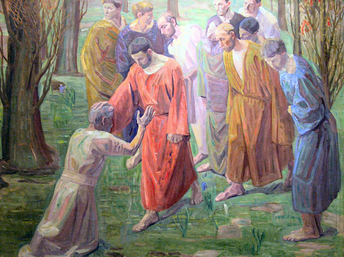 Simply, you could pray: O God, I delighted so much in the light and goodness I saw in my friend. Now he or she seems like a knot of anger and fear with no room for me. I feel pushed out. I don't know how to be with this person. And, perhaps, you could hear Us say something like: Keep lifting him or her into our light and trust that either now, soon, or in eternity, the love you had for one another will be purified and free of all barriers. Then forgive whatever part the other one has in that barrier and ask forgiveness if you are at fault, also. Then ask simply: Today is there anything I can do to show love and understanding to my friend? A prayer, a word of empathy if nothing else? And when you see your friend, ask Us for a clue about what is still possible between you. For example, you might not be best friends, but occasionally you can be an oasis of understanding for each other. Love is a gift from Us, not a bargain the other failed to fulfill, where you got damaged goods for a high price! In a way it is like that, but you were also damaged goods. (As the poet Auden wrote) "Thou shalt love thy crooked neighbor with thy crooked heart."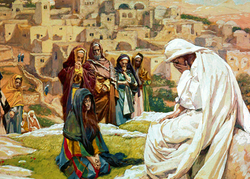 May 31, 2008
Retirement
Holy Spirit:
You think of this with emotions that waver between relief and doubt. We think of it as a big time of preparing you for your eternity. For many of you it is a time of increased physical pain and woes. These we use as purifications and ways to detach you from the earth and ready you for your

voyage to your true home. It shortens the time of purgatory which is a purging of the vileness that narrowed your hearts. You need so much more space for graced love for your hearts to be ready for heaven. It is a wonderful time for witnessing to those younger than you. By your joyful eagerness to be united to us in heaven, they get to see the deeper meaning of life, beyond survival and coping.
Of course, they cannot see this if they think of Our faces as filled with judgment of them. When you cannot avoid seeing their sins and faults, let that look from you be more sad rather than angry. "Dominus flevit." (The Lord wept -looking over Jerusalem) (Luke 19:41)
Think often of the older days in the lives of our saints.
(Ronda: I thought of Teresa of Avila dying with her head on the lap of her favorite Sister-friend. I thought of old Cardinal Newman doggedly persisting, hearing confessions for hours in cold confessionals, of Mother Teresa on her death bed telling us to be grateful for the beautiful things in life such as being able to walk. I thought of John Paul II asked why he still showed himself to Audiences in such terrible condition saying: They must see how I suffer for them.)