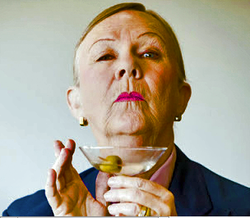 I was upset over something someone did recently. Jesus seemed to tell me: You don't need to become cynical when you see all kinds of desperate moves, you need to be mercifully loving, not superior. Think of those whose failings you see as having "fallen in battle" and you could be a nurse in the hospital with the medicine of the Way of Love. In each moment ask yourself what is the most loving thing to say. It can be funny but not sarcastic and not teasing in the wrong way.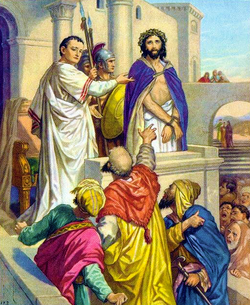 A mentor of mine thought that this insight could provide me with a true victory where instead of feeling superior through psychoanalyzing others in my head if not in word, I could beg for supernatural grace instead. It gives me a momentary satisfaction or pleasure which quickly fades, leaving you empty and bitter, this mentor pointed out. Very soon a lust will rise up for a "new" situation to exploit and the drama is acted out again and again.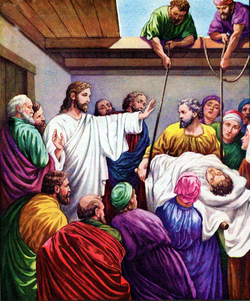 Opposed to this are the true victories. When you participate in these Mercies, the situation is "reordered" by the Holy Spirit, and Ronda is reordered. The fruit of this Ordering is threefold: the people with whom you interact are "gathered" unto Christ; The Gates of Hell are beaten back, and we claim more space for the Kingdom (Christ prophesied that Ronda would do this) and as the personal fruit of Order in Tranquility and the Peace. Further, this victory signifies conformity (Union) with Christ, who is All Good. St. Thomas tells us that union with Jesus is (=) Happiness, then Joy. This Peace and Joy will endure longer and longer as you become better at Spiritual Warfare and win more "true victories".


From God Alone (for an explanation of these messages, see this blog 12/18/2014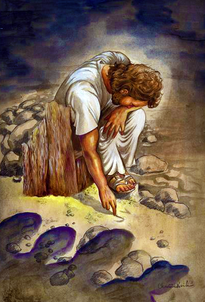 July 5, 2008
Silence
Holy Spirit:

With what words can We teach you the limits of words? We want to teach you not a dull silence but a rich silence; the silence that comes from going out of yourself into ecstatic union with Us and our creation. Tedious chatter comes from your enemy: fear. You try to ward off fear, ultimately fear of death, through wordy plans. Since corpses are silent, you prove to yourselves that you are alive by hearing your own voices. Speech as response is better; more musical. You hear a request, pick up a concern, sense a need. Your voiced response signifies you are ready with helpful love.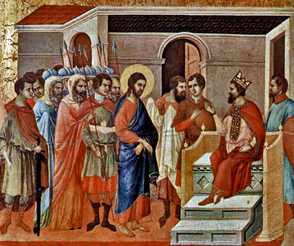 Your tongue cries out against the threat of such seeming restriction. You ask if I would condemn the joys of self-expression? Always you want to justify excess by reference to the evil of its opposite: poverty. We treasure your spontaneous personal voices. What we wish to tame is the scattered noises of your anxiety. Try for just awhile slowing down and questioning what you want to say. Favor words of communion with Us; words of praise of beauties large as the sky, small as a flower; words of thanksgiving; words of humble need. Reject words of anger; words of complaint; words of critique; words of prodding. One day your song will blend into Our song.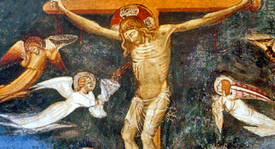 July 6, 2008
Poured Out
Holy Spirit:
It is safe inside the bottle, the libation slowly gaining flavor and strength. The interior life grows in darkness. Then comes the time to let Us bring you out to be served, tested, tasted, relished or, perhaps, spit out! We waste nothing. Think of the angels saving the blood pouring out of the side of your Savior on the crucifix.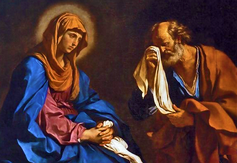 Mary's and your consent to Our plan is at first without boundaries. The specifics of Our plan unfold. At each unexpected turn we leave you free to take back your consent. Appalled, Peter cried out: "I know not that man!" Your weaknesses become part of Our plan. How many find in Peter's tears the impetus to their own repentance!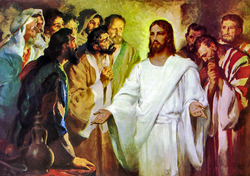 The risen Jesus came right through the locked doors of His hidden disciples. He was eager to reassure them. He will anoint them before leading them forth, themselves, to be poured out. Take courage. Let us lead you into the unknown future.
"The light shines in the darkness and the darkness shall not overcome it." (John 1:5)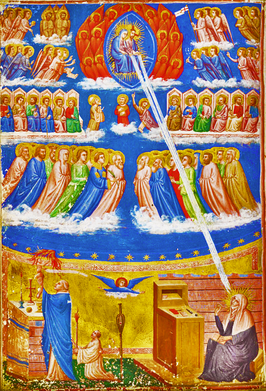 July 7, 2008
Results
Holy Spirit:
You think of results as direct effects of causes. We think more of radiation of power as in light. When you don't see results as you try to witness to Our love, you are disappointed. We are not disappointed because we are sending love to others through you. The light shines through even the darkness in you that makes you so ashamed.
The darkness in you does block those you witness to from accepting you or accepting your concrete plans for them. As it were, they throw away the package, you, and grab what is inside (Our love). All you see is how they reject the package and you feel discouraged. You don't see them in the home in their hearts cherishing the gift.
If this were not true, how could 12 men, who were martyred, "cause" the conversion of peoples throughout the whole world? I hear the sceptic in you shrugging this off. With the cause and effect mentality, you think this result came more from conquest than from grace. That is the dark side. But, because We are Love, Our rays come into the hearts of all whoopen to Us no matter what the circumstances.
"I am the light of the world."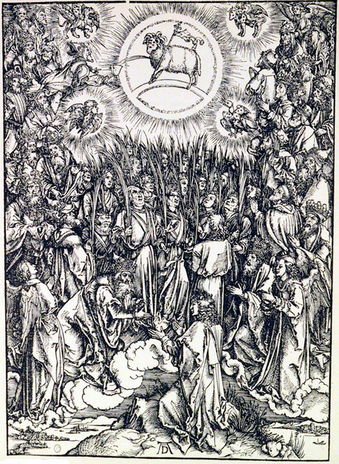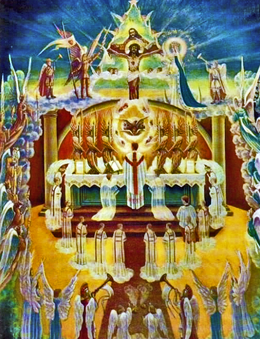 July 8, 2008
(note: words in parentheses are Ronda's explanations)
Microcosm
Holy Spirit:
We want you to learn how to see the All in the small. This is not pantheism (the theory that all creatures are God) or sentimentality (a fatuous cooing over the sweet) as you might fear. It has to do with the imago Dei, with omnipresence, with symbols, with ecstatic union.
Think of
- all the notes in a symphony rushing toward the final triumphant chord;
- the kiss of bride and groom at a wedding;
- the smile of a baby: the first to be seen by the parents;
- each Mass encapsulating every Mass.
In the end, when the barriers break down between the religions of the world, all will become one, not in some false blurring synthesis, but in a mighty ecstatic union where the partial will rush toward the full.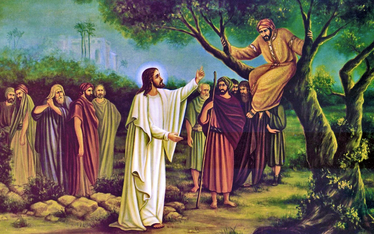 July 9, 2008
Convergence
Holy Spirit:
The closer you get to heaven the more earthly division distresses you. You see no way to overcome it whether it be in the realm of the political or the ecclesial. These divisions are long entrenched, coming as they do from real sins of the past.
Healing will come through grace. You can cooperate in making openings for grace by avoiding denunciation in favor of understanding the reasons for the dividing stances.
Imagination can help. Think of small children learning fear and hate as necessary for self-protection. Let yourself notice the unexpected that comes when someone leaps over the division in a gesture of solidarity. Don't you want to be one who, with Our help, can make those kind of leaps?
Start by noticing in yourself the impulses to fear and hate and how they come up in the moment you are thwarted in the smallest goal. Can you see that quietly accepting the jolt to your will and working through the problem for the best solution feels peaceful? It prevents you from hasty, harsh, blame, with the retaliation that cements division. Humble forgiveness puts you and others on the same plane. And, then, with the same people or similar ones, at another time, there can be a convergence of needs and helps. It is not a matter of "figuring out," but of releasing it into Our hands and then responding to Our prompts.
"In the world it is impossible, but nothing is impossible for God."
"Blessed be the peacemakers."