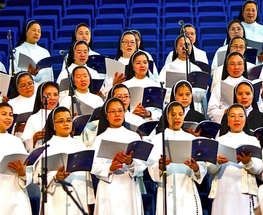 On Sunday I attended a special luncheon at a catering restaurant in our area run by a member of a religious order. He felt called to build this establishment in order to make money to be given to lots of Catholic charitable causes. The restaurant, surrounded by landscaped gardens, includes beautiful art galleries. One of these causes they give their profits to is giving scholarships to Vietnamese priests, brothers, and Sisters, studying here in the United States at our seminary/college. As a little thanksgiving the Vietnamese recipients of these scholarships joined in a choir 50 strong to sing for the assembled guests.

I had tears in my eyes thinking that instead of associating Vietnam primarily with events such as the My Lai massacre, I can think instead of these wonderful Catholics studying here because of US funding!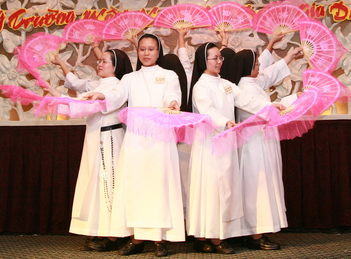 The Catholic writer, Don DeMarco, teaches with us at Holy Apostles and he wrote this little poem he gave to the priest who runs this restaurant:

He opened his door
And introduced us to artwork
Of great acclaim
But when he opened his heart,
He put all these treasures to shame.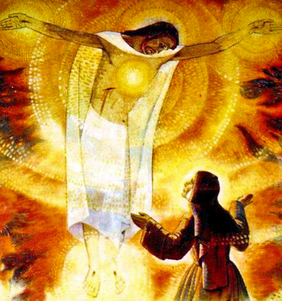 Random Thought: We love to have photos on the wall of our loved ones. Maybe partly because in photos people are usually smiling and so we imagine they are smiling at us even if often in the past they were not smiling at us!

My daughter Carla with lymphoma and 3 children still at home, as I told you, has been getting wonderful visions and locutions from Jesus, but here is a poem she wrote about the dark side of enduring cancer. I thought it would be helpful, not to cancer patients, but to caretakers when we sometimes don't want to face the degree of the suffering loved ones are undergoing.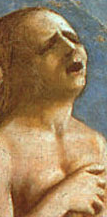 ON CANCER

It isn't what it is to be
hairless, poisoned,
crawling through
one dark tunnel to another
searching for somebody you
used to be. It isn't terror:

not of death or living like
this forever; nothing so
puzzling or mousy. It is more
this sense of distance
and a lack of door.

To be exact, the way your children, who
will forever
not now ever
want to grow up just like you,

linger, but will never ask you why
again tonight their Mama has to cry,
are captured by a camera's thoughtless eye:
arrested, and you see the way they try

to satisfy a space that once held you
which now has scraps, remainders and
each day, a bit more room.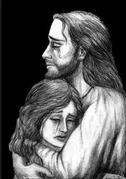 Carla Conley, August 30, 2014

Sometimes I feel hopeless about ever improving on my worst faults. Jesus seemed to tell me: The more hopeless you feel about yourself, the more you have to just rely on My mercy moment by moment.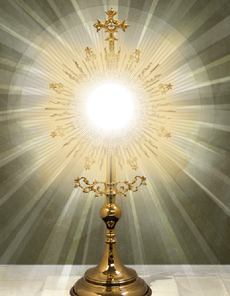 More from my new friend Mark Matuza:


During adoration the other day the flames that shoot out of the Monstrance took a new direction for me, they were saying we don't just radiate out but we point in. My interpretation was that everything at its root is a sign that points to God , but the Eucharist is God, everything points to the Eucharist . It's as if everything in the world could be sucked right into a single humble piece of bread. I am so in love.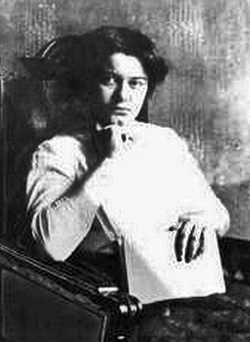 I was asked to contribute as a former faculty member to a newspaper spread for the anniversary of a seminary I once taught at. The editor specifically wanted to write about how it was to be a woman professor at this seminary.
"I was a full professor of philosophy at Loyola Marymount when I started teaching just one course a week at the Seminary in 1986. I loved so much teaching the seminarians that I decided to come to teach full-time in 1987. I was there until the year 1994. Though there were a few women professors who taught courses there, I believe the only full-time woman professor was St. Bernadette who lived at the seminary and supervised the internships of the seminarians at parishes. You could check this information for accuracy. I could be wrong.

I sometimes joked that decades earlier no one would have conceived of a woman professor at a seminary. St. Teresa Benedicta of the Cross, previously Edith Stein, was a Jewish woman philosopher who became a Catholic and gave lectures between the 2 World Wars on issues of women. These were assembled in a book called Woman after her martyrdom in the concentration camp.

In these lectures she explains that typically a male professor goes from a concept, into the head of the student, back to the concept. But a woman professor typically goes from the person of the student, to the concept and then back to the student. One of the things I loved about teaching seminarians as a woman philosophy professor was the chance to engage a future male priest concerning issues about gender, leading into how he as a priest would be different if he understood that concept.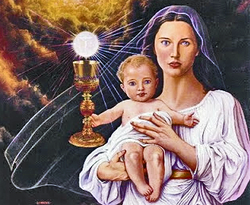 For example, if the seminarian understood better the positive side of woman's intuitive compassionate wisdom, this would help him see the need for leadership roles of women in the parish. On the other side, if he understood and embodied the typical positive masculine traits, being initiating and strong, that make for a good priest, he could avoid offending women in the parish by negative attitudes of domineering smugness.

The way I explained in my book, Feminine, Free, and Faithful, about why priesthood is reserved to men helped some understand why equality of being does not lead to sameness of all roles. After all, St. Joseph wasn't a second class citizen, and neither was Mary, though neither were priests!

I loved the spiritually motherly role of being a professor at the seminary, affirming the students, cheering them on, and going to their ordinations.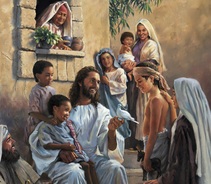 I woke up thinking, from my standpoint, that God sometimes joins people in loving friendship who think quite differently about some issues so that we will have to listen to views other than those of their own group. This reminded me of a Dominican Sister theologian friend who said in the midst of a "discussion/argument" with me:
"Ronda, you don't think that the Church will be saved be academics! The anawim will save the Church." (Anawim means the poor, the peasants, the lowly.)



I thought I should see what the Rector of Holy Apostles College and Seminary would say about our graduation ceremony and a Distance Learning Student coming who was covered with tattoos but who was a convert/revert, a youth minister and a terrific student, etc. etc.

He said "I think he is a hero and we will be honored if he comes to our graduation and if a benefactor wants to pay his expenses, Holy Apostles could pay half his expenses!"

Tears of joy!