The Catholic Personality of the 21st Century
by
Ronda Chervin

Spring semester of 2014 at Holy Apostles College and Seminary saw the debut of Toward a 21st Century Catholic World-View. Fr. Dominic Anaeto was my co-professor and a small group of students read the chapters, wrote answers to the questions for reflection and then engaged in class discussion. Writers of chapters who teach at Holy Apostles campus and some others who live nearby came to discuss their chapters with us.
In this process it became clear that besides polarities concerning controversial issues, there is also the question of personality. Does shouting ones convictions about Catholic truth, as I, Dr. Ronda often do, lead to changing the mind of someone who disagrees? Does tolerating all religious ideas of others lead to growth? As Pope Francis so often asks and proves by his own way of approaching others, will we be able to reach out to those hungering for Catholic truth and life, unless we, ourselves manifest joy and love?
With this in mind, I would like to just throw out some of my thoughts about the Catholic personality of the 21st century.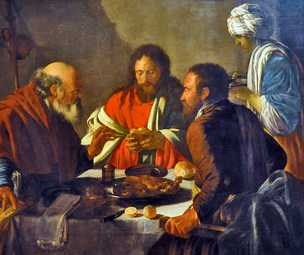 How Jesus and His Church Manifest a World-View that Overcomes Polarities

Jesus! The very person of Jesus manifests the overcoming of polarity. First of all, the polarity between God and man! And, He did not see any opposition between being Lord and being friend? Or, Jesus didn't present worship as only soaring above the earth to the Father without, at the same time, teaching us to see Him in our needy neighbor.

The Catechism of the Catholic Church and other documents are full of truths that over-arch our divisions. As Fr. Dominic put it, the Vatican is a brake on false oppositions. For example, The documents of Vatican II present us with the beauty and importance of devotion to Mary. They do not divide Catholics into Fatima Catholics and Medjugorje Catholics! I would say that old and new are mingled in such matters as re-asserting the eminence of the vows of religious life yet insisting on the universal call to holiness.

In addition, Fr. Dominic often times stressed that thinking of the Church in terms of polarities can, itself, become a problem. Polarities are also within us. If we become healed of our personal polarities we can better see how to help with polarities outside ourselves! Fr. Dominic is working on a book of his own on healing and plans to include healing of polarities!

Personality and Dialogue

Over and over again as we discussed the themes in the chapters of Toward a 21st Century World-View, it became clear how important it is to listen to the ideas of others before leaping into refutation mode. So polarized is the Church at present that one word out of the mouth of someone can trigger rejection. For instance, sometimes if a person even mentions the word yoga it is assumed that he or she is a New Age nut.

"Speak the truth with love" we are urged by St. Paul (Ephesians 4:15). Surely ridiculing the views of other Catholics cannot be a loving approach! And how about caricaturing those who disagree with us in conversation and/or in practice? What about harsh judgments?

To make sure this point about what I don't hope for in the Catholic personality of the future, let me give some more concrete examples:

Ridicule: "Those Tridentine Latin Mass (now called the ExtraordinaryForm of the Mass) priests in their old-fashioned vestments look like robots." Or, "Check out Fr. Mike, he looks as if he just got out of bed with his messy hair, and scuffed sneakers."

Caricature: "Those social justice priests just use the Mass to recruit for their activist causes." Or, "Lay people who still believe in transubstantiation and insist that the Catholic Church is the one, true Church, instead of seeing that all religions have symbols and equal value; those bigots never get down in the dirt to help the poor."

Harsh Judgment: "What with all the scandals in the Church, no wonder no one trusts Catholic priests anymore." Or, "Those parents who send their children to public schools are just waiting for sin to overtake them."

Bear in mind, often such statements are not made in the presence of those we disagree with. However, they perpetuate stereo-typing, and impede any future dialogue as we chuckle and raise our eyebrows over the "wrong" views of others.

So, what would be the opposite of ridicule, caricature, and harsh judgments? Dr. Geraghty, our metaphysician, suggested that whenever someone in the Church says something we disagree with, we need to start, in the mode of Thomas Aquinas, by first stating all the reasons why that position could seem right. And, only then, explain why we think something different.

To refer to the topics I mentioned above, one could begin a dialogue, speaking the truth with love in these ways:

"Oh, you are into yoga. Many find such exercises helpful for physical health and also for getting peaceful to pray…what is your experience?" (Then listen!) "You know I read in this document from the Vatican that we have to be wary of things like yoga because very often they include subtle or not so subtle worship of bad spirits…" (Give examples.) You might check out the exercise routine we have available in our parish that is just as relaxing and starts with Christian prayer."

"You don't seem to like the Extraordinary Form of the Mass. What bothers you about it?" (Then listen!) "You know I used to feel the same way…(describe what you felt). But I have these friends who love it. Did you know that young people who had left the Church sometimes find their way back in because of the sacredness and solemnity of that old Mass? Maybe you'd like to come with me to this parish where the priest explains what is going on at the Extraordinary Form. He's not one of those who think the English Mass isn't valid, or anything like that. He celebrates both Masses."

"You think Fr. Mike is a slob? What upsets you about his looks? (Listen) "I used to think that, too, but then I found out that he has a great pain in his feet and he can only wear loose sneakers...You think this encourages teens to come to Mass in their grundgies? Well, I agree that it would be better if they dressed more formally, but I'm so glad they are with us at all, that I don't insist."

"On the way into coffee and donuts I happened to hear you say that you think social justice priests don't really believe in the Eucharist, that they're just recruiting activists for their causes. Tell me about it? (Listen!) "I see what you mean. But I've known (read about) priests who are into social justice big time who also love the Mass. One of those gave a sermon quoting John Paul II on how all priests need to celebrate Mass daily if they are to be truly united to Christ."

(During a discussion in RCIA) A former non-Catholic Christian is asking about whether the Catholic Church thinks there is no salvation outside of the Catholic church. "Where did you hear that?" (Listen) "I used to think that the phrase no salvation outside the Church meant we thought all Protestants went to hell. Then I read the sections in the catechism about this. It means that all graces flow through the Church and that we believe the Eucharist is truly the Body and Blood of Christ which He shed for our sins. But we also believe that those who follow the light that they see, even if they never become Catholics, can also be saved through Christ's love."

"You've left the Church because of the priest scandals. Tell me about how this impacted you, your family, or others you know? (Listen) "It's a terrible thing. Here is how it impacted me… But, you know, we condemn racism for stereotyping an entire race by the bad traits of some of its members. And you wouldn't want to leave the United States because of the evils of slavery in our past history so, why would you leave the Church and all it can give you, because some priests sinned? I don't see people stopping watching football because some coaches mess up."

"You think no Catholic should send their children to a public school. Tell me what aspects of public schools seem to you to be dangerous. (Listen) "I agree with you for the most part because of these and those experiences or facts…However, in some areas of this country the public schools have mostly Christian teachers who get around not teaching religion in creative ways. I knew a man who included in his history courses the reasons for all the religious holidays. And some parents, where there are no good Catholic schools in their area, form groups to refute whatever is false in the textbooks of their public school children."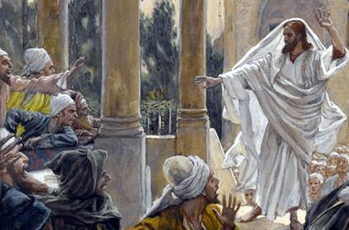 We all know that there are areas of disagreement that may never yield to dialogue in particular cases. A former Catholic who is now a confirmed atheist would not be interested in the approaches I just described. Though, of course, with grace all things are possible. Many, many, Catholics who leave the Church and then revert (come back) point to something someone said, which they dismissed at the time, but the Holy Spirit used to haunt them into questioning their rejection of the teachings of the Church.

A factor that underlies ridicule, caricature, and harsh judgment is described in some forms of anger-management with the term "symbolic victory." (See Recovery, International, a movement founded by Abraham Low to overcome the wrong kind of anger, and help with fear and depression.) When in conflicts we feel unable to win others to the right side, as we see it, we feel frustrated, weak, and angry. But when we ridicule, caricature, and judge harshly, we feel strong and superior. We don't actually win any victories! We don't convince the wrong-headed person of our truths. They may even dig their defenses deeper after talking to us. But we get a "symbolic" victory in the sense that, with those who are on our side, we feel witty, brilliant; united against the enemy.

At the time of Jesus on earth, the zealots and some Pharisees must have been great at ridicule, caricature, and harsh judgment. They certainly used those weapons to try to defeat Jesus. What were His "weapons"? Prayer, parables, miracles, redemptive suffering for the forgiveness of all, including those enemies.

Better vs. Good Doesn't Equal Right vs. Wrong

During our class in the discussion we began to notice that one cause of polarities is thinking that any preference for some practice in the Church meant that those who had a different but good other practice were simply wrong. For example, if I think it is better to go to Sunday Mass rather than Saturday evening Mass, I can think that it is not only better but also wrong for some to go to Saturday evening Mass. I can give many reasons why I think it is better to go to Sunday Mass such as, the Saturday evening Mass is shorter, sometimes without music, so it is a cop-out to choose that Mass. But it is not the teaching of the Church that going to Saturday evening Mass is wrong. And, some people may have good reasons to prefer it such as having trouble sleeping and needing to sleep in after a hard night on Sunday mornings without any pressure.

Of course, there are cases where some people in the Church are clearly right and others wrong such as opposition to the killing of an innocent child through abortion vs. calling oneself a Pro-Choice Catholic. But even where we are in the right, we must not think that in every conversation we can angrily shove the truth down the throat of those who oppose us or that we must have the last word.

Going to Charismatic prayer groups can be better for some Catholics than going to a rosary prayer group. But going to any prayer group is usually good unless the group diverges from Catholic teaching or leads people astray in other ways. So, when inviting others to join my favorite group, it is not good to slide into trying to persuade others that going to their group is wrong.

It is wonderful to have a large family. Better, in itself. But for families that have serious reasons to limit the number of their children, it is not wrong to use natural family planning to space them, for example if the mother has chronic ailments which make taking care of many children extremely difficult. Members of large families should not present the goodness of their choice in such a way as to make smaller families feel that they are inferior and wrong even when they have serious reasons to limit their children and use the morally acceptable method of natural family planning.

Virtues in the Personalities of 21st Century Catholics

What I am selecting here as virtues I would like to see, certainly does not pretend to cover the entire span of possible good traits. It is more of a "starter document" to get you, the reader, interesting in thinking about other virtues you would like to see and, of course, thinking about cherishing those virtues for yourself. By the grace of God may we all have more and more of them, not only to be better evangelists but simply to victimize less people by our negative traits!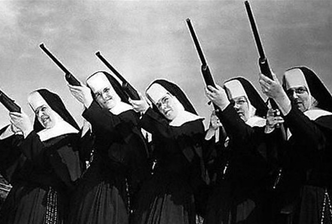 I would love to see Catholics of the 21st century exhibiting a combination of warmth toward others with respect of others. Sometimes, instead, we see friendly Catholics who also are pushy, and domineering, for example in trying to recruit all parishioners into our favorite missions.

Fr. Dominic Anaeto mentioned how we need to be accepting vs. merely tolerating others, especially those we disagree with. When we merely tolerate others we basically don't want to be with them. Those we accept we can be around in a peaceful way, even if we hope they will come to see the truths we stand for. David Tate, one of our seminarian students in the class, said that this requires going out of our comfort zones.

Our Pope Francis wants us to be joyful and enthusiastic vs. judgmental and pessimistic. This does not mean pretending that evil is not real, but having faith that the last word is not discouragement but hope in our Savior.

We need to be indefatigable in teaching the truth, insists Kathleen Brouillette, our student and also Director of Religious Education in a parish. But teaching needs to be complemented by a deep prayer life, so that we don't get burned out by activism, as emphasized in his papers and oral communications by Tommie Kim.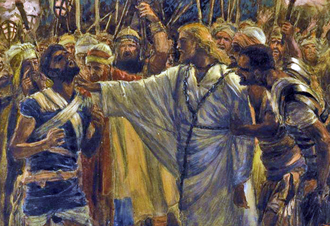 Healing of Memories from the Wounds of Polarity

When conducting the class on Toward a 21st Century Catholic World-View, it became apparent to me that the polarities were not just ideological but also reflective of how wounded we have become by the effects of opposing ideas.

This has led me to attempt to write a prayer for healing of memories related to such wounds.

Jesus, that all may be one was Your ardent wish for Your Church. Much as we are united in loving You, or we would not call ourselves Christian, yet we are torn apart by division.

On one side of Your Church we have those suffering from:

• Dissent among Church leaders weakening our families, parishes, and country, as when priests fail to teach on the necessity of Sunday Mass so that our teens think it is not important.
• The effects on our children and friends of false moral teachings, as when Catholic ministers and lay people relegate sex outside of marriage, contraception or even abortion to matters of subjective conscience.
Give us grace to forgive those who have handed on false teachings out of confusion or one-sided perspectives.
On another side of Your Church we have those suffering from:
• Feeling rejected by other Catholics or by our pastors in our participation in social justice issues involving peace or poverty.
• Feeling marginalized in the Church because of race, ethnicity, or sex.
• The sense of having been blocked rather than appreciated for creative initiatives.
Give us the grace to forgive those who have failed to support movements of reform out of confusion or one-sided perspectives.
All of us have suffered from the faults, vices, and negligence not only of our leaders but also those negative traits of others in our families and friends and those at the work-place.
Give us the grace to forgive each other, in the light of Your mercy, Lord.
Finally, all of us in the Church are suffering from not having the strength that would come from common belief, practice and, yes, holiness. If we were more united we could better reach out to all those who have such need of You and Your home for us on earth and in heaven. May all who have contributed to Toward a 21st Century Catholic and all who read this book be blessed by the Holy Spirit to "speak the truth with love."
Questions for Personal Reflection and Group Sharing:
• What are ways you think the person of Christ and the teachings of the Church overarch polarities?
• Can you give examples of ridicule, caricature, and harsh judgment you have found in Catholic conversation?
• Can you give examples of good dialogues you have had or seen others engage in that offered hope of overcoming polarities?
• How have you seen "better," seeming to make "good" into "wrong"?
• What virtues would you like to see in Catholics of the future?
• Would you add anything to the Healing of Memories at the end of this chapter? Or would you want to compose your own closing prayer for Toward a 21st Century World-View?
CLOSING:
INSIGHTS FROM THE FINAL SYNTHESIS PAPERS OF STUDENTS IN THE CLASS
Tommie Kim
Holy Apostles College & Seminary
Thomas Kim:
My Toward a 21st Century Catholic Synthesis
Student Class discussions on the topic "Towards a 21 Century Catholic Synthesis" were a very special learning experience for me. Simply put, a Catholic synthesis ought to be part of the common identity of all Catholics.
The approach of the book provided quite a diverse perspective. I realized the in depth analysis of the professors and graduate students of specific topics extended into the wider mission of propagating the gospel. Since we all long for light as the darkness deepens, it becomes clear that we need to overcome polarity within our faith if we are arrive at greater unity. . "With me in them and you in me, may they be so perfected in unity that the world will recognize that it was you who sent me and that you have loved them as you have loved me." (Jn 17:23).
"The light shone in the darkness and darkness could not overpower it."(Jn 1:5) Light and darkness exist in this world. We all begin with the common goal of evangelization to bring light to the world. However, we have a tendency to perceive difference and conflict as polarization. If our perceptions lead us to demand an end to all differences, I, personally, would consider such a goal to come from the wrong kind of idealism. We, as humans, all go through a process toward maturity. In the Church the conflicts and tension that exist in our church most often rise from the immaturity of our faith. We cannot define these problems with the word "polarity". There is room for every person's faith to grow towards maturity through time and experience. What is more important than conflict is the love and the care of the community in order to achieve our common destiny. In fact, it is not polarity that matters but rather the lack of teaching of catechism and Catholic faith.
What I see as even more serious problem is the relative silence of the church in the face of unethical practice such abortion and contraception. Another problem is an erroneous approach where some activists think religious pluralism within the church even when it comes to doctrine will lead to unification. This is a definite error and the church need to stand behind the Catholic faith.
On the other hand, there is polarity within the church. Each side has its chosen evidence to prove it is right in conflicts with one another. As mentioned by Dr. Ronda, we do face difficulty finding a common ground between the individual preferences in participating in different groups for prayer, fellowship and mission. The prayer life of each Catholic will vary in ways that no one should claim that one way is right and another wrong. I think that we need to embrace these differences with open minds and with integrity and continue to seek what is common rather than different.
Victor Frankl in his book about logotherapy approaches human nature through dimensional anthropology. It is the nature of human beings to perceive objects differently depending on each one's own life experience. As in the famous analogy, two blind men who have never seen an elephant before, will have different opinions according to where each man is touching the elephant. One man will say that elephant has hard skin if the area that he first touches is the foot of an elephant. But the other will say that elephant has soft skin if the only area that he ever touched was elephant's nose. Anyone who has the eyes to see the elephant knows that elephant is a gigantic animal, which the blind men cannot see, and has both soft skin and hard skin. One who is able to see the elephant can lead the blind men, saying to them that none of them is wrong. He can tell the blind men that it is just only one part of a gigantic animal that each has touched and that there is another aspect of an elephant than what each was able to experience. Separation and division come from an inability to embrace the positions of others.
St. Paul once was an ardent Pharisee who persecuted Catholic believers, but he converted to Catholic faith. After his conversion, St. Paul in that sense understood different perspectives of faith from both sides. With his real life experience on both sides, he had an incredible persuasive power in proclaiming the Gospel and maintaining his firm belief. He was even willing to sacrifice his life if only he could lead his people to salvation. Catholic synthesis must be based on love for God, and love for others. Bryan Mercier, through his reflection on prayer, and Sean who converted from atheist to Catholic also provided good examples of the true face of Catholic synthesis.
Then comes the question: how can we overcome the differences among people who have no such experience of both sides? The answer is in the Gospel. Catholic faith should not be perceived or judged through our own human standards. If we all look towards God and His almighty will, then there is no room for division.
We must also realize not only unity but also diversity in various missions in the church. The mission of a priest is ontologically unique in its mission. However, depending on which country we are talking about, the role and identity of the priest may vary. We are aware that there is cultic model and servant leader model role that the Vatican Council tried to unite. Especially in liturgy after the 2nd Vatican Council, there have been conflicts among believers about what is perceived as correct liturgy. However, if we all have a correct understanding about church liturgy, these differences can easily be embraced. As long as the core spirit and understanding of the liturgy is not lost, we should be able to consider the differences in liturgical rite as part of diversity, and not polarity.
In the case of the Korean church, believers used to kneel and received the host in the mouth. Today, the ritual changed so believers generally receive the host with two hands. But no priest should deny the Eucharist to anyone who wishes to kneel or receive in the mouth, now should other believers should show repugnance to anyone who receives differently. Some liturgical rites had to accommodate to the reality of a lack of priests giving sacraments. So both the priest and the believers should respect those who wish to keep the old tradition. Liturgy can change over time with the need of the present time and it should be considered as part of an accepted innovative effort of the church.
We all need to face these issues with open minds. We need to identify the root cause of the polarization, be able to build right understanding of Catholic catechism and continue our effort towards Catholic synthesis. People who reach a higher hill on the mountain can see farther. People who start to climb the mountain only can perceive part of the view from a lower angle. People who experienced and built deeper faith with wider perception on the events and view should be able to lead the people following underneath the hill. It requires love, patience and tolerance. We must be able to learn from others' experience and not insist on our own standard. Only when we are able to accept these differences with humble attitude and love for others, we can overcome the differences without conflicts and divisions. The main obstacle to Catholic synthesis is that many believers have a strong tendency to insist on their own perspective and experience. The cause of polarity in the church narrows down to lack of love and respect for others.
I still recall the excitement and tremulousness I felt taking my first step into a new life in the US. The US is the country that saved South Korea from communist invasion. The US was the country that deployed their people to save our country from being vanquished in war. Even after the war, the US saved the lives of many of our people with food and supplies when our land was devastated. The US has always been a dream country for many Koreans, and so it has been for me. However, the reality that awaited me was very different. The US today is suffering from a multiple of divisions everywhere throughoutthe society from politics to the economy. A country that was built on faith seems to be losing its light, and a country that once was the most powerful country in the globe seems to be weakening. What is most striking for me is that the main cause of the problem is because of intense polarization in the society.
Although it is true everywhere on earth, we all now agree that the church is very much affected by wealth and comfort coming through advanced technology. Individualism, relativism and selfishness have invaded the mentality and life styles of many. However, when it comes to church, I had always thought that the Korean church was suffering more than the church in the US from serious divisions. As I am going into my 2nd year of living in the US, I am able to learn and see beyond the appearance of the church in the US. In a certain sense, it seems like the church in the US is suffering from even more divisions within the church, often coming from different racial and cultural background, an income gap that has widened over the years, and differences between generations. Polarization seems to have grown with the 21 century and issues seems to have become more intense today. Therefore, it is indeed time that we put effort into working towards a Catholic synthesis.
Kathleen Brouillette – Catholic Synthesis
But how can they call on him in whom they have not believed?
And how can they believe in him of whom they have not heard?
And how can they hear without someone to preach? And how
can people preach unless they are sent? NAB Rm 10:14-15
The Sacraments of Baptism and Confirmation send all of us out. Some of us will preach by the way we live in the world as laity. Others of us will do it by the added grace of the Sacrament of Holy Orders. But all of us in the Body of Christ are sent. Sadly, not all of us who share in the royal priesthood of Christ, from the top of the magisterium to the least of His brothers, even begin to fulfill our mission. The polarities in our Church today are the visible results of the failure to teach, and to explain why the Church teaches what she does.
Although we often preach by example, we more often associate preaching with words. As we see in Dr. Toolin's chapter on ecumenical dialogue, it is critical that the words we use mean the same thing to all of us. It would be quite difficult to reach any kind of understanding, if what is being said and what is being heard are two different things. We must make our meaning clear and never assume that everyone is on the same page. One of the ways I do this with my students is to have them explain to me what we've just said or read. We cannot assume that giving information is the same as teaching the truth.
Good parents teach children how to make their way in the world, avoiding the pitfalls and dangers, while taking advantage of aids to success. Holy Mother Church must teach her children, especially in this day and age, the objective truth of the existence of God, His authority, His design, His love, and His will that we be with Him forever in heaven. She must teach us how to avoid sin and cultivate virtue, not only pointing out the pitfalls of life in this world, but also why they can be slippery slopes potentially leading to destruction and hell. It is in this area, in particular, we can see what happens when Catholic schools fail to require courses in basic truth such as we find in Catholic metaphysics. It is only in the light of understanding the foundational metaphysical truths that we can open ourselves joyfully and gratefully to receive and be formed in the Divine Life of God that is offered to us in the grace of the sacraments of the Church.
Although I have learned much from my students over the years, one of the sad things they have made abundantly clear is that too many people don't know Jesus is God. There must be polarity in the Church when not all Her people realize Jesus is God. According to a 2010 Pew Forum study quoted by Georgetown University, fully half of our people also don't know that the Church teaches Jesus is really present in the Blessed Sacrament! This statistic begs the question, who is teaching and what are they teaching??? Apart from our belief in three Persons in one God, what is more crucial to Catholic faith than the real presence of Jesus in the Blessed Sacrament?
The Catechism tells us the Eucharist is "the source and summit of our faith." Unless those baptized into the mystical Body of Christ understand what the Eucharist means, they will continue to absent themselves from it. One cannot treasure something which one sees as having only some kind of vague value or worth. Herein, I believe, lies the problem.
That the Roman Catholic Church is a treasure can sometimes be her own best-kept secret. Rather than proclaim the truth more boldly, we sometimes water it down and preach it less, in an attempt to keep from offending anyone. Perhaps we would do well to be more concerned about offending God. We have lost our sense of sin. Not recognizing our need of redemption, or that it was God Himself who suffered and died for our sins, we cannot appreciate the most beautiful gift by which our salvation was wrought, or the need for the holy Mass.
One case in point is an article by Rod Dreher in Time Magazine September 29, 2013, titled I'm Still Not Going Back to the Catholic Church. In it, he decries the Church's preaching of "Christ without the Cross," and notes
…one Ash Wednesday, I attended a Mass at my comfortable suburban
parish and heard the priest deliver a sermon describing Lent as a time
when we should all come to love ourselves more. If I had to pinpoint
a single moment at which I ceased to be Roman Catholic, it would have
been that one…Losing my Catholic faith was the most painful thing that
ever happened to me.
Dreher was seeking redemption from his sins and a challenge to reform. He needed to be called to change, but was only taught that God is love. Now a member of the Russian Orthodox Church, he appreciates that the balanced teaching of his pastor includes "love, joy, repentance, and forgiveness – in all its dimensions." He takes to heart his pastor's message that, "…we must love our children enough to teach them the hard lessons and compel them toward the good." Dreher expresses a concern that Pope Francis'
merciful words will be received not as love but license. The 'spirit of
Pope Francis' will replace the 'spirit of Vatican II' as the rationalization
people will use to ignore the difficult teachings of the faith.
Here, at Holy Apostles, I have learned so much by reading the Catechism of the Catholic Church and the Documents of Vatican II. The "spirit of Vatican II" has little to do with the actual documents and teachings of the Council. Popes through the ages, and definitely of the past century, have written wonderful teachings in refutation of the errors of society. Why is it that these often don't seem to get beyond Rome to the people in the pews? In our first class, Fr. Dominic said there is more commonality than division among the bishops. For me, one of the sad commonalities among some bishops is their failure to see to the proper education of their people and formation of their priests. Fr. Dominic pointed out that people leave the Church because of the attitude of priests, homilies, and the attitude of parish secretaries. Why, then, are the chief shepherds of the flock not doing a better job of carefully overseeing the formation of their priests and, through them, their people?
I have known any number of priests who subscribe to homily services and use printed, prepared homilies every Sunday and at daily Mass. So few of them have received the kind of training in homiletics required here at Holy Apostles! The responsibility for this, in my opinion, rests squarely on the shoulders of the bishops. All bishops must require their priests to know the Catechism, be well-trained in the Scriptures, and familiar with the documents of the Second Vatican Council. Priests need the tools to be effective conveyors of truth and teachers of God's Word.
Dr. Toolin made a critical observation in her chapter on dialogue, "There is no love in dialogue when we know this information, but withhold it from others who desperately need it." I find this particularly true in our own Church. It has been said that charity begins at home. Our Holy Mother Church must lovingly impart to her children all the treasures of the Church, her wisdom, each and every way in which she is leading the effort to combine faith and science, how she defends the dignity and rights of workers, how she stands against exploitation in the pursuit of profit, why marriage is the foundation of society and must be defended, and so much more. These things must be addressed from the pulpit. There is such a wealth of example within our own Church, yet homilies quote Gandhi, Henry Ford, and other non-Catholics. Why do our so many of our deacons and priests look to the secular for quotes and examples for their homilies?
By using the early Church Fathers and saints as examples, we can teach the history of our faith and learn to know how we came to be who we are today. We can see how the early Church celebrated the Mysteries, thereby appreciating what needs to be retained in our liturgy, and where authentic growth needs to include the "legitimate diversity" in our faith mentioned by Dr. Toolin.
Television shows in recent years have revealed or caused a tendency for people to talk over each other's words. If we are polite, we await our turn to talk. Seldom, however, are we listening to one another. Listening seems to be a lost art. It is also symbolic of lost humility. We are part of a "me" centered culture. The focus is on what I need, what I want to say, what I believe, what I get out of it. We have lost not only the sense of sin and humility previously mentioned, but also a sense of obedience, respect for authority, and reverence for God and one another.
Such reverence can only grow from a true understanding of who God is, and who I am in relation to Him. St. Bonaventure is reported to have described humility as knowing our place under God, and taking it. It is only when we do this that we can treasure the great gift of being a member of the Mystical Body of Christ, love one another as fellow members of that Body, embrace our variety, recognize that our Church truly offers a way of spirituality to nourish every member, enter deeply into prayer with the Head of our Body, reverence the priest who bridges the gap between heaven and hell as he acts in persona Christi, and truly live our lives as a liturgy of sacrifice for God.
But how can they call on him in whom they have not believed?
And how can they believe in him of whom they have not heard?
And how can they hear without someone to preach? And how
can people preach unless they are sent? NAB Rm 10:14-15
The Synthesis of the Synthesis by David Tate:
… Over the weeks of the course, there were twelve different authors that were read, offering up their educated views on almost everything from charismatic prayer to the state of scientific advancements and bioethics. During each session, the class tried to place where on the doctrinal map each topic sat, and to examine more closely the reasoning behind why it was considered to a be polarity.
To get an idea of the power of a polarity, imagine a long iron bar that was magnetized so that it was then an ordinary magnet. That bar is easily cut into two pieces. This is the concern behind the existence of polarities. The communion of the Church is endangered by polarities. There are three things that can be done to reduce the danger of being cut into two. The second thing that can be done is to see if time with dissipate the newness and exoticness of the polarity to shrink to a more passive state. The two things that can be done, if the polarity seems to be permanent, is to bend the two poles around into a U-shaped magnet. This allows a permanent change to be accepted, but the danger of breakage in the middle is vastly reduced. In so doing, the people in the middle understand the need for the polarity. This organic change strengthens the middle.
Looking over the articles that were read, it looks like they could be grouped into three categories. Before examining these categories by merit, let us see what they were individually. In total, there were thirteen different topics discussed. There were: Priesthood, Liturgy, Love & JPII, Spirituality and JPII, Christian Anthropology, Ecumenism, Counseling, Prayer, Metaphysics, Ethics, Peace, and Work. When one looks more closely at these, we find that we can group them into three different categories: the Church. the spiritual person, and the human person. Making a little chart, we see this:
The Church The Spiritual Person The Human Person
----------------- ---------------------------- ---------------------------

Priesthood Ecumenism Science

Liturgy Counseling Ethics

Love & JPII Prayer Peace

Spirituality and JPII Metaphysics Work

Christian Anthropology


As you might have noticed, two entries do not line up under a heading. The reason for this is because they are 'bridge' topics that ended up acting as transitional topics. Christian Anthropology fit nicely right in between the Church and the spiritual person. And similarly, metaphysics is a good connecting topic between the spiritual person and the human person.

Why would we be able to split up our material today into these three categories? Was it by coincidence? No! There is a very natural (natural for an and natural for God) reason for this observation. We have based our class materials on the fact that humans tend to disagree. Within the Church, God has given to mankind boundaries to live within. Due to the fallen human nature, humans tend to have the habit of disagreeing with God and with each other. When looking at the Christian faith, there is a softening of the 'polarity', but it still exists. When we disagree with God, we have the first category, "The Church". When people disagree with each other, we find the second and third categories. The second category more or less show how we disagree with each other 'about what God said…' and the third reflects the differences in people's options of how life should be lived. Let us take a brief look at each of the three categories.

The first category is the Church. Here we have listed priesthood, liturgy, love and spirituality in John Paul II, and Christian Anthropology as the transition. All these topics deal with aspects of the Church. The Church is very specific about what a priest is to do in the Church. However, even here we find polarities. This has never been more clear than what happened with Christianity in the twentieth century. Connecting very closely to priests and the priesthood is the Liturgy.

Historically, the Church has always taught that the liturgy contains within it two functions. The first is that it is a sacrifice. The second is that it is a supper (pastoral and communal). The proportionality between the two is where all the problems arise. The opinions about the proportionality are, for the most part, the source of the causes that are behind the division of the monotheistic religions.

Looking at Pope John Paul II, we see an interesting difference between how the world has received the teaching of this pope (John Paul II), and the present pope (Francis). Pope Francis is a pope for the poor and the down-trodden. This spirit is easily received by the humanistic ego of the world. What human doesn't receive the question "Can I help you?" with open arms? However, when we look at Pope John Paul II, his invitation to "trust in God, and be not afraid!" was received only moderately. Similarly, his great devotion to the Blessed Virgin Mary was also truly only understood by faithful Catholics. At the present time, the polarities of John Paul II are more un-received. Those of Pope Francis have not yet been shown the testing ground. Some parts of Francis' love are still hidden.

The transition from the Church category to the spiritual person is easily embodied by Christian Anthropology. Here we have a premise that promotes man as a naturally assenting being. Bujno did a great job of demonstrating the inherent presence of the light of God's image in Man through his actions as a race. Here we have the bridge that connects God's reach to man, and man's nature that is composed of body and soul. Man has a soul that was created to commune with God in eternal life. So, when we speak of the state of the Church, we must simultaneously speak of the state of mankind.

Moving on to the second and third categories, we delve more specifically on man, and his nature. In the second category we examine the spiritual person. The polarities here demonstrate that man is a spiritual being. He has been made with a soul. In our topics we see listed: ecumenism, [pastoral] counseling, and prayer. Sitting in the transitional spot is Metaphysics.

Religion is the important ingredient in the second category. Here it is shown that every culture demonstrates an interest in religion. The first topic of polarity is ecumenism. Man demonstrates himself to be a communal species. It is no surprise that he is communally religious. There is, however, a strange phenomenon where man both desires, but also disagrees, with communal religion. Almost laughingly, the next two topics of counseling and prayer are deeply interwoven in the spiritual person. Humans have been given the powers of a will, an intellect, and passions. Counseling and prayer tap deeply into all of these. Wherever you find the deep human emotions of love and hatred, the feelings and opinions associated with counseling and prayer are not far off.

Transitionally, metaphysics fills perfectly the human hunger to know the universe, and to understand his destiny within it. Only man expresses the desire to feel important in the world. Geraghty 'hit the nail on the head' when he used the term, hylomorphism. Mankind was born with the knowledge that where there is a body, there is a soul (where there is matter, there is form). One of the attributes of God is that he is omniscient. As we have been made in His image, we desire to know as we are known; to know our universe, as it is. Science is the earthly crown that mankind wears. His search to understand his universe is not a vice. It is a virtue. The only shortcoming in his search for answers is his pride. In a summary of this last category, we can only applaud mankind for his great advances in his social agendas of ethics, work, and peace. I would like to take time and ponder someday how far unfallen Man would have gone in science and the socialism. Whether science, or socialism, or religion, does anyone truly need to ask why Posner quotes the young John Paul II (Karol Wojtyla – The Person as Equal to the Other) stating that 'people must help each other in their [spiritual] journey'. How often do we hurt each other, rather than helping each other?

In conclusion, having met the opinions of twelve different authors, some of them having personally participated in the class, we arrive at a concise summary of the inner nature of the polarities of the 21st century Church. They are all rooted in two points. The first is man's relationship with God. The picture presented here being that man strives with God. God in his mercy holds out his rod of mercy and patience. The fragmentary, but substantial, evidence is shown by our authors writing about polarities in the priesthood, the liturgy, love and spirituality, and Christian anthropology.

The second point shows how man is not just an animal; nor is he just a rational animal. No, mankind is body and soul stamped with the image and likeness of God. Here our authors easily show that man is a being, active and alive, as a spiritual and fully human person. In Dr. Ronda's article on ethics, she clearly offers the truth that true ethics is rooted in love. True virtue is truly ethical and comes from the fact that God is love. He is the source of love, goodness, and dignity. All of man's human attributes are permeated with his spiritual inclinations.

If we are to know how to comprehend our polarities of the 21st century, then we must go to the source of our differences. Understanding that our misgivings are stemming from something in our relationship with God, we can look to God to find a solution for living with our polarities. Added to this, if we realize that we are a unique species of human beings with overt spiritual qualities, then we can address those areas of our humanity - to not only cope, but to excel, as persons constructed as body and soul. Knowing these tenants of our existence in this life, we can find assurance in the fact that progress can be gained from the 'problems' of our polarities.




Polarities in the Church? ……………. Pray Constantly!

Polarities in people's spirituality? ……Pray Constantly!

Polarities in people's humanity? .…….Pray Constantly!

"Pray Constantly!"
(1 Thessalonians 5:17)




Synthesis of Kathleen Brouillette:

But how can they call on him in whom they have not believed?

And how can they believe in him of whom they have not heard?

And how can they hear without someone to preach? And how

can people preach unless they are sent? NAB Rm 10:14-15

The Sacraments of Baptism and Confirmation send all of us. Some of us will preach by the way we live in the world as laity. Others of us will do it by the added grace of the Sacrament of Holy Orders. But all of us in the Body of Christ are sent. Sadly, not all of us who share in the royal priesthood of Christ, from the top of the magisterium to the least of His brothers, even begin to fulfill our mission. The polarities in our Church today are the visible demonstration of the need to continue teaching, and explaining why the Church teaches what she does.

Although we often preach by example, we more often associate preaching with words. As we see in Dr. Toolin's chapter on ecumenical dialogue, it is critical that the words we use mean the same thing to all of us. It would be quite difficult to reach any kind of understanding if what is being said and what is being heard are two different things. We must make our meaning clear and never assume that everyone is on the same page. One of the ways I do this with my students is to have them explain to me what we've just said or read. We cannot assume that giving information is the same as teaching the truth.

Good parents teach children how to make their way in the world, avoiding the pitfalls and dangers, while taking advantage of aids to success. Especially in this day and age, teachers in our Holy Mother Church should always teach her children the objective truth of the existence of God, His authority, His design, His love, and His will that we be with Him forever in heaven. We need to know how to avoid sin and cultivate virtue, not only pointing out the pitfalls of life in this world, but also why they can be slippery slopes potentially leading to destruction and hell. It is in this area, in particular, we can see what happens when Catholic schools do not require courses in metaphysics. It is only in the light of understanding the metaphysical that we can open ourselves joyfully and gratefully to receive and be formed in the Divine Life of God that is offered to us in the grace of the sacraments of the Church.

Although I have learned much from my students over the years, one of the sad things they have made abundantly clear is that too many people don't know Jesus is God. We can't help but see polarity in the Church when not all Her people realize Jesus is God. According to a 2010 Pew Forum study quoted by Georgetown University in US Catholic, fully half of our people also don't know that the Church teaches Jesus is really present in the Blessed Sacrament! This statistic begs the question, who is teaching and what are they teaching??? Apart from our belief in three Persons in one God, what is more crucial to Catholic faith than the Real Presence of Jesus in the Blessed Sacrament?

The Catechism tells us the Eucharist is "the source and summit of our faith." Unless those baptized into the mystical Body of Christ understand what the Eucharist means, they will continue to absent themselves from it. One cannot treasure something in which one sees no value or worth. Herein, I believe, lies the problem.

The Roman Catholic Church is a treasure to be proclaimed boldly without sometimes watering it down in an attempt to keep from offending anyone. Since many have lost the sense of sin, and don't recognize our need of redemption, or that it was God Himself who suffered and died for our sins, such of us cannot appreciate the most beautiful gift by which our salvation was wrought, or the need for anamnesis.

One case in point is an article by Rod Dreher in Time Magazine September 29, 2013, titled I'm Still Not Going Back to the Catholic Church. In it, he decries the Church's preaching of "Christ without the Cross," and notes

…one Ash Wednesday, I attended a Mass at my comfortable suburban
parish and heard the priest deliver a sermon describing Lent as a time
when we should all come to love ourselves more. If I had to pinpoint
a single moment at which I ceased to be Roman Catholic, it would have
been that one…Losing my Catholic faith was the most painful thing that
ever happened to me.

Dreher was seeking redemption from his sins and a challenge to reform. He needed to be called to change, but was only taught that God is love. Now a member of the Russian Orthodox Church, he appreciates that the balanced teaching of his pastor includes "love, joy, repentance, and forgiveness – in all its dimensions." He takes to heart his pastor's message that, "…we must love our children enough to teach them the hard lessons and compel them toward the good." He is an example of what can happen when teachings of the Church are watered down by some priests.

Here, at Holy Apostles, I have learned so much by reading the Catechism of the Catholic Church and the Documents of Vatican II. The "spirit of Vatican II" has little to do with the actual documents and teachings of the Council. Popes through the ages, and definitely of the past century, have written wonderful teachings in refutation of the errors of society. Why is it that these don't seem to get beyond Rome to the people in the pews? In our first class, Fr. Dominic said there is more commonality than division among the bishops. Fr. Dominic offered a quote from Bishop O'Malley that three of the reasons people leave the Church are because of the attitude of priests, homilies, and the attitude of parish secretaries…

Dr. Toolin made a critical observation in her chapter on dialogue, "There is no love in dialogue when we know this information, but withhold it from others who desperately need it." I find this particularly true in our own Church. It has been said that charity begins at home. We look to our Holy Mother Church to lovingly impart all the treasures of the Church, her wisdom, each and every way in which she is leading the effort to combine faith and science, how she defends the dignity and rights of workers, how she stands against exploitation in the pursuit of profit, why marriage is the foundation of society and must be defended, and so much more. These things must be addressed from the pulpit.

By using the early Church Fathers and saints as examples, we can teach the history of our faith and learn to know how we came to be who we are today. We can see how the early Church celebrated The Mysteries, thereby appreciating what needs to be retained in our liturgy, and where authentic growth needs to include the "legitimate diversity" in our faith mentioned by Dr. Toolin.

Television shows in recent years have revealed or caused a tendency for people to talk over each other. If we are polite, we await our turn to talk. Seldom, however, are we listening to one another. Listening seems to be a lost art. It is also symbolic of lost humility. We are part of a "me" centered culture. The focus is on what I need, what I want to say, what I believe, what I get out of it. We have lost not only the sense of sin and humility previously mentioned, but also a sense of obedience, respect for authority, and reverence for God and one another.

Such reverence can only grow from a true understanding of Who God is, and who I am in relation to Him. St. Bonaventure is reported to have described humility as knowing our place under God, and taking it. It is only when we do this that we can treasure the great gift of being a member of the Mystical Body of Christ, love one another as fellow members of that Body, embrace our variety, recognize that our Church truly offers a way of spirituality to nourish every member, enter deeply into prayer with the Head of our Body, reverence the priest who bridges the gap between heaven and earth as he acts in persona Christi, and truly live our lives as a liturgy of sacrifice for God.

But how can they call on him in whom they have not believed?

And how can they believe in him of whom they have not heard?

And how can they hear without someone to preach? And how

can people preach unless they are sent? NAB Rm 10:14-15