Liturgical Man: An Anthropology of Light and Liturgyby Stephen BujnoWith his wife, three daughters and wonderful granddaughter, Stephen lives in Adamstown, PA. He teaches Catholic morality and sacraments to juniors at Berks Catholic High School in the Allentown Diocese. Also, he instructs engaged couples on the unitive and procreative elements of marriage, along with the Church's understanding on contraception. He presents to adults seeking catechetical certification, courses on both morality and social justice. Stephen has earned an MA in moral theology from the Graduate School of Theology at St. Charles Borromeo Seminary in Philadelphia, and at the time of this writing is a thesis short of an MA in Philosophy from Holy Apostles College and Seminary in Cromwell, CT. He is also a professional artist and has owned and operated a pottery studio with his wife Tina for over twenty years. He writes regularly, and reads prolifically. Specific fields of interests include social justice, theological anthropology, liturgy, personalism, Bl. Duns Scotus and recent Catholic philosophy. Pray for him!
Note from Dr. Chervin:
As many Catholics do, I tend to think of liturgy primarily as simply the Masses I experience. Then I may think also of the polarities in the Church about the form of the Mass and the music. Reading Bujno's interesting essay I realize that we need, in the twenty-first century, much more of a vision of the whole meaning of liturgy if we are to deepen our appreciation of it.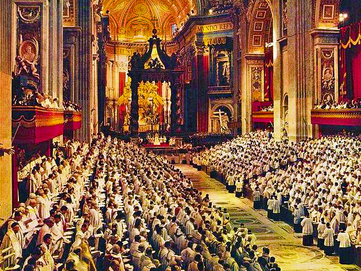 To Twenty-first Century Catholics

As our vantage point rises further into the twenty-first century, it will become clearer that three facets of theology are colliding: liturgy, moral anthropology, and spirituality. Any student of liturgy recognizes that the reforms of Vatican II were neither sudden nor unpredictable. The groundwork had been laid, beginning with Pius X through Beauduin, to Guardina, de Lubac to Pius XII up to Vatican II, where a young Karol Wojtyla and Joseph Ratzinger were influential; no coincidence there as the Spirit was at work.

Now with many misinterpretations of the Council Fathers being ferreted out, the liturgical reform will move forward providing identity to who we are as a people (anthropology) and how we live out our spirituality (life in the Spirit). With God's continued 'light', the centuries ahead will recognize little distinction between liturgy and one's life, as we now experience it. And in doing so, we will come to a more profound understanding of the human person in relation to God and other men rooted in love.

"Light" and "liturgy" are familiar terms, but it is not immediately clear how they apply to a Christian anthropology. One might ask how light, being such an ethereal metaphor and liturgy such a common experience, help man understand something essential about himself. As with all revelation (natural or divine) there is nothing new anticipated, but always something new to understand. Forty years of marriage does not reveal a "new" love, but it is not the same understanding of the love as when first married.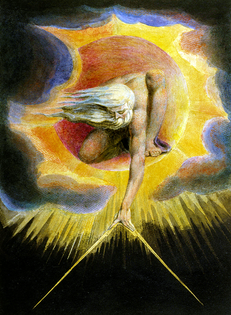 Light is so familiar to man. In and with light one sees, is warmed, is exposed, is drawn to. Light demands both fear and respect. This light signals man to safety and warns him of danger: it greets him each day; it can be benevolent or terrifying; it purifies and makes things durable; it inspires and it encompasses. Light is both far away and yet near; it reveals and can also, in its intensity, conceal. But it can never be hidden. All of those features of light can be found in the context of liturgy. And in turn, liturgy provides the context for understanding man's nature in terms of this light.

All is liturgy. Everything in which man participates that is good, true, and beautiful, there he finds himself in a liturgical relation. Liturgy is a fraternity with all creation and an affiliation with man's Creator. One may think here of "Hegel's concept of God as unfolding in the universe," but it is a revelatory measure of man's grasp of the immutable God.1 Liturgy then subsumes this unfolding, and in orienting man's being towards God, sets man's essence. Man is like God. It is the nature of this relational God to give himself as gift. This gift manifests itself in terms of sacrifice.2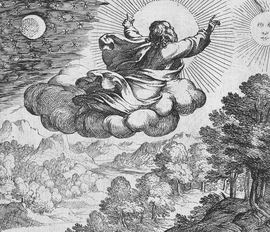 Light then expressed in a liturgical relation, not only establishes itself as being an imaging quality of God in man, but represents the source. LIGHT represents God Himself (there is the created light and uncreated Light). Then all creation, with man being the apex of the Creator's effort, is drawn into Light by the light that comes from Light. It is a light by which man knows himself and is known in the imago Dei. This is referring to liturgical man; an anthropology of light and it was revealed from the beginning of revelation.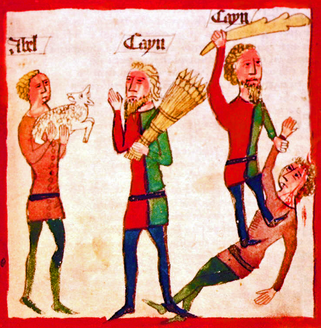 Offerings to the Lord

Offerings to the Lord were brought by Cain and Abel immediately following Adam and Eve's expulsion from the garden of Eden. Questions usually revolve around why Abel's offering was favored over Cain's. That does have significance concerning liturgy, for it appears evident that God does have a preference in how he is to be worshiped and what constitutes genuine "sacrifice."3 This pericope tends to be some literary bridge to introduce a source of strife between the two brothers and demonstrate the extent to which sin has now entered creation: jealousy, murder, deceit, etc. But even though this story is so familiar, an important point often simply gets passed over. Why are they offering to the Lord at all? The reader or hearer accepts the set-up for the plot, when in reality, we do not read of any prescription nor ordinance given to present an offering to their Creator Lord. Sacred Scripture reveals it as an introductory clause; it literally reads, "in the course of time."4 There was no mention of these offerings being necessary for 'making amends' due to the Fall, or recognizing the Lord's sovereignty for creation, or being an act of justice or gratitude, though the latter two are good candidates. 5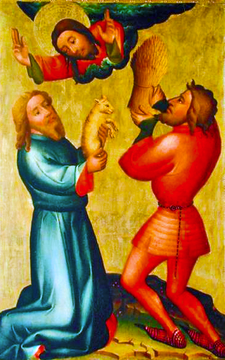 The concept of sacrifice is not exclusive to the Judeo-Christian expression of worship. It appears that it simply is an "ancient, primordial rite that from the first day of human history constituted the core of every religion."6 But in the case here, it is also possible they, Cain and Abel, as sons of Adam, were conferred with a priestly status and the role of a priest is to offer sacrifice.7 One cannot confidently say they were making amends for the Fall; there's no foundation for that interpretation. And we cannot be sure that these were the first sacrifices; there's no reason to assume that Adam and Eve didn't bring offerings prior. Revelation is quiet on this matter. These rites were creations made in the image of the Creator. The Book of Wisdom states that "He made him in the image of His own eternity."8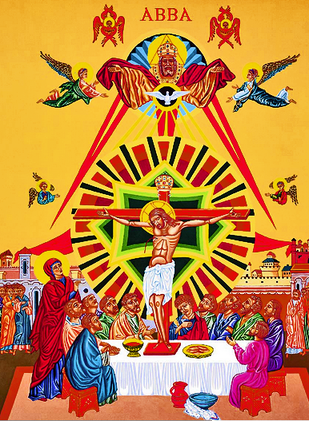 One sacrifices in imaging a God who himself freely offers sacrifices (this is communicated in and with the Divine Persons). What resides in God, resides in man for the purpose of making him a participant in the divine holiness. The understanding of a Trinitarian God and the relationship the Three Persons share expresses in man an extension of their love. These Three Persons are ever communicating in pure act with one another. "God wishing to step freely outside of himself, must create man," and so did. 9

In the Trinitarian relation, the Father withholds nothing from the Son, the Son receives all and returns it in sacrifice to the Father. The Holy Spirit proceeds from that love ever seeking to unite man to the Son in sacrifice and then to the Father in love. This God, in his being is unreachable by man because of man's natural limitations and the presence of sin. Man needs the assistance of light to penetrate God's light. It is those very "modes of existing in which the Divinity can communicate itself to created beings," giving access into His light.10 The inaccessible then becomes accessible. The love of God then "consumes its opposite (sin) and transforms man into itself, which is Light."11. This Light and love then sustains man, indeed all creation; "in Him, everything continues in being."12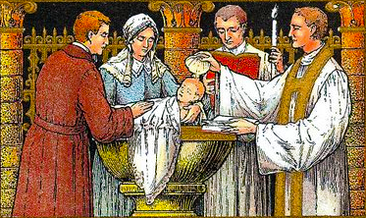 Man receives this dignity and is conferred this new nature in the Sacrament of Baptism. In this sacrament God "comes to and joins his life with man's, drawing him into the open fire of God's love."13,14 The love of the Father, the work of the Son and the power of the Holy Spirit then take on new height as man is transformed ontologically. This change, this imaging, cannot be undone. "The fact of being an image of God is for man a permanent endowment," an immutable gift of love.15 It is there, in this rite that man, like the second Adam, becomes priest. A priest sacrifices; God sacrifices, therefore, man sacrifices. It is not just a matter of imitating (a mimicking response); man truly presents a sacrifice. God was baptized with sacrifice, and in sacrifice man continues his baptismal vocation.16 Man's vocation is to be a sacrifice.17 It is not just a difference of measure between God and man; i.e., man does not sacrifice less. Man's nature is elevated and is truly brought into God's sacrifice.18 Sacrifice of man and God joined are one presented to the Father who draws all to himself. This is, as St. Augustine states, man being "drawn in love." by love and for love.19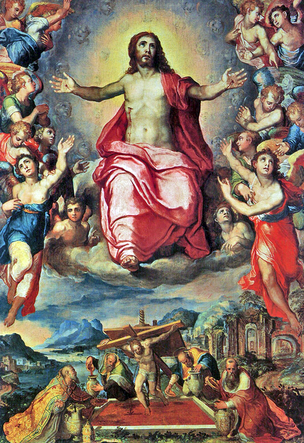 Sacrifice, Love and Worship

Sacrifice, love and worship then are integral to God's creative act and remain imprinted on man. This defines his self-understanding. This love and worship "means handing over to God a reality that is in some way precious to man," yet when received is freely returned.20 Man sacrifices to a "God that demands from us not only adoration but also love."21 There is no mistaking here the beautiful liturgical language describing the relation of man to his God.

For understanding God's creational relationship with man, it must involve a sacrifice (liturgical), be accepted as favorable (living in His light—recall Abel), and witness to who man is (anthropology). Cain and Abel's offering of a sacrifice was an ordinary movement towards God; it was not motivated externally even as a demand of justice. God's chosen people understood themselves in terms of a "people who sacrifice." Culminating then in the Person of Christ, St. John's prologue introduces us to the Logos, which carries through to the Transfiguration. There will be a glimpse of man's eschatological life in the Trinity.

John Paul II continued this trajectory as it moves through and into the communio personarum where Christ's light in man (grace) is brought into the God (Light) whom we image. It all is contained in the context of liturgy, which remains the connection of heaven and earth. Now, liturgy as being an intimate experience and the source and summit is nothing new, but the concept of worship and light being anthropological markers (liturgical anthropology) is not well developed or expressed in modern spirituality or moral theology. But as will be shown, the groundwork is present.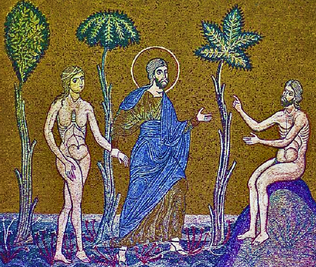 Made in His Image

Made in his image (imago Dei) is traditionally understood as how created man shares in the attributes of the uncreated God. A few paragraphs should be devoted to the Church's revelation of this dignity before proceeding with grafting liturgical to the understanding. In comparison with other creation myths, the Priestly mythos stands apart; man was not created out of chaos, or as a product of some destruction, or to be the slave of the victor god. Man, in the Judeo-Christian understanding is to be in the image and likeness of God by the will of him who created all from nothing. This God then continues to sustain man with his ruah. "Without this ruah [man] would not have life and would be devoid of consistency."22 It is the source of life, and it is also the source of worth in every individual. No one can surrender it, nor can it be suppressed by another. And to be like God is to be in him. That is the role of liturgy. For "the goal of worship and the goal of creation as a whole are one and the same—divinization," which is contingent man's participation in His non-contingent Being.23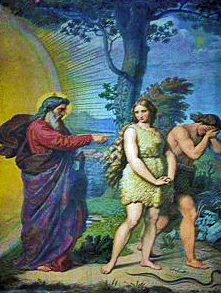 The imago Dei firstly is demonstrated in man possessing the spiritual faculties of rationality and free-will. Man is a rational animal, and above the brutes in that he is not a slave to his instincts; for man may choose not to do that which he is urged to do. Man is an animal of reason, who alone among creation can choose to dip below his nature. But he too can rise above, and this rising above instinct manifests itself as freedom. The two are joined and stand together.

Where there is rationality, there is freedom. Where there is instinct alone, there is not freedom and thus, no culpability. So, culpability arises with man's freedom; whereas being compelled internally (an error of the materialists) or externally (under coercion) may mitigate or leave noculpability.24 And this freedom must be understood in terms of "doing that which we are designed to do" (freedom of excellence) and not as a lack of restraint (the modern notion of freedom being autonomy). To be "tied down" or imprisoned is a privation of freedom to be sure, but a lack of restraints is not necessary for the exercise of authentic freedom (many a martyr was free authentically while under extreme duress and constraint). So freedom is an exercise in aligning our direction with the nature of man, to do that which we were designed to do.

Following rationality and free will, man understands himself to be relational. This is another imaging in which man shares in the nature of the Trinity. God recognized that, "It is not good for man to be alone" because the Trinity of Persons is not alone.25 Those that lack a Trinitarian economy suffer at the expense of their own anthropology. As the Father gives himself to the Son, and the Son returns all to the Father and from the Father and Son proceeds the Holy Spirit, so too man is "built" to give, receive, and issue forth (to create with).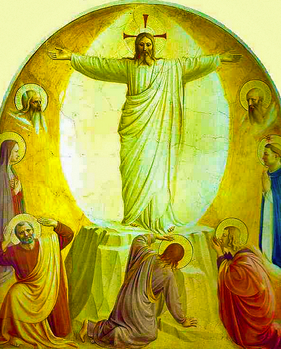 Another sense of imaging is being supernaturally oriented. Man is a natural being with a supernatural destiny. This is displayed in the way all the baptized are called to live and act as "travelers in a foreign land." The imprint of this "super nature" is the immaterial soul, as man too is a composite being (body and soul). This nature of man taken on by the Son (Incarnation) elevates man to share in the imaging of the Creator. The Incarnation was "in time", but "ever present" in the God-Man as the Second Person of the Trinity. It is entirely possible (and in some views probable) that the Incarnation was part of the plan from the beginning. It may not be a reaction countering human fault; i.e., it was planned, not precipitated by man's weakness. So it follows then that as Christ sacrificed to his Father, man images him in offering sacrifice (which is really a Trinitarian imaging).

Finally, since man is created by God, he is contingent on God. All things created are contingent. This connects not only all creation to God, but sets all creation in relation to man. Liturgy is the connection between creation and Creator. It provides immunity from any neo-pantheism (often attributed to Spinoza) or an unanchored spiritualism (being spiritual but not religious) rampant in contemporary understandings of worship. This is all a product of removing sacrifice from liturgy, and not identifying liturgy with worship.

Now one can explore the connection of liturgy in terms of 'living liturgy' (spirituality) and of 'imaging God' (moral life). But the glimpse given of the Light of God (Transfiguration) and sacrifice being integral to man as ways of knowing man (anthropology) must lead to imaging God by participating in his life (light to theosis). If by sharing in God's attributes, man images the Creator, then partaking of Divine Life (light) is crucial. Did not the Father assure man, "I say, you are gods?"26 And further, it is only "in his light that we see light."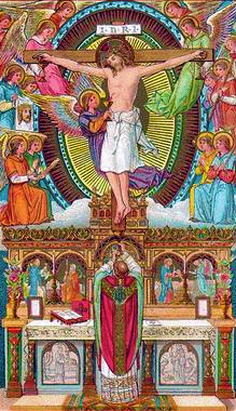 Contemporary Connotations

Contemporary connotations of these aspects of the imago Dei may raise immediate objections. Can it be that the liturgy offers nothing new, although it might provide a synthesis of all the elements? But liturgy provides a unique role for man. In the Dogmatic Constitution Sacrosanctum Concilium, the Fathers specifically spoke of man's participation in the liturgical sacrifice as actual. But actuosam liturgicarum celebrationum participationem was immediately interpreted by many to mean "playing a role" in the liturgy (lector, extraordinary minister of the Eucharist, etc.). Its intended meaning was that the baptized are to offer themselves, united with Christ's sacrifice through the Holy Spirit to the Father. It is not possible if the anamnesis is absent from the minds of the faithful. There is nothing to anchor the past event in the present. So, it is only grasped as Christ's sacrifice being "watched," or maybe the priest's.28 But the result is the same; it remains distant from man's life and not connected to those present. And most would be surprised to know who's present. If it is the entire Church, it includes all the baptized, absent or present (militant), those who have died but are being made holy (suffering) along with those who have entered union (triumphant).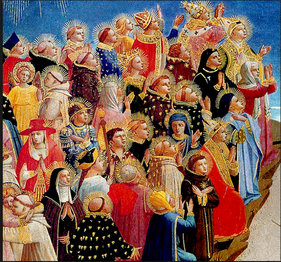 If the connection among the baptized is not appreciated, then the relation between the baptized and God has only superficial meaning. It becomes hard to say if there is any true grasp of the reality of the vertical and horizontal relational dimensions. Man's context rather is reduced to the many familiar and earthly relations one has throughout life; marriage (a great paradigm, but being so misunderstood as a sacrament, its ability to witness becomes distorted), extra familial relations that remain utilitarian (this would be the closest to carnal man's understanding of imaging God), virtual relations provided by various media (cinema, internet), and so on. If being baptized, but absent, man is still in liturgy, then how does one not live a liturgical life?

This grasp of unity is important, because when misunderstood it not only diminishes solidarity among men, but it also affects man's contingency on the Creator Lord. All connections seem contrived. It is even emboldened by a misunderstanding of the findings of modern biological evolutionary science. Accepting a poor metaphysics, many welcome the secular proposal that creation either happened without God at all (atheism) or that God is a distant and disinterested observer (Deism). Where man fails here is not in terms of the mechanism, which may be demonstrated materially, but in the contingent relation of man to God, which is an immaterial reality not proper to biology. God's role is in the sustenance provided by his light and breath.

For instance, even though all analogies fail, just as heated air keeps a balloon afloat, God's ruah sustains all creation. If it were to be withdrawn, just as if the flame were extinguished, the balloon would fall and similarly all creation would whither. One might even push it further by suggesting that as the burden of sin is cast off, man rises closer to God (Light from Light) just as a balloon is more buoyant with less of a load. But since contingency carries the price of obedience (following one's nature) it is rejected. To be contingent, it is thought, is to lack power, and to be susceptible to manipulation.

Liturgy doesn't allow that type of distortion; the prize of light in man is unification with both God and all creation. Then this supernatural and natural, the sacred and the profane all come together in the liturgy. They both belong there, pointing to heaven while staying on earth. Most people's understanding of any supernatural destiny is far off, not relevant for the present. But liturgy places it in the here-and-now. In the epiclesis, it is the supernatural that both communicates and is communicated between man and God, earth and heaven. So, it is not just that the liturgy provides the context for man's anthropology, it is more of being the arrangement (a sense of form) for man's imaging of God to come to fruition.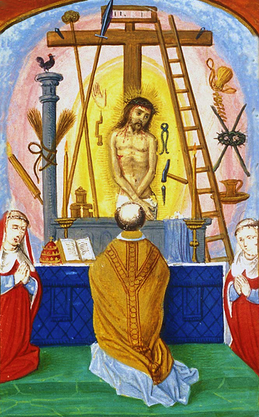 Liturgical Living

Liturgical living appears, for far too many, rather inconsequential. Here it could be seen as being a stretched term, out of context for man's imaging. But what else could be the case as the word "liturgy" is often absent in vernacular use? And in terms of defining it, most would be found wanting to provide an adequate response.

Without offering any extensive treatment, it will be used here to include the priestly and public worship (leitourgeo) of the Church that extends beyond the sacramental rites. It always includes a sensible sign, united with and being a sacrifice whose purpose is to glorify God and sanctify man. So, it would include the Divine Office and liturgies outside of Eucharistic celebrations, but exclude any private devotions.29

So how does one live liturgically? How is living liturgically identified in terms of man? It is not a peculiar question if there is an understanding that "liturgy is the first source and norm of faith" (orthodoxia prima), [leading to] how man understands himself (homo liturgicus).30 But since personal experience determines cultural influences, man associates his existence (his living) by what is experienced in his flesh and bones. This is well enough, as these things are part of man's temporal existence and are gifts from God. But it is not the sum of man or adequate for knowing himself. Thinking so splits the sacred from the carnal and limits man to earthy tones alone and only what can be derived from their meanings. How is man transfigured, or how does he transcend his earthly plane?

One goes to liturgy but how does that spill out into man's living? The questions, "When does it start?" and "How long will it be?" reveal that separation and the difficulty in identifying one's life with liturgy. Contemporary man is spiritual at liturgy and temporal in living. But only homo liturgicus can speak to the depth of man's being and vocation, transcending the perceptible, allowing the "eternal now" to be present. There is "either a humanism in which man is the measure of everything, or the liturgy through which the mystery transfigures and divinizes us."31 It is in and with liturgy that man truly lives.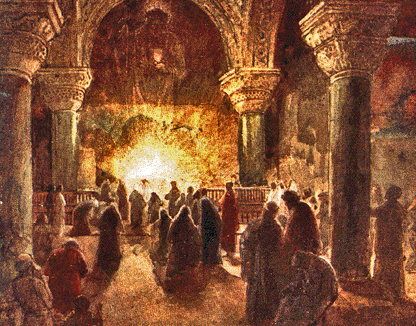 Christendom Is Fractured

Christendom is fractured, but yet all the baptized remain the one Body of Christ.32 So in those faith expressions opposed to any liturgy, a depth of man remains unrealized. Some claim that liturgy is too rigid. Rather, it is argued, that the impulse of the Spirit is thwarted. This is "the notion that religious expression can be genuine only when it occurs in absolute spontaneity...[but that] is a piece of nonsense" as a person can always ascent to what is recited; it need not be rote.33 Yet others don't shun it as much as they simply do not endorse it. They don't see it as a way to relate to God, or perhaps they see liturgy as an antiquated way that is now irrelevant. In fact, these Christian denominations pride themselves on being instrumental in having done away with liturgy entirely.

They claim to have moved from a sacramental (liturgical) expression, to what is now referred to as a relational experience (praise and worship). It appears real and leaves one with the impression of feeling close to God. But this evaluates the worship in terms of the participants' sincerity. So the feelings of gratification are the measure of the experience. But it does not regard worship from the aspect of God's desire, but rather uses as a benchmark man's aspirations of being fulfilled. It is only necessary to attend if one needs uplifting.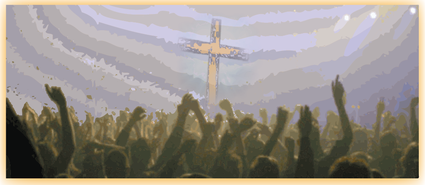 There indeed is a semblance of union (the I becomes we), or it would not be attractive. But it remains horizontal. This "we without Christ leads to a superficially anchored pseudo-communion...leading to a mass-egoism."34 It is not unlike the experience of a sporting event, where there is a sense of community and shared gratification.

Some congregations even reflect this in the terms they use, referring to their central space of worship as a "sanctorium" (a portmanteau formed from sanctuary and auditorium) replete with all the emotions of a hyped-up event. Missed entirely is that all things sacramental are relational. Ironically then where the sacraments are reduced (or denied), the horizontal relational aspect is reduced. This results in the contemporary worship service being personally subjective, yet collectively gratifying. There is nothing transcendent; it lacks mystery. With this collapse of mystery, all that remains is "a pervasive folksiness and casualness, a self-conscious sense of practicality and immediate relevance."35 What occurs never moves above an earthly experience. Liturgy is not just an obstacle then ecumenically, but in its absence, man's imaging of God is reduced.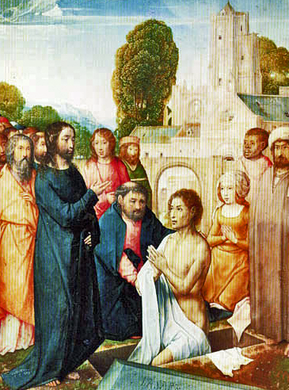 The Transforming Light of God

The transforming Light of God can change man who is drawn freely closer to God. If this is not true, then liturgy is a passive act that loses all meaning, an event that one merely attends. Liturgically this change is an interior movement of love, pulled by the Light to make men gods. Tragically this potential departs from those denominations that have retained a liturgical structure, but being "outside" deny any possibility of this type of transfiguration.

It is true that those 'liturgical' churches (sometimes referred to as High Protestant) appear to share the form of worship, but having different ends, so the resemblance is superficial. Change in the individual himself is required by definition, for man to become a god beginning here on earth. If this is not affirmed, then what is the function of liturgy and its end of sanctification?

For example, Martin Luther's novel theory of "extrinsic justification" is hostile to this notion. If one holds and "affirms grace alone saves us, [but then adds] the negation that it changes nothing in us so doing," how can man be transformed?36 This statement may appear polemic, but as the principle of noncontradiction affirms, either man can be or cannot be deified (a participation in him). It is either a sacrifice that transforms man by created light into an image of the Uncreated Light, or it doesn't. There is no room for intermediaries, hence again the difficulty in common ground concerning this issue. This affects the primary understanding of man as a liturgical creature in that the worshiper becomes disconnected from Sacred Scripture's recognition of sacrifice being central to man's relation to God. It also distorts an intra-Trinitarian grasp of relationality. How can sacrifice (liturgy) be pivotal to an understanding of man who reflects this Trinity? It cannot and does not.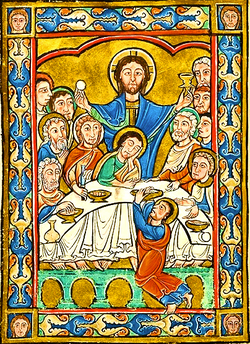 Relevant Worship

Relevant worship, it was already mentioned, is the novel goal of modern religious services.37 It's often how one chooses a congregation. The religious service must be pragmatic, or applicable to one's life. The service is deemed necessary to fulfill one's needs. It becomes one of the ways to satisfy a spiritual yearning, much like a fitness gym is chosen by how well it provides both the environment and services for fitness.38 Dietrich von Hildebrand spoke of those who seek such practical aims as being "flat and limited men."39 Their utilitarian aspirations subsequently inverts worship? The relevant experience is not viewed in the relation of man to the Worshiped. The question for them is not, "What worship does God desire for man?" but "What worship does man desire for God?" It is considered in terms of its perceived effectiveness to fulfill subjective expectations. So the event can only achieve satisfaction. What then of any real sense of transformation (imago Dei)? The truth is that the worshipper did not expect to be transformed. Transforming man into a god is not even considered something the service is capable of. Sanctification disconnected from justification only permits Christ's sacrifice and goodness to be applied to man in a judicial extrinsic sense. This is not the occasion to provide an in-depth argument, but it is enough to recognize that one's position towards justification affects both an understanding of liturgy and of the human person. An inability to transform the individual in a real way (deification) severs the two ends of liturgy. Separated, both ends lose their potency. Does anyone ask what is God's preference in how he is to be worshiped?

It can now be seen how retaining a liturgical structure does not make one immune from a man-centered worship. If there is not a present and genuine sacrifice, then all that remains possible is some sense of a reenactment, albeit a sincere and pious one. There may even be a real presence affirmed, but it is the sacrifice (work of Christ) that produces the transformation of the elements (ex opere operato). So whether it is the lack of sacrifice, personal relevance, subjective satisfaction, or individual faith, the transformative light is rendered sterile.

This, however is not just a protestant phenomenon. How many congregants leave Roman Catholic or Orthodox liturgies (Mass or Divine Liturgy) expressing little to no satisfaction? Consider comments such as, "I really didn't get anything out of that." Does that perceived lack of relevance really differ in essence from those perspectives previously mentioned? I recall the story of one of my liturgy professors, who was confronted with that very question by a couple after Mass. This priest's reply was, "Good. Maybe you're finally getting it, because it's not really about you."

It's not that man should not "get something" out of liturgy, but that any subjective evaluation misses the mark. Both the love of God and love of neighbor, as being the two great commandments, are fulfilled by the objective participation of the baptized in the sacrifice of Christ united to one's own sacrifice. These two must remain unified, and man can only offer this through liturgical living.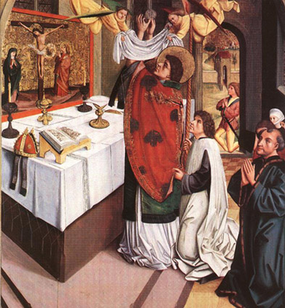 Questions Arise

Questions arise when one's personal sacrifices are separated from the action of Christ (our sacrifice at your hands). Worship becomes distilled down to an evaluation of the experience in temporal human terms. Disillusioned by the perceived irrelevance (got nothing out of it), the remoteness of liturgy from life seems more acute.

For instance, the faithful are told that liturgy is the "source and summit" of their lives. But they cannot understand how. They are told that they are a liturgical people. But they are not certain what that even means. They are told that all the baptized are present in this eternal now liturgy providing genuine communion with God and man. That doesn't seem to be their assessment of the experience. They are told that it is their sacrifice on the altar. But they are at a loss to articulate any connection. How can liturgy become central to man's understanding of himself as a person when they are hard-pressed to muster even a definition? If liturgy and life are connected as proposed, and one does not recognize the meaning of the first, there will be no connection possible to the latter. Mass egoism in the sanctorium seems to offer a much more perceptible notion of union, and exhilaration is gladly traded for the unfelt contribution of liturgy.

It should now be evident that the problem of personal satisfaction being sought in worship, (what it does for them being the gauge), is the very thing that frustrates any transfiguration. This deification (sanctification to be like God) alone has the power to deliver relevance since that is God's ultimate desire for man. A false expectation in worship limits man's apprehension of his own quest towards divinity, and an understanding of himself in liturgy and the role of liturgy imbuing every aspect of man's life.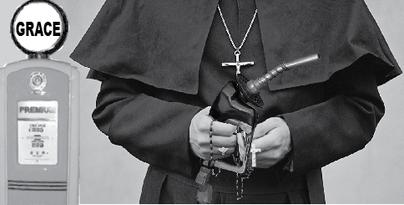 Separating the Secular and the Sacred

Separating the secular and the sacred is another underlying cause in this liturgy and life estrangement. The only antidote will be "a radical reorientation toward liturgy breaking that sacred/profane distinction."40 Think how the mindset of life existing outside of liturgy and consequently liturgy restricted to an event happening "in there" destroys any potential of a liturgical transformation.

Here again, one strives for an analogy to demonstrate the significance of liturgy and this "light." Many a homilist has proclaimed that, now filled with grace, the baptized can go out into the world.41 Upon being worn down, man should return to liturgy to be reenergized. What that analogy does is reduce the magnificence of the Eucharistic feast to a charging station, rather than a transformative event. It constricts liturgy to be understood as existing only within the time of gathering.

But as the liturgy flows into the world, it exists properly in the world in the transformed man (homo liturgicus). Further, the sanctification of man in liturgy is not a power in man, but a relation of God to man. It is a relation that is not reduced necessarily because one is not in liturgy, but dwindles only when the sacred is not recognized outside. It is the baptized man himself who is this sacred image (imago Dei). Liturgy exposes the baptized man as being sacred himself and in the world as a sacred image, i.e., imago Dei. It being the summit meaning it is the destiny of "all apostolic activity, and is the source in that one passes through the Eucharist" as a spark ignited or a flame emboldened. 2 This light of Christ, given in liturgy is not a battery draining. It becomes the relation that sustains man as he continues in a world destroying the sacred/profane distinction.

The worldview of the modern man furthers this disruption by wrongly associating the sacred with the immaterial and the profane with the material. Again, it is a bad metaphysics at play here in the culture. Unfortunately, the effects of Positivism remain, and scientific proofs are recognized as the only reliable and verifiable facts capable of providing certainty. Materialism becomes the norm and all things spiritual are relegated as meaningless. This "dissociation of the material and the spiritual in a predominately materialistic civilization [has]divided society into a secular sphere and an increasingly unimportant otherworldly sphere."43

The liturgy, only recognized "in church," is seen as an island of sacred in a sea of profane. It has even blurred the priestly (sacrifice) image in man, as the ordained deal with the sacred and the laity wrestle with the worldly things. The sacred is thought to be better than the other. This gives the false impression that the priest, in dealing with the sacred, is called to live a life of holiness above that of the lay person. And in turn the laity, living in the secular realm cannot live liturgically, for that is reserved for when the laity is in the presence of the priest. This separates any understanding of liturgy as continuing in one's secular life, so liturgy has no relevance for man's daily living. And unfortunately, artificially separating the holy from the profane has led to "nourish that 'clericalism' that reduces the laity to second-class citizens. The priest then must protect that which is 'holy.'"44 The holy then is not capable of being sustained out there. The liturgy is viewed as a spiritual gas station and the priest becomes the pump attendant.


Light from Light

Light from Light, as we profess in the creed, is not restricted to "in there" or only for those ordained. This Light unites and transforms all of creation. But why the word "light"? On the surface it seems to be a metaphor presented between two univocal reiterations (God from God, Light from Light, true God from true God...). Is it just affirming Christ's divinity? During the battle with the heresy surrounding Christ's divinity and humanity, the emphasis of the East was to affirm the unity of God, while in the West it was the Threeness of God; the nod appears to have gone to the Eastern Church as we begin our profession saying, "Credo in unum Deum."

It is also those Eastern Churches who have maintained man's capability for deification; becoming light by this Light. It is this spirituality of divinization that protects against holding any fallacious understanding of salvation as getting into heaven, as if it were something assured and the result a guaranteed location rather than a transformation of the person. (Note from Dr. Ronda: Throughout this chapter you will see words like divinization, deification, we are to become gods. This never means we become God in identity as if we become the creator of the universe…rather concerns participation in the divine through grace.)

That thinking leads one to not fully appreciate the gradation of joining with Christ now. "Light" can speak to that nuanced understanding. Man, through light, is becoming one with the Light in the already but not yet. That is the gift of living in a liturgical relation as sojourners.

Eastern spirituality tapped into this concept of moving towards the Light by the light. In particular there is an appreciation of Gregory of Palamas, to whom Pope John Paul II nodded approvingly.45 Though the quietest aspect (hesychast) removes one from the world, and this separation is a concern, its focus on the uncreated light is of value. Both "lungs of the Church" is not immune from an over emphasis, "Western theology has become reduced to a static form of objectifying God's transcendence by separating Him (as a primary cause in all things) from the created world."46 So it may be that both traditions can separate man from the world in different ways and are not immune from a misplaced emphasis. But together they accentuate the issue properly; i.e., the created world is not something to overcome, but yet God's uncreated light remains in the created world; light is immanent and transcendent.

The connection may possibly be how God's ruah sustains man. Is this created light of God (let there be light) sourced in the Trinity reaching out to man? This is how man is granted access to "God [who] proceeds from His essence (inaccessible light). These processions being modes of existing in which the Divinity can communicate itself to created beings" where liturgy provides the context for self-knowing.47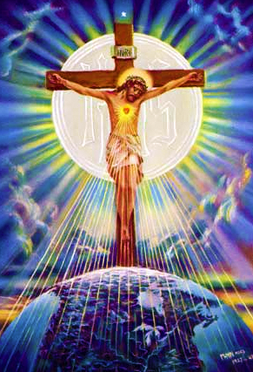 Logos and Light

The fullness of that communication is the "the light [which] shines in the darkness."48 It was the Logos of John's prologue (God made Man) which brings life to all. "What 'took place' in the Logos was 'life': this life is the light of humankind."49,50 It was only by this Light, in this act, that man's low nature was granted potency to be elevated and perfected. Pseudo-Dionysius said that this is the very reason "God goes forth toward His created world—to share his being or unlimited perfections."51

That statement is more profound than a first reading may reveal. A limitless Being, in reason (Logos) sharing and giving of himself to what he has created. And this sharing and giving is all played out in liturgy. There's a certain culmination occurring (Incarnation), and yet it is a beginning (new life). The Logos in the world is the origin of something not yet complete, yet this "Incarnation is the peak and irreversible finality" of God's self-communication" to all creation.52

It's interesting to note the Franciscans hold this apex as always a present idea in the mind of God; i.e., it was not necessitated by the Fall. It was the only way this low nature (man) would ever grasp hold of divine light and love. It must have been and was "Man-delivered." Think how it is so frequently understood in myths and the popular psyche that God must descend for man to know him. Consider the tower of Babel as an example, where man must rise up to where he is. Transcending the worldly is only through arduously contemplating the divine things. Wasn't it Plato who taught that "man must make a tortuous ascent of the mountain of wisdom to find truth? [How unlike] Christianity where God descends downward with his message of love and eternal happiness." 53 It is the Logos, this Light that came down to be light. This Jesus took on man's nature so that man can be made like him, namely an elemental one (characterized as the body) and a nature of light (pre-glorified)."54

Regardless of the impetus for the Incarnation (whether God had ordained this from all eternity, or if it was precipitated by the Fall), the light is grace given for man to restore that which would raise him up. The light is in the Lord, the Light is the Lord. For without it, "even the heaven of heaven would have been in itself a dark deep; but now it is light in the Lord."55 Christ is the source of all light!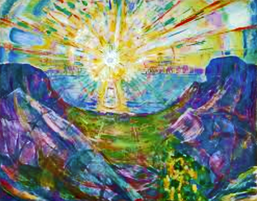 Transfiguring Light

Transfiguring light identifies the significance of man's deification and the event of Christ on Tabor. It is the source and image of God, as it is man's revealing God's presence to other men (imago Dei) and Christ's revealing God presence in himself (Transfiguration). It was the presence of the Deity in Christ revealed as Christ was transfigured. In his light, man too has that capacity, for when God "transforms us from light to light: he also transfigures us," revealing in man his deity. But man is never the source of the light. What is 'seen' in man is Christ's light. Just as the "three Apostles had for some measure of limited time the faculty of seeing the Master as He was," so too it is a gift to see in man who truly he can be.57 This witnesses to the source of Light itself. As it was for the Apostles after the Resurrection, to see man as he truly will be is an eschatological gift of man's own transfiguration.58

After the Resurrection and being brought into the Light, man assumes the transfigured state, even then sustained by the light of heaven. This state increases on man's pilgrimage as God's consuming love continues to penetrate man's heart and life with his "message of love and eternal happiness." This leads to a deeper revelation, a deepening penetration of the light transfiguring man; a progression of man to and becoming like God in this age of the Spirit until all things are brought to completion into the Light.59 (Note from Dr. Ronda: I think Bujno is emphasizing the positive here, but not denying that, darkened by sin, and individual doesn't just climb up the mountain, but continually falls down on the path, and needs to be cleansed.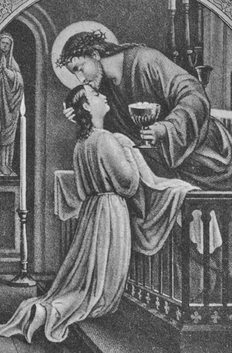 Liturgy and Light

Being in relation with God, revealed by light in liturgy, love between God and man increases by design. Two lovers grow deeper in their intimacy as one reveals himself to the other. This love is a source of knowledge. Christ came, was made visible so that man might know him. And by the Ascension, "the visible has become invisible. This has happened in order that the invisible—the fire of uncreated grace might become visible in us."60 Man now must reveal him. Not only does man rise above the nature that the Logos lowered himself to assume, but man reveals that nature (light) to others and to all creation. This renders false any distinction between the sacred and profane.

This baptism then, this light is an identity for man. In "becoming contemporary with the Pasch of Christ in the liturgy of the Church [man discovers] an anthropological reality."61 It is through God's energy (the immanent transcending), manifested in the created order where God and man are joined.62 These energies, and one should not be hesitant to use the word, "are not effects foreign to the divine essence; they are not acts exterior to God, depending on His will."63 They are created and God is uncreated, but they allow man to share in the life of Christ as the Spirit gives to man freely the love of the Father. Baptism gives man this light. Clement of Alexandria put it succinctly saying, "being baptized, we are illuminated; illuminated, we become sons; then made perfect, then made immortal."64 This has to have meaning for the human person. This has to be a primary marker of man's identity. It is God's grace given to man. It belongs to man in a real way. It becomes part of who he is in himself (anthropology).

Man cannot be sustained apart from the Logos. Man is contingent on God, but it is his light made ours. Augustine phrases it as "from [God] arises our garment of light."65 As the world receives the unfolding (apokalypto) of God's love, liturgy is the paramount touching of these two realities (temporal and supernatural) and two spheres (sacred and profane) in the life of man.66 It is where the edges of each melt, if not practically dissolve, making any clear demarcation difficult to identify. Then the Spirit (ruah) of God communicates freely; man is "made free" to "worship (and serve) Him without fear."67,68 In this worship (liturgy) man can attain "the brightness of His glory, and the figure of His substance."69 His uncreated grace (the source) is given to guide man's nature to life and love (the summit). It culminated in the Incarnation, but for man it begins in Baptism. Man has been given the capacity for divinity.

This truth unmasks the error of liturgy as something 'being done', separated from the relationship of man's love (and all creation's longing) for God. Man is being made holy to be like God, through light in liturgy; this is an adequate anthropology. This grace-filled light is "ever the love which quieteth this heaven, welcomes into itself with such salute, to make the candle ready for its flame."70

Endnotes

• Maloney, SJ, George A. A Theology of Uncreated Energies, The 1978 Père Marquette Theology Lecture, Marquette University Press, April 16, 1978, p. 104.

• This is important to retain, for modern connotations present "gift" as something superfluous, or unnecessary for the giver, requiring no 'sacrifice'. Consider only the great gift of Christ on the Cross.

• In another instance about "right worship," Pope Benedict XVI points out in The Spirit of the Liturgy, that "the freedom to give right worship to God, appears, in the encounter with Pharaoh, to be the sole purpose of the Exodus." p. 20.

• Some translations read, "At the end of days", without specifying whether it refers to a "creation week" or a "harvest season."

• Aquinas does place religion under the cardinal virtue of justice.

• Schmemann, Alexander, Eucharist, St. Vladimir's Seminary Press, 1987, p. 101.

• Commentary on this speculates that both Cain and Abel may have had priestly status in their family and therefore duties before the Lord. This would then assume that oblations were anticipated in accordance with their state, in line with their nature.

• Wisdom of Solomon 2:23b, RSV.

• Rahner, Karl, The Trinity, The Crossroad Publishing Company, 2004, pp. 89-90).

• Lossky, Vladimir, In the Image and Likeness of God, St. Vladimir's Seminary Press, 1974, p. 40.

• Corbon, Jean, The Wellspring of Worship, ( Ignatius Press, 1998) p. 222.

• Cf. Colossians 1:12-22 (consider too how this understanding does not permit a static relationship with God, or the concept of a distant "hands-off" God. If he were to withdraw his breath, man would cease to exist; that's intimacy!

• Pope Benedict XVI, I Believe in One God, ( St. Paul's Publishing, 2012) p. 29.

• "In the early Church, Baptism was called the Sacrament of Illumination." Cf. Pope Benedict XVI, I Believe in One God, p. 132.

• Gelin SS, Albert, S., The Concept of Man in the Bible, David Murphy, Tr., (:Alba House, 1968) p. 29.

• Luke 12:50, RSV.

• Cf. Romans 12:1.

• Cf Acts 14:8-18 Where St. John Chrysostom states of Paul and Barnabas, "For a tongue of fire was added to their human nature...[and this] fire is never something that is simply due to another and therefore exists beside him." Pope Benedict XVI, Images of Hope, (:Ignatius Press, 2006) pp. 72-73.

• Augustine, The Confessions of St. Augustine. Rex Warner, Tr. New American Library, 1963 (cf. XIII, 9,10). 23

• Pope Benedict XVI, The Spirit of the Liturgy, (Ignatius Press, 2000), p. 27.

• von Hildebrand, Dietrich, Liturgy and Personality, Sophia Institute Press, 1985, p. 74.

• Gelin SS, Albert, S., The Concept of Man in the Bible, David Murphy, Tr., Alba House, 1968, p. 17.

• Pope Benedict XVI, The Spirit of the Liturgy, p. 28.

• Cf. Pope John Paul II, Veritatis Splendor, 1993, §63.

• Genesis 2:18, RSV.

• Cf. Psalm 82:6a.

• Cf. Psalms 35:9b.

• The baptized are priests (universal priesthood). Until that identity is returned to all, the dignity of one's baptism cannot open up any possibilities of genuine sacrifice.

• In the Liturgy of the Hours, the baptized priestly person is the sensible sign.

• Irwin, Kevin W., Liturgical Theology-A Primer, The Liturgical Press, 1990. p. 29.

• Corbon, p. 233.



• This will always be understood here as the baptized People of God (cf. Lumen Gentium, Ch. 2). Those coming into the fullness of the Catholic Church are not converts properly speaking. If they are baptized validly, they are in the Body of Christ. Anything short of that is an affront to the dignity of baptism and the work of the Spirit in man.

• Rahner, Karl, The Practice of Faith, The Crossroad Publishing Company, 1983) p. 173.

• von Hildebrand p. 46.

• Mannion, p. 108.

• Bouyer, Louis, The Spirit and Forms of Protestantism, Scepter Publisher, 2001 p. 168.

• Ironically, service is aptly named as it is indeed a service to God, not man.

• Religious freedom should not be thwarted, as it is preparation for the fullness of truth.

• von Hildebrand, p. 54.

• As spoken by the Orthodox theologian Alexander Schmemann, in Irwin, Kevin W., Liturgical Theology: A Primer, The Liturgical Press, 1990, p. 42.

• The concluding rite exclaims ite missa est, meaning "you are being sent." This implies to bring the liturgy into the world.

• Cf. Synod of Bishops, XI Ordinary General Assembly, The Eucharist: The Source and Summit of the Life and Mission of the Church, Lineamenta, 2001, §2.

• Mannion, p. 77. 24

• Schmemann, Alexander, Eucharist, p. 20.

• Every moment of the Incarnation is to unite to man—concerning the hesychast controversy, "to emphasize the concrete possibility that man is given to unite himself with the Triune God in the intimacy of his heart." Cf. Pope John Paul II, "Eastern Theology has Enriched the Whole Church", Angelus Message, 11 August 1996.

• Maloney, pp.8-9.

• Lossky, p. 40.

• John 1:5, RSV.

• Logos "is not reason pure and simple, but creative Reason, that speaks and communicates itself." Cf. Pope Benedict XVI, I Believe in One God, St. Paul's Publishing, 2012. p. 19.

• Maloney, pp. 42-43.

• Maloney, p. 66.

• Rahner, Karl, The Trinity, p. 90.

• Chervin, Ronda, The Way of Love, Volume III, "Making Moral Loving Decisions," 2010.

• Canty, Aaron, Light and Glory-The Transfiguration of Christ in Early Franciscan and Dominican Theology, The Catholic University of America Press, 2011) p. 95.

• Augustine, The Confessions of St. Augustine. Rex Warner, Tr. New American Library, 1963, p. 321 (XIII. 8).

• Corbon, p. 227.

• Maloney, p. 88.

• Cf. Canty, p. 93, John of La Rochelle brings up an objection, raised but not properly satisfied by Alexander of Hales, asking "how is it that Jesus' post-Resurrection appearances are not properly referred to as transfigurations."

• Pope Benedict XVI, who followed him wrote his doctorate thesis on Bonaventure who understood all ages as a progression towards the "age of the Spirit."

• Lossky, p. 65.

• Pope Benedict XVI, The Spirit of the Liturgy, p. 58.

• St. Gregory of Nyssa uses the word "energy" to describe the bond between God and his creatures… "every essence has an energy if it is to be more than possible; this is God's manifestation in the created order." Cf. Maloney, p. 72,

• Lossky, p. 54.

• Roberts, Alexander and Donaldson, James, Ed., Ante-Nicene Fathers, V.2., Clement of Alexandria, The Instructor, Book I, Chap. VI. Hendrickson Publishers, 2004 p. 215. 25

• Augustine, (XIII.8), p. 321 (emphasis mine).

• How telling is the fact that John Paul II added the illuminative mysteries to the great prayer of the Rosary.

• "The freedom to give right worship to God, appears, in the encounter with Pharaoh, to be the sole purpose of the Exodus." Cf. Pope Benedict XVI, The Spirit of the Liturgy, p. 20.

68. Luke 1:74b, RSV.

69. Cf. Wisdom 7:26

70. Alighieri, Dante, The Divine Comedy, tr. Henry Wadsworth Longfellow, Fall River Press, 2013 Paradiso, Canto XXX - line 46, p. 671.


For Personal Reflection and Group Sharing:

• What does the metaphor of light offer in terms of man's relation to God and other men?

• In what ways is sacrifice necessary to complement the word "gift", as in the phrase "giving of yourself to another"?

3. What are some of the obstacles to grasping the significance of being in liturgy? Pastorally, how can it be shown as necessary and relevant for the life of man?

4. Why is it so easy to separate the sacred from the secular? How can one help others overcome that false dichotomy?

5. What is the significance of the Logos and the Transfiguration for a human anthropology?

6. Pastorally, how can others be guided to grow in love through the Light and liturgy, in order "to make the candle ready for its flame"?


RESPONSES TO THIS CHAPTER:

Response from Kathleen Brouillette:

"It is the nature of this relational God to give Himself as gift. This gift manifests itself in terms of sacrifice." Taken from the second page of Bujno's article, this may be the single most important sentence of the entire chapter…perhaps of the entire course. That God sacrifices is key to understanding His love for us, and our required response to Him. Sacrifice is key to understanding the role of Jesus Christ as Bridegroom of the Church, which is key to understanding the priesthood and married life. It is key to understanding that we are members of the Mystical Body of Christ and must love and treat one another as such. It is key to understanding liturgy, grace, relationship, love and worship.

Bujno also suggests that the polarity we experience in the Church, especially since the second half of the twentieth century, really began with Adam and Eve, and continued with Cain and Abel. We have taken that polarity in a different direction, completely away from sacrifice, toward fulfillment of me. It is important for us to remember that God has revealed to us how He wishes to be worshiped. This is not about man, his will and self-fulfillment – the focus is to be on GOD. We must see ourselves in Him on our way to divinization. "One sacrifices in imaging a God who himself freely offers sacrifices." "Man's vocation is to be a sacrifice." Who believes that????? To how many has the concept even occurred???

Bujno further speaks of being free to do that which we are designed to do, but mankind leans more toward being free of restrictions to do his own will than on doing the will of God. Man's focus on his relational nature is more about being able to do what he wants, when he wants, with whomever he wants. And rarely is the object of that desire God. Too many see this life as an end in itself. There is precious little thought of heaven except as some delightful place of reward where everyone goes after having done whatever they want in this life on earth.

How is it possible for people to live liturgically when they seldom, if ever, participate in the Holy Sacrifice of the Mass? And, at the risk of repeating my position in every single chapter, how can they offer full, active, conscious participation in the liturgical aspect of life if no one ever teaches them about it???? How many people know, let alone meditate upon, the fact that the Holy Sacrifice of the Mass is a participation in the heavenly liturgy? How many people know they need to prepare for this experience? When the music director in my parish plays before Mass, it seems to be a signal to the people that now is the time to talk to your neighbors, and to talk louder in order to hear one another over the organ. There is no thought of talking to God, or of being silently in His Presence, or of offering the Mass. There is no thought of talking to Christ within us when we return to our pews after Communion. There is no thought of becoming divinized, or of taking this grace out into the world to be its light. It's part of a check-off list: go to Church, receive Communion, take the kids to religion class. Or, don't do any of these things because, "I don't get anything out of it."

But it isn't about what we get. We have to live liturgy and be it. If we understand that we are made in the image of God, that He wishes us to worship Him according to His will, that He sacrifices and we are to do so as well, that liturgy gives us the grace to become more and more like Him and to be light for one another, then we change the world by the way we live in it, and God will be all in all!

Response of David Tate:

Reading Bujno's first section regarding his theological and anthropological use of light, I am reminded of several words. Knowing, Understanding, and even Security are words that come to my mind. Bujno writes," With God's continued 'light', the centuries ahead will recognize…" He invites a similar common denominator with his word, recognize. Reading Bujno, I am reminded of my days of when I was an avid John Wayne films fan, especially his Westerns. One classic scene shows Wayne and others sitting around a campfire. Night has fallen, and there exists an aura of light where everyone is easily seen. Beyond a certain point, the light fades and what lies beyond sits invisibly behind the curtain of darkness. Many times for drama sake, some mysterious or intimidating sounds breaks the sound of the soft campfire conversations. The startling sound sends everyone to the task of producing a gun for protection. The light of the campfire provides visibility to life, and a sense of security against the curtain of blackness that encroaches ever closer as the fire dies down. With this metaphor I feel that the idea of light in man's understanding of others (especially God) is wrapped up in the dual sense of giving light, but also for pushing back the darkness.

The lesson from Nature and from God is that the act of creating life is the ultimate in "giving". The parents of children give of their time, talent, and treasure to provide for their young what the young need for survival into adulthood (food, warmth, protection, sometimes nurturing). It has been made clear that the greatest example of caring and giving are demonstrated by some form of sacrifice. In the history of man, the most moving stories are those of people that give their life for the sake of another's survival. The most explicit act of giving rests on the fact that the one being given to cannot provide for itself. Bujno mentions, "relational God to give himself as gift." God's act of giving to Mankind is the Gift of Himself in the Second Person of the Trinity who became Flesh, in order to die a death upon a Cross for the sins of all mankind. This is the visible sign of God's relationship with Man that did not want, nor was able to, provide a way out of his sinfulness. Like the old hymn says, "We owed a debt we could not pay. God paid a debt He did not owe." God's greatest Gift was Himself in the Paschal sacrifice.