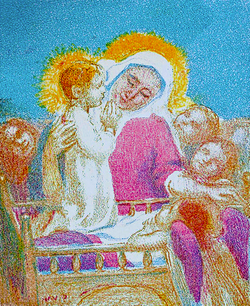 "I Believe in One Lord, Jesus Christ…who for our Salvation came down from Heaven."

A polarity that I noticed in the later part of the twentieth century came from a difference between those Catholics who stressed that Jesus is Lord and those seeking His salvation outside of obedience to Church teachings.

The word "Lord" conveys authority—in spiritual and moral doctrine. The Second Person of the Blessed Trinity, by whom all things were made, who became man in Jesus, certainly has a right to tell us what to believe and what to do. But some in the Church gradually shifted into loving Jesus as the one who saves us from fears in life and fear of death, unrelated to obedience to Church law or certain moral obligations. Instead of absolute moral principles some such Catholics espoused what came to be called situation ethics.

Once in the 1980s I threw out the claim that within a few sentences in a religious conversation, anyone could detect who was a "conservative," who a "liberal," and who a "charismatic." For example, you would rarely hear a liberal use the word "almighty" about God. You would rarely hear a conservative use the word "brother" about Jesus. And neither conservatives nor liberals would describe prayer for another as "lifting John or Sue up" in the charismatic mode!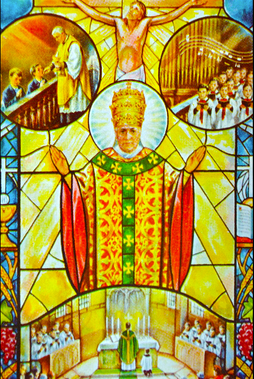 One of the ways this polarity between Lord and Savior manifested itself was in the words and music of the liturgy. Gregorian Chant and hymns redolent of the sense of the transcendent "lordly" Christ, were sometimes replaced by contemporary hymns displaying Jesus more as a perfect friend. This polarity in liturgy has been described as vertical versus horizontal. I was brought into the Church by Benedictine Oblates who loved the Chant. After Vatican II, in the parish, I heard mainly contemporary music and words. Somewhat different still, were the music and words in charismatic praise and worship services—they were usually taken from the mood and rhythms of the Gospel tradition. The music polarities, of course, were also reflections of the wider conflict between those who chose to go only to Tridentine Latin Masses, now known as the Extraordinary Form, and those who regarded only Masses in the vernacular as faithful to the spirit of Vatican II. I am hoping to include in Toward a Twenty-first Century Catholic Worldview, a chapter by one of our professor-experts in this area.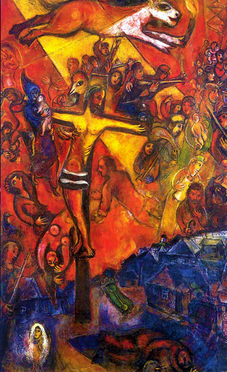 Once, at a charismatic prayer meeting, I was pondering how someone like me, who listens at home only to classical music could love those child-like charismatic songs. I decided that the chant appeals to the soul; contemporary hymns to psychological states of the people—such as a song about trust in God for funerals; and charismatic songs appeal to the gut.

Given the severity of the conflicts in the twentieth-century Church caused by this polarity, you might wonder what a twenty-first century synthesis could possibly look like!

Clearly, on a doctrinal level, Catholic Realism teaches that Christ is both Lord and Savior. It is as Second Person of the Blessed Trinity, Lord, that He is able to save us from Original Sin, personal sin, and, ultimately death. We find no polarities on this central truth of the faith in the documents of Vatican II or in the Catechism!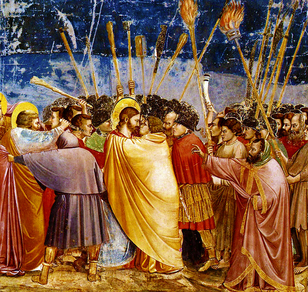 Just the same, if we long for a twenty-first century synthesis, we might look at some of aspects of character that exacerbate conflict. Sometimes the same people who emphasis Jesus as Lord commit sins of self-righteousness. They (we?) may even gloat at the idea of the enemies of Catholic teaching going to hell! Surely "speaking the truth with love" (Ephesians 4:15) would be a better way to build bridges than, as Dietrich von Hildebrand put it, "hurling denunciations from the throne of truth." On the other side of the polarity, caricaturing all those who accept the hard as well as the softer teachings of the Church as bitter zealots, is not a good way to build bridges either!

Some Catholic thinkers suggest that getting rid of labels such as conservative, liberal and charismatic is essential if we are to have unity in the Church. One marvels that pre-Vatican II most Catholics thought of themselves primarily simply as Catholics! If you can find any theologian able to write a list of basic Catholic truths that all those now in the twenty-first century Catholic Church would accept, please introduce me to him or her. We could take up a collection to pay him/her to write the last chapter of this book!

Regarding divisions over liturgy, Benedict XVI, pope emeritus, foresees that far in the future the good aspects of both the Extraordinary and Ordinary Forms of the Mass will come together!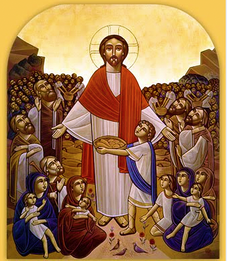 On the level of prayer, could we hope that the free-spirited would want to sometimes dance to the rhythm of others, even the Holy Father? Could we hope that the embattled magisterial Catholics would listen carefully to the motives of those who are alienated from certain teachings and practices the better to evangelize them?
"Some only come out by prayer and fasting!" (Mark 9:29)
"Go and make disciples of all nations" (Matthew 28:19)
How could "the great commission" become polarized? If we have the Bible and the sacraments and the
Catechism
wouldn't this make us united as disciples?
Sources of polarity in the past would be the early Church battles over dogma and the breaking up of the Church because of the Reformation. And in the twentieth century we have polarities in the Church when, in societies taken over by huge political movements such as communism and fascism, some members of the Church form compromise branches with tyrants.
Then we have huge teaching and protest movements within the Church such as social justice/peace and pro-life where along with heroic witnessing on the positive side, on the negative side some zealous leaders see groups other than their own as enemies or, sometimes as butts of sarcasm and ridicule.
I want to mention some signs I see of a twenty-first century synthesis already in the twentieth-century Church. In the 1970s there were great differences in catechetics between those who clung to the
Baltimore Catechism
, and pastors who preferred new catechisms with an emphasis on experience more than on some specific doctrines. By the end of the century the U.S. bishops approved catechisms with a balance of both interactive exercises and clear teachings.
We sometimes think that theologians who are speculative usually become dissenters, but would we like to have a Church with no thinkers and only teachers of textbooks? I can think of world-famous Catholic theologians who were, at one point, considered to be dangerous in one respect or another, yet who later became bulwarks of orthodoxy such as St.Thomas Aquinas, Blessed John Henry Cardinal Newman, or Jacques Maritain. That does not mean that every speculative theologian is free of errors, but that we need to take what is good from the thinking of such persons even as we feel called to correct what is false.
I was thrilled to see that two of the greatest Catholic leaders of movements combined themes in a way sometimes unexpected even by their own followers. I am thinking of how Dorothy Day, the most prominent leader in our country of social justice and peace protest, was a daily communicant and went to confession once a week. She was also a great lover of the Rosary. In fact, Marian movements, though sometimes rejected as old-fashioned in their prayers, can sometimes be a bridge with Catholics of many different ideas coming together under Mary's robe. Joan Andrews, among the most often jailed pro-life rescuers, began as a peace protester, as did Juli Loesch Wiley, co-founder of Pro-Lifers for Survival (which included deep concern for justice, peace, and pro-life). Before she died, when Operation Rescue just began, I wrote Dorothy Day that one of the reasons I was peacefully praying in front of the abortion clinics was because so many decades of hearing of tiny groups of peace activists praying in front of military institutions.
The spiritually traditional Legion of Mary demonstrates creativity in its evangelistic approach with door to door and street corner outreaches. Some ecumenical bonds were formed at the second half of the twentieth century based on Catholic and non-Catholic Christian pro-life ministry and the charismatic gifts of the Holy Spirit.
Pastoral affirmation of the many movements represented in the parish is a wonderful antidote to polarization of these same ministries.
Now that you have a grasp of the basic way I am envisaging polarity and synthesis, the themes in the rest of this chapter will be treated more briefly. Chapters by other writers will deal with some of these issues in greater depth.
"Love your Neighbor as Yourself." (Mark 12:31)
Again, you might think there was no room for polarities about such a commandment. Alas! One Catholic is committed, many hours a week, to helping the poor through the Vincent de Paul Society, or some similar outreach. Another Catholic thinks that the "poor" are really mostly exploiters of the Church, selling whatever is given to buy drugs or alcohol. Perhaps you remember some group accusing Mother Teresa of Calcutta of blocking social justice by taking care of the dying destitute of the streets.
Another polarity might be between those like the so popular St. Thérèse of Lisieux whose love of neighbor is expressed in tiny daily helps vs. those who promote large public works.
Those seeking better attitudes for the twenty-first century hope that such divisions will be healed. Often, I think, it is a matter of different callings. Some have the talents to get involved in political solutions or administration of institutions; others are better at one on one ministry.
In an analogous way, perhaps, we find by the end of the last century a better understanding of the personal callings to love of neighbor expressed in marriage, the single life, or the lives of deacons and priests, religious Sisters, Brothers, or consecrated virgins and widows. Even though the documents of Vatican II affirm that consecrated life is objectively higher in a general way, it became better understood that for the individual Catholic what is highest for each of us is what God is calling us to. St. Thomas More wanted to be a monk, but God wanted him to be a married man. There are many such examples.
"Pray Constantly." (1 Thessalonians 5:17)
The challenge of praying continually is one of the most exciting and challenging in Scripture. How can we, so earthbound and sensory, even remember to "speak" with an invisible God all day long?
The polarity in the twentieth century, still around in the twenty-first century can be between those who love the rich treasury of traditional set prayers such as the Liturgy of the Hours, the Rosary, or the Mercy Chaplet…and those who extol the beauty of spontaneous prayer or mostly wordless contemplative prayer.
The sad form this polarity sometimes takes is believers on either side insisting that those on the other side would be holier if only they did it the other way. Worse is ridicule of the beautiful set prayers as being merely babble without heart or of personal prayer without words as being simply self-centered navel gazing!
For a twenty-first century synthesis I like to study closely the practices of our two greatest twentieth-century saints, Mother Teresa of Calcutta and John Paul II. Among the most active reformers of all times, yet each, in different ways, spent long hours every day in deep wordless contemplative prayer.
Examples of ways of prayer that bring together both modes are those who quietly read from prayer books and/or pray the Rosary at Eucharistic Adoration, then allow the Holy Spirit to move them into deep wordless union!
As well as the still flourishing third order groups, many different kinds of retreat centers and prayer groups became popular with committed Catholics during the last century. Here lay people entered into formation processes to grow in holiness. In these groups, ways to pray that include traditional prayers and personal prayer are encouraged throughout the day.
"My Peace I Give to You." (John 14:27)
The twentieth century saw a tremendous growth in healing ministry in all of the Christian Churches. Triggered for many by the charismatic renewal movement in the Catholic Church many found physical healing at Marian apparition shrines.
By the end of the twentieth century the word "healing" in the Church broadened to include emotional healing ministries such as "healing of memories," "healing of the family tree," "deliverance prayer," and other forms such as Catholics participating in Twelve Step programs.
Parallel to healing was the application of many psychological theories to pastoral counseling. Just as a Catholic isn't forbidden to go to a medical doctor because Jesus can heal directly, why should anyone think that it is contrary to love of traditional Catholic ways to seek help from psychological counselors, especially when clearly adding another five decades of the Rosary doesn't necessarily bring peace to those deeply affected by wounds of the past?
Of course, all of these healing ministries became polarizing as groups formed that, for instance, declared themselves as only following the apparitions of Fatima, and not those of another alleged, not yet approved, apparition. Or, in the case of psychology, some Catholics considered its intrusions into religion as tragically loosening Catholics from their commitments in the name of overcoming the "repressive" patterns of the past. Others welcomed the availability of counseling as complementary to traditional spirituality.
A particular area in need of the peace of Jesus involved new concepts of the roles of women and men in society as they also impinged on the Church. Most, though not all, feminists insisted that the old roles were oppressive of women. Freedom from such subjection was often thought to start with the right to abortion, since mandatory motherhood was thought to be imprisoning for women.
Over time, by the 1970s, the Church would be polarized between those who wanted priesthood to be open to women and those who thought it was not the structures of the past that were oppressive, but rather the use of them by men falling short of Christian ideals in such forms as brutality, authoritarianism, discrimination, and arrogance.
In my books and talks on this subject I propose a synthesis to avoid false dichotomies such as women being feminine or free and men being strong or loving. In replacing such false alternatives, I have been teaching that it is in being faithful to the Holy Spirit that women can be feminine, free, and faithful, and men strong, loving, and faithful.
Some other extremely fruitful initiatives to overcome polarities in the area of gender are Marriage Encounter, the Catholic men's movements, Courage, and pro-life feminism.
In quite a different way, Christian artists, architects, musicians, fiction writers, and sacred dancers try to bring us fresh beauty and insight, to usher us into greater peace.
"That all may be one."
(John 17:20-21)
When you read the New Testament how often to you find Jesus absolutely alone with another person compared to all the times he addressed crowds or his disciples as a group? And yet, many Catholics in the twentieth century opted to get away from "all those people in the Church" to walk an individual path.
Although nothing is more Christian than the command to forgive, some find the defects and sins of those in the Church so unforgivable that they leave the Church. Others beg for the grace to overcome disappointment with others, realizing that our own need for Jesus in the Mass and the sacraments is much more crucial than nurturing bitterness about the evils of others in the Church. We would never even know about Jesus if everyone looked at Judas instead of at Jesus pouring himself out to us in the early Church through Word and sacraments?
Just to give one instance of overcoming the polarity between small churches where everyone knows each other well and large city parishes, I find hope in seeing how large parishes, for instance, overcome anonymity through an amazing array of parish groups for service, socializing, and education.
In the United States, a different reason for some polarities came with immigration. Our country had a long history of divisions between groups—Irish, Germans, and Italians forming their own language-based church buildings—and, sometimes competing for national Church leadership.
In our times we have had tensions over Hispanics and Asians, but gradually grace is overcoming division. I rejoice at occasions such as tri-lingual Masses attended by new-coming groups and older Anglos. How pleasant and hopeful when a parish throws an international dinner with contributions from cooks of every nationality represented in the Church!
Regarding the areas of polarity described above, some think it is just a matter of pendulum swings. Early 20th century Catholics were much more formal in liturgy and prayer. Then came more spontaneous liturgical innovations and individualistic prayers. The middle would be some of each. That may be true from a historical over-view, but our purpose in
Toward a 21st
Century Catholic World-View
, is to present over-arching perennial truths and perspectives to take the best from the old and the new in such disputed areas of Church life.
In the end, however, we get our greatest hope for the twenty-first century Church through the Mass and the sacraments themselves. Only the persons of the Holy Trinity can draw us into their unity as they unite themselves with us at each Mass and with each sacrament.
My presentation of the polarities in this first chapter of our book seemed to me to be a springboard toward such over-arching aspects of the 21st Century Catholic World-View that you will find in each of the chapters to follow.
I pray
: Holy Trinity, I beg you that I may not be the stumbling block to unity. Let not my defects and sins keep your love from shining through me to everyone in our Church and to all those you want to become one with us.
For Personal Reflection and Group Sharing
Describe polarities in society and Church that have impacted your life?
Have you ever left Catholic practice because of a painful polarity?
When have you seen a synthesis of good aspects of different ideas and practices in the Church?
Can you write a prayer for unity in the Church for the twenty-first century?
RESPONSES TO DR. RONDA'S CHAPTER ON PERENNIAL TRUTHS IN A 21ST CENTURY MODE: Readers of Toward a 21st Century Catholic World-View in a group setting may which to add to the above questions about the chapter anything you want to question or comment on that you read in this Response section.
From Fr. Dominic's comments in class
. (Fr. Dominic, author of the 2nd chapter in this book, team-taught the class based on the book, so you will find many of his comments in these sections after the chapters.)
Priests and Bishops should not teach their feelings or opinions but just say what the Church teaches.
We shouldn't concentrate on bad things in the Church but on the beauty of the Church.
Now, here is the response of my grandson-in-law, Sean Hurt, entering RCIA at the time of this writing:
After two years of Peace Corps service in the small African nation of Malawi, my wife and I were finally returning to the United States. The Peace Corp experience opened my eyes in many ways, not only to the day-to-day realities of impoverished peasant life but also to the guiding light of Christ. While in Africa, I converted to Christianity.
For me, it was not only the end of a two-year sojourn, but also the end to a lifelong search for God. Before going to Africa, I had studied geology at UCLA where I married my wife, Jenny. Disillusioned by mainstream politics and searching for answers to the grave injustices I saw around me, I had joined the socialists. By the time we departed for Malawi I was a committed atheist, naively hoping to enlighten the peasants on socialist principles. Instead those simple farmers brought me into the light of Christ. After coming back to America, my grandmother-in-law, Ronda Chervin, guided me to the Catholic Church.
I came to the church knowing nothing but the gospels, and holding a precious seed of faith. Prior to my conversion, I'd barely stepped foot in a church, much less attended Mass. So, everything was totally new to me, like an alien coming to a different planet. Even before I started going to RCIA, I had decided to attend daily Mass, if for nothing else, just so I could learn all the prayers and responses.
In the particular area where I moved there were two Catholic churches, practically right next to each other (in a Midwest university town where I am studying for a PhD in geology). I began to attend both churches regularly and differences stuck out to me right away.
St. "X" is a big and beautiful church with a tall bell tower. The inside is ornate, flooded with colored light that illuminates its golden tabernacle. The cavernous interior reverberates with every sound so that you can feel the base chords of the organ and choral music shake the ground beneath your feet. Its Mass is glorious and weighs upon you the gravity of its culmination—the Eucharist.
On the other side, St. "Y's" is simple. Its humble, plain, white interior and tabernacle made of clay and wood say, "We don't need a fancy church to have the real presence of Christ." At Mass they play folksy little songs that warm the heart. I love St. Y's for its loving, welcoming community, but at the same time, I feel that it lacks something in its celebration of the Eucharist. While the priest consecrates the host, many people just sit back and relax; they seem a little casual about it. I thought this is supposed to be the moment when real Jesus comes to us in the flesh? At St. X, people are bowing and kneeling in adoration. It all plays out so that the parishioner feels a climax at different points in the liturgy. At St. X, the Eucharist unequivocally occupies the focal point but at St. Y's it's diffused, vague, maybe centered more on the homily.
Later, once I began researching RCIA, I found other differences. At St. X the bulletin description warns that "serious inquirers only" should enter the program and goes into much detail impressing on its readers the gravity and sanctity this rite. It describes, in arcane language, all the complex periods one passes through before initiation—prayers of exorcism, blessings, and purification. I couldn't believe that this is the Catholic Church, this is stuff I knew only from books and movies or anthropology classes.
Then I went to St. Y's and they describe RCIA in such a different way that I thought it couldn't be the same thing. They invite "anyone interested in the Catholic Church in any way" and talk about group prayer and faith-sharing, not exorcism and mystagogy.
I was shocked at how the same Catholic Church could turn the Mass and RCIA into two such different experiences, and I began to realize that these outward differences betrayed an inner polarity in the Church. It started by my noticing that I rarely see St. Y's people at St. X and vice versa. I began talking to my fellow parishioners, and saw marked differences in their attitudes regarding various issues. People from St. Mary's complain about the Church's teachings that they dislike, such as ordination of women, contraception, homosexuality, etc.
Now at St. X, I noticed a similar lack of conformity to Church teachings especially regarding certain attitudes but in different areas. Whereas the
Catechism
tells us that those who are Muslims or those in other non-Catholic religions can be saved, some Catholics talk as if all Muslims are terrorists. Whereas the
Catechism
outlines just war theory, some Catholics act as if preemptive strikes were automatically good. Whereas the
Catechism
teaches about the goodness of mercy even for criminals, some Catholics seem to love the revenge of the death penalty. Whereas the
Catechism
has lots about social justice, some Catholics speak as if so-called social justice were just a communist plot. Whereas the
Catechism
includes respecting the dignity of the homosexual even while seeing acting out as sinful, some Catholics seem to ridicule homosexuals.
So, honestly, I see deviations from the Church's teachings on both sides. However, at St. Y's there is a subversive element—a lack of faith in the Church and its teaching, whereas St. X people seemed to deviate from Church teachings as a matter of misunderstanding.
I saw, early on, that the Church I'm coming to is divided. I think I probably felt like Jesus' disciples the day after Christ's Passion, asking, "Is
this
crucified man our salvation?! Is
this
broken thing the Holy Catholic Church?!" The Church is facing some complicated problems; I find it disheartening sometimes, and so I hope this course will contribute to a resolution.
Responses from students taking the course based on the book:
From Kathleen Brouillette:
I came to the Catholic Church in 1976, in the midst of all the post-Vatican II changes and polarization. Having been raised Episcopalian, but unchurched for most of my adult life, I was searching for God in the midst of my agnosticism. In hindsight, I see that God seemed to have been calling me to the Church from my earliest years. Most of my friends were Catholic and I was envious of their requirement to attend catechism on Saturday and to go to confession weekly. At the age of six or seven I played "nun" with a friend of mine. We wore old sheer curtains on our heads as veils and carried our protestant prayer books around the yard.
My entry to the Church came through a neighbor who was very Catholic and taught me all she had learned from the nuns during her Catholic School years. We were both pretty conservative and God used her to bring me to Our Lady, who led me to her Son. As I became more and more involved in parish life, I noticed differences in the way people prayed and what they believed, and I wondered how all of us could consider ourselves Catholic amid these great variations…
This Church I love so much has dropped the ball in the formation of her people. In catechist certification, my priest-teacher told the story of a friend of his, whose college-age daughter had left the Church. Home for the weekend, she found a copy of John Hardon's
A Catholic Catechism
on the coffee table and began to read. She took it to her room and stayed there all weekend. Finally leaving her room, she asked, "How come no one ever taught me this?" Indeed! She has been a practicing Catholic ever since.
During a weekend seminar for catechists, we were asked to tell the priest-presenter what we thought was the most important thing to stress in the teaching of our faith. I said it was the Real Presence of Jesus in the Blessed Sacrament. Too many people are indifferent to that truth. We need to remember that Jesus is God and that He loves us so much that He cannot wait for us to come to heaven to be with Him, so He allows Himself to be brought upon the altar to give Himself to us. We need to be in awe of that. If we really believed that Jesus is God, is present on the altar and in the Host, we would never be able to miss Mass. Several people came to me during dinner that night to say how touched they had been by what I said, and that they were grateful to God for using a convert to remind them of the treasure they have in the Church.
As Coordinator of Religious Education in my parish, I stress that we are the Body of Christ. It seems to me that we can truly love and accept one another if we remember that we are part of the same Body,
The Mystical Body of Christ.
That is a privilege we
receive
by the grace of God. There can be real synthesis, I think, despite all our differences, only when we are taught and believe that we are called to share in the perfect union of the Blessed Trinity. Perhaps St. Thomas More put it best in his
Instructions, Meditations and Prayers
, "Why then should I now hate someone for this little while on earth who will in the hereafter love me forever? And why then should I now be an enemy to someone with whom I will eventually be joined in eternal friendship?"
Response from David Tate, a seminarian from the diocese of Gallup, New Mexico:
My parents met in the Dallas, TX. They had come from two different worlds. My Dad had grown up in a well-structured New Jersey town where absence at the local Methodist Church meant that everyone knew you were home sick. My Mother grew up on the farm fields of central Depression Texas, and Church was a picnic and a meeting at the Baptist Church on Sunday, fried chicken included. My parents moved to California when I was young. We followed the 1960s Middle-Class norm of attending a local Church, lest we become known (even in California) as non-church attenders by our neighbors. While keeping close watchfulness of the church attendance, my Dad dutifully kept the lawn mowed, as well.
One thing that I recall understanding early in life was that there was this great stress in keeping Church attendance in a balanced place in life. Somehow, if you could make the Sunday service without being late, and show up in the correct clothing, you were pretty well set for the week in terms of paying off a weekly moral debt that hung over your head. There never seemed to be any suggestion of going on some other day for religious purposes. If you did go, it was for rendering personal help to the minister.
This whole train of thinking opened up to me a great polarity that was already in place by the 1960s. This polarity, in essence, was the idea that Church was not a part of normal everyday life. Church was something that you kept departmentalized by the use of the Sunday, and by the offices of such people as Pastors. They didn't have a real job, but were still very respectable. For whatever reason, the things that 'Church' offered to folks did not fill their lives, but only somehow added to or participated in their lives.
I feel like that because I came backward into the Catholic Church, I received the double blessing of being freed from my problems in the non-Catholic church, and was given blessing, instead of curse, when it comes to the things that many Cradle-Catholics find painfully boring. For me to discover daily Mass, Statues of Saints, and Adoration Chapels are all heaven-sent gifts that wash away my stress of trying to understand my previous life teaching that Church was an obligation to be managed until sufficient social laxity couldn't care less if you went to Church or not. I was mostly ignorant about the meaning of the Mass until recent years, and it is a celebration that could never be boring. I am not old enough to know of the Fish on Fridays mandate, so if there are any blatant "rules" to the Catholic Life, I am certainly ignorant of them. I cannot understand anything that is taught by the Church today that would cause a person enough pain to leave the Catholic Church. If I ponder on social viabilities like: Gay or Women Clergy. Contraception, Abortion, or even the Death Penalty, or the Latin Mass, I am hard pressed to not see the Church's sincerity in giving reasons for their rulings on such matters. The people I have heard that have left the Church, left because of much more fundamental reasons than a perceived injustice.
Having arrived to the Church after the tornado has passed, I have to say that I have greatly blessed by the changes that took place in the Catholic Church after Vatican II. I know I have no clue as to what life was really like before, but somehow I find a peaceful resolution in the thought that Vatican II was a 60's Catholic call of evangelism to the world, "Be a Catholic, it's all cool now, Man!" The image being sent out that any possible 'lock-step' mentality that had existed before had been quietly removed from the neighborhood parish. I know that there were no actual changes in the Church, except for maybe the addition of the RCIA programs. In the end, I feel validity in saying that where there was a perceived polarity of "unwelcome-ness" in the Church, a polarity of "welcome-ness took its place. Even today, I see that the old idea of the Church's view that the Bible was not to be a healthy part of a Catholic's life was never officially taught by the Church. If anything, it was a bad misunderstanding by some Catholics, just like being anti-Semitic is a bad misunderstanding by some "Christians". I truly love the pro-Bible openness of the present day Catholic Church.
Dear Creator God, You have created the Universe and you know all that is in it. Your Son, Jesus, looks upon it with eyes of love and messianic compassion. May your Holy Spirit open our eyes to see the possible eternal mistake of missing out on the obvious signs that clearly demonstrate how much you love us.
Response from Tommie Kim – a student from Korea
Week 1-1 : Perennial Truths In a Twenty-First Century Mode
When we refer to the word polarity, we generally take it in a negative sense. We often think of it as conflict, contradiction and opposition. However, I want to take a different approach and look at the positive side of polarity. I want to take Korean Catholic Church as an example. Korean church plays a true reconciling role in Korean society between what we consider polarities: formality and informality, rationality and intuition, discipline and emotion, between politics and domestic life, establishing justice and interceding for healing. The reason why Korean church possess both paternal and maternal role in ministry and mission is due to our Confucian principles that is still deeply embedded in the lives of Koreans. Confucianism basically distinguishes the universe into male and female that do not necessarily distinguishes man and women but it includes all polar concepts of the world and our life. Female factor includes the concepts of earth, dark, cold old, weak, passive, intuitive, and absorbing. Male includes just the opposite concept of heaven, light, hot, young, strong, active, rational and penetrating. These concepts are represented in blue and red exactly divided into halves of a circle and creates the center of our national flag. This concept has a deep significance in uniting 2 contrary concepts into one that is harmony and reconciliation. Polarities will always exist but it is matter of how we unite the differences to gain more strength in reaching the goal.
I can say that all Koreans are suffering from polarity. First of all, we are one country divided into 2 nations by different ideology. Economic gap between the North and the South widened as the South achieved remarkable economic growth over years where the North is currently at high risk of disintegration.
Even within South Korea, we are also suffering from polarity between generation: Young generation who is only exposed to the modernized life against the elderly generation that went through the war and is a witness to each step of economic growth. There is also polarity between urban and rural life and the gap has widened over generations. Furthermore, we now have left wing priests who is deeply involved in political matters and lost their identity as priests. Such activities are leading many Catholics to turn their back on the church and provoking the non-believers to condemn the church. What I find most painful is the fact that these activities are mis-leading the people to perceive that priests are no longer holy and that priests have lost the biggest weapon, which is the prayer.
I witnessed good aspect of synthesis between different religions in Korea. One good example is how Korean Catholic Church continues its effort to hold conversation with other religions for the best interest of our nation. This approach is driven from the teachings of the 2nd Vatican Council. Korean Catholic Church tried to find commonalities between religions for the peace and unity of our nation. However, this can easily lead into pluralism within a religion so it requires highest discretion. Preventing exclusivism is necessary but it should not allow pluralism within a religion especially in a country like South Korea where multiple religions equally exist. As one anonymous Christian mentioned, it may be best to maintain inclusivism. For example, it is ideal for priests and monks to wish each other Merry Christmas and congratulate Buddha's birthday. But this does not indicate that a priest can invite a monk to give a homily about Buddha during mass. This can lead to a serious error and issue.
I personally think what we refer to as polarity should be reconsidered as diversity within the context of unity. I lived a busy life finding it difficult to pray at times. Now I am living a solitary life. Nevertheless, no one can call this difference a polarity. It is just different way of living a life in faith.
Week 1-2 : Priestly Ministry in Community
I do not comprehend clear definition of collaborative ministry. If collaborative ministry refers to active participation of ministers in believers' activities at the church, I think such collaboration will help believers deepen their faith. In case of Korea, ministry at church follows rather classical model where all group activities are directed by the pastor. Sisters are always present at church to help collaborate activities with the believers. I think collaborative ministry cannot be explained in simple term but I think it refers to the role of ministers working "with people" and not about working "for people." Korean Catholic church follows collaborative ministry with an understanding of ministry's mission to be with people. Priest and sisters teach catechism based on bible studies and Holy Communion. Seminarians practice sacrificial life and prayers and lay Catholics focusing on their duty and activity within the communities sharing their own experiences of faith.
If I speak on behalf of the reality in Korea, we have extreme diversity among Catholics within itself mostly coming from income gap. This leads to different groups of people with diverse educational and work background. In most cases, it is the wealthier of them who mostly participate as leaders or as members of the communities. Consequently, this leads to the other group of believers feel alienated. In addition to that, Korean society is still very dominated by Confucian hierarchical tradition so women often hesitate to voice out their opinion in public. Just as a shepherd would go out searching for a lost sheep, Korea needs true shepherds who will go in search of all those neglected class of people, encourage them and embrace them with love and care. What is most concerning is the fact that more and more priests are becoming leftists getting too involved in political movement. They may perceive themselves fighting for the rights of the people but this is simply an act of lost identify as priest. They must realize that it is not the act that makes the priest but priest must behave like a priest.
Question 3 :
I think we are in great necessity of pastoral ministry not just for Catholics but also to all young generation especially in this 21 century. As Dr. Ronda has clearly mentioned, we are all now facing the world great advancement in technology where science seems to dominate the rational thinking of the people. Young Catholic generations are not educated with the Creed or catechism programs even at Catholic schools because they are considered "old fashioned". Too many manipulations are taking place even in the Catholic teaching that the core value of human dignity that God gifted us is entirely lost. We need more affective ministry in this century who can connect the breakage of Catholic value and the life we live today. No matter how much advancement we achieve with human technology, people living in 21 C must realize the core value of life and the truth that never changes.