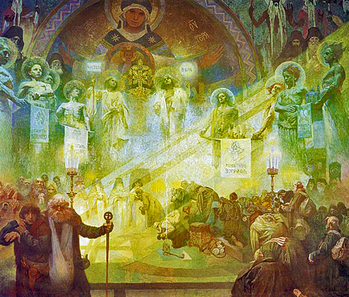 Perspectives on Ecumenism and Interreligious Dialogue
by Cynthia Toolin, PhD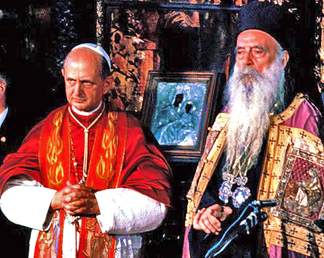 In this chapter concerning ecumenism and interreligious dialogue, I am focusing on Paul VI's first encyclical, Paths of My Church (Ecclesiam Suam, 1964). He wrote this encyclical prior to the completion of the Vatican Council II documents dealing with these two issues in whole or in part. In it, he explained the true meaning of dialogue and offered a model for understanding it and engaging in it. These explanations can only be described as countercultural. I believe his approach to ecumenism and inter-religious dialogue will resonate with faithful Catholics throughout the coming centuries.
I will explain the secular understanding of several words concerned with dialogue. Then I will quote Paul VI extensively and examine these quotations to extract the pertinent information about dialogue from them. Lastly, we will compare what the Church teaches about dialogue with popular cultural understandings of it today.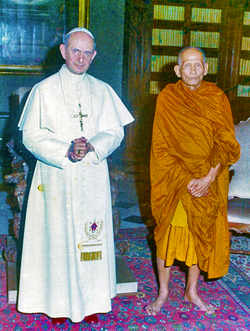 Secular Definitions
Using www.dictionary.com, I sought definitions for ecumenical, interreligious, dialogue, and unity. The first three of five definitions for ecumenical are pertinent to this chapter: general or universal; pertaining to the whole Christian church; and promoting or fostering Christian unity throughout the world.1 Two definitions of interreligious are: existing or communicating between different religions; and conducted, involving, or existing between two or more religious groups or movements. I think Paul VI would agree that ecumenical pertains to promoting or fostering Christian unity throughout the world and that interreligious involves something between two or more religions. Note, however, that these seemingly benign definitions can be nuanced to refer to a relativistic or synchronistic approach to interactions. The former would refer to all religions being equally valid, equally in touch with "the other" (i.e., God, gods, the universal life force, etc.), or just equal; the later would refer to all religions as having interchangeable components, whether dogmatic or moral, or all being the same in some basic way.

The goal of ecumenism is to promote unity among the world's Christian denominations.2 By extension, moving outside of Christianity, the goal of interreligious work can be considered promoting unity among all people. Although there are many processes that can be an aid to moving towards unity—such as combined liturgies, working together to aid the poor, etc.— the most common is dialogue. Note that the distinction between ecumenical and interreligious is an important one as concerns dialogue. Ecumenical is within Christianity (e.g., Catholics, Lutherans, Episcopalians, Methodists) while interreligious is between religions (e.g., Christians, Buddhists, Hindus).

Unity with other Christians and with all people regardless of their religion is a lofty goal, and dialogue is an excellent tool to aid in the process of approaching that goal. However, it is not one that is easily engaged in, nor should it be done without a solid foundation in Catholic thought and with extensive practical training. Returning to my research on www.dictionary.com, I found six definitions of dialogue, of which four were pertinent to this chapter: as a noun, a conversation between two or more persons, and an exchange of ideas or opinions on a particular issue, especially a political or religious one, with a view to reaching an amicable agreement or settlement; and as a verb, to carry on a dialogue or to converse, or to discuss areas of disagreement frankly in order to resolve them. Interreligious dialogue can thus be defined as a conversation that involves an exchange of ideas, opinions, and on areas of disagreement conducted frankly to resolve the issue being discussed.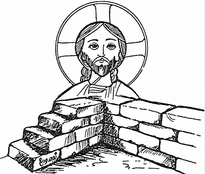 This is not a bad secular definition of interreligious dialogue except that, from a Catholic perspective, it is inexact and incomplete. At minimum, the people involved in the dialogue must be knowledgeable in the dogma and morals of their religions. The dialogue should not be one of opinion, but in as much as possible, of fact. Further, the goal of unity requires that we start the discussion by making sure each party understands the terms, history, and perspectives of the other party. For instance, in Catholicism, marriage is a sacrament while in many if not most protestant denominations, it is not.

In Catholicism, the preborn are human beings who must not be directly aborted; in many Eastern religions, the belief is that if the preborn is aborted it was not his or her time to be reincarnated, and if born, it was his or her time to be reincarnated. The differences in definitions have serious repercussions for any dialogue. Participants to the dialogue are using the same words or phrases, but with sometimes radically different definitions, and additionally with different perspectives, assumptions, beliefs, and moral standards.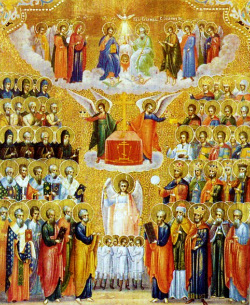 The last word of interest I researched on www.dictionary.com is unity, because it is the goal of both ecumenical and interreligious dialogue. I found five definitions of unity, and synonyms or antonyms of interest. First, the definitions: the state of being one or oneness; a whole or totality as combining all its parts into one; the state or fact of being united or combined into one, as the parts of a whole or unification; the absence of diversity, or an unvaried or uniform character; and oneness of mind, feeling, etc., as among a number of persons, or concord, harmony, or agreement. The synonyms were singleness, singularity, or individuality (with a note to see union, concert, and unison) and the antonyms were diversity and variety. Formulating a summary definition of unity is difficult, but I would suggest it means undiversified oneness, or all-inclusive sameness.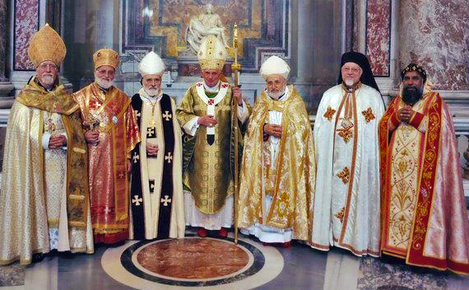 This definition of unity is, to me, dangerous and frightening. Within Catholicism alone there are, for instance, legitimate diversities in liturgy, traditions of spirituality, language, history, and culture. Within Christianity as a whole there are an incredible number of differences in all aspects of what Catholics would define as necessary to be considered Christian, although the range of differences vary by protestant churches. These particularly include apostolic succession, the use of Tradition and Scripture as the twin sources of revelation, magisterial authority, sacraments, and almost all dogmatic and moral principles. Within the world religions, the other four of "The Big Five"—Judaism, Islam, Hinduism, and Buddhism—vary on issues as basic as what it means to say there is one God and how to serve him, to at least the appearance of many gods, to no belief in God. How can all of Christianity be unified into an undiversified oneness or all the religions of the world (and there are many more than The Big Five) be unified into an all-inclusive sameness? Clearly, this cannot be legitimately done.

When ecumenical and interreligious dialogue are pursued in the wrong way, all philosophies, thoughts, beliefs, morals, and opinions are given equal weight. The unity resulting would be a religion based on the lowest common denominator. What everyone could agree upon would become the new norm (as if a vote on the supernatural, or even the existence of the supernatural, could be taken!) Such a common denominator leads to syncretism, or a combining of components of different religions, and a relativistic approach to the components of all religions, where all are considered equally valid.
Fortunately, in Paths of My Church, Paul VI writes about a different model.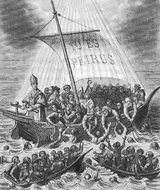 Paul VI's Three Principal Policies

Paul VI itemized three principal policies of his pontificate: it is essential for the Church to attain a deeper self-knowledge, an inevitable result of that self-knowledge is renewal, and together these two lead to dialogue with others.

Background Information: Self-Reflection and Reform


He said,
[W]e are convinced that the Church must look with penetrating eyes within itself, ponder the mystery of its own being, and draw enlightenment and inspiration from a deeper scrutiny of the doctrine of its own origin, nature, mission, and destiny. The doctrine is already known; it has been developed and popularized in the course of this century. But it can never claim to be sufficiently investigated and understood. (#9)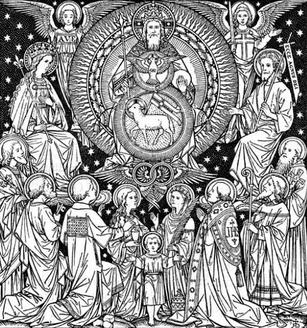 Paul VI is saying that we must always try to know the Church better than we currently do. We should strive to understand the mysteries Christ has revealed about her and what he wants her to be.

This makes perfect sense. Over the last 2000 years multitudes of people within the Church have prayed, studied, and meditated on the Church and her mysteries, and many have succeeded in deepening our understanding of this divine-human institution. Yet, no matter how many holy people are engaged in this process, nor for how long, we must always put more effort into better understanding the Church. We are finite beings and our founder is infinite. We will never exhaust the depths of understanding of what He gave to the Church and what he made her to be.
We should also focus on the fact that we do not succeed in presenting the ideal image of what Christ wanted the Church to be. Paul VI said,
A vivid and lively self-awareness on the part of the Church inevitably leads to a comparison between the ideal image of the Church as Christ envisaged it…and the actual image which the Church presents to the world today. (#10)
He mentioned that although there is always some likeness to the divine ideal, the comparison of the actual and ideal images shows that in many ways it does not reflect what Christ wanted.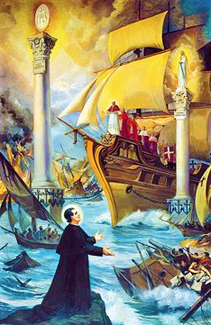 Reform

Summarizing Paul VI (#46), reform is needed in the Church to more clearly image the ideal, but that does not mean we are to reform the "essential nature of the Church or its basic and necessary structure." We do not want to change such things, we want to preserve and restore the features Christ gave the Church.

[W]e are concerned to restore to the Church that ideal of perfection and beauty that corresponds to its original image, and that is at the same time consistent with its necessary, normal and legitimate growth from its original, embryonic form into its present structure." (#47)



Nor should we think of reform as a process of adapting to the ways of the world, to "its way of thinking and acting to the customs and temper of the modern secular world," even though many think this would be the wise course of action. (#48) Additionally, we must fight against the temptations of Naturalism, Relativism, and the attempt to minimize Christianity so it requires no "effort or causes inconvenience." Paul VI reminded us, "We must be in the world but not of it." (#49)3

Dialogue

These two principles together, self-awareness and reform, Paul VI argued, lead to the third principle, dialogue. Rather than tell us how to dialogue, he explained the meaning behind dialogue. First is the attitude the Church must adopt when she engages herself with the world at large. (see #58) This issue is clearly a serious one as people in the world and those in the Church do not think or act the same way. He pointed out, we (in the Church) are not entirely separated from, indifferent to, afraid of, nor contemptuous of the world. "When the Church distinguishes itself from humanity, it does so not in order to oppose it, but to come closer to it." (#63)

He continued, through self-awareness, the Church will have a clear awareness of a mission received from God, of a message to be spread far and wide. Here lies the source of our evangelical duty, our mandate to teach all nations, and our apostolic endeavor to strive for the eternal salvation of all men…The very nature of the gifts which Christ has given the Church demands that they be extended to others and shared with others. This must be obvious from the words: "Going, therefore, teach ye all nations," Christ's final command to His apostles. The word apostle implies a mission from which there is no escaping. (#64)

We engage in dialogue because we must. It is not a mere conversation, as believed in the secular world, holy conversation. We are obeying a command we have received from God when we engage in dialogue. We are a proselytizing religion, sent on a mission to tell all people the Good News. Our goal in dialogue is to reach unity, but not one in which each party to the conversation holds fast to some ideas and relinquishes others so that an agreement can be reached. Our goal is to engage others to speak truth.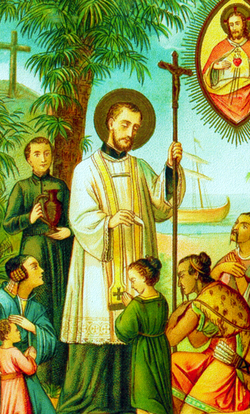 Having explained why we engage in dialogue, Paul VI turned to the true meaning behind the word. He said,
To this internal drive of charity which seeks expression in the external gift of charity, We will apply the word "dialogue."(#64) Because, the Church must enter into dialogue with the world in which it lives. It has something to say, a message to give, a communication to make. (#65)4

Our dialogue is one of love. We love all our neighbors, because everyone is made in the image and likeness of God, coming from him and called to spend eternity with him. There is no love in dialogue when we know this information, but withhold it from others who desperately need it.
As God took the initiative in starting the dialogue with man, we have to be the ones to pursue dialogue with others.(#72)5(#72) As God's dialogue sprang from his love, we have to dialogue with love. (#73) As God's dialogue did not rest on the merits of those addressed or potential results, we should not set limits to dialogue. (#74) So too freedom—Jesus honored the free acceptance or rejection of those he dialogued with, and we must too. We cannot use external coercion (#75); our dialogue must be accessible to all—we must make it as universal as possible (#76); and for it to be successful, it must proceed gradually and we should wait for God to make it effective. Yet we should not postpone what we can do today. (#77)6
Paul VI explained the seriousness of our approach to dialogue:
If, in our desire to respect a man's freedom and dignity, his conversion to the true faith is not the immediate object of our dialogue with him, we nevertheless try to help him and to dispose him for a fuller sharing of ideas and convictions. (#79)
He continued,
Our dialogue, therefore, presupposes that there exists in us a state of mind which we wish to communicate and to foster in those around us. It is the state of mind which characterizes the man who realizes the seriousness of the apostolic mission and who sees his own salvation as inseparable from the salvation of others. His constant endeavor is to get everyone talking about the message which it has been given to him to communicate. (#80)
Simply stated, our "[d]ialogue, therefore, is a recognized method of the apostolate. It is a way of making spiritual contact." (#81)7 When we review the secular definitions of the words dialogue and unity, it is readily apparent how bold and countercultural Paul VI was in this area of his magisterium.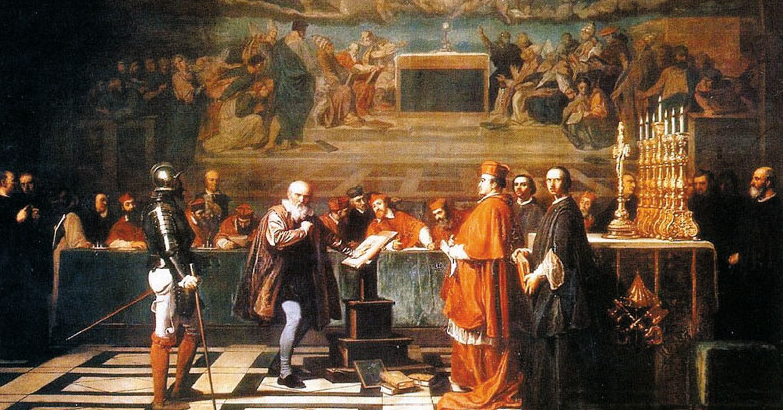 ENDNOTES:

1 The fourth definition of ecumenical is historically accurate. It is, "…of or pertaining to a movement (ecumenical movement) especially among Protestant groups since the 1800s, aimed at achieving universal Christian unity and church union through international interdenominational organizations that cooperate on matters of mutual concern."

2Note that Catholicism is not a denomination, although it is frequently considered as such in the social sciences and in the popular culture. Denomination is now used to include other religions.

3Paul VI later said, "But let Us repeat once again for our common admonition and profit: the Church will rediscover its youthful vitality not so much by changing its external legislation, as by submitting to the obedience of Christ and observing the laws which the Church lays upon itself with the intention of following in Christ's footsteps. Herein lies the secret of the Church's renewal, its metanoia, to use the Greek term, its practice of perfection." (#51)

4Paul VI said, "Was not the Council itself given a pastoral orientation, and does it not rightly strive to inject the Christian message into the stream of modern thought, and into the language, culture, customs, and sensibilities of man as he lives in the spiritual turmoil of this modern world? Before we can convert the world-as the very condition of converting the world-we must approach it and speak to it." (#69)

5See #70.

6I urge you to read the section of this encyclical entitled "Dialogue as a Method." (#78-95)

7Paul VI suggests a model of concentric circles as a way to engage in dialogue. See #96-115.


For Personal Reflection and Group Sharing

• Can you explain the difference between ecumenism and interreligious dialogue? Give examples of each and try to think of an important topic the participants would discuss.

• Differentiate between the Catholic understanding of dialogue and that of the secular world.

• Differentiate between the Catholic understanding of unity and that of the secular world.

• What are the three principles that Paul VI mentioned in his encyclical? How do the first two impact the third?

• How should our dialogue be modeled on God's dialogue with us?


RESPONSES TO THIS CHAPTER:

Response of Kathleen Brouillette:

As a young Catholic convert, wife, and mother in my late twenties, I became an advisor with the Youth Group in my parish. The Pastoral Associate decided that it should be more than a social club. With that in mind, he decided that we should offer religious instruction to our young people who were now confirmed, and that those who attended our classes would get the first tickets and seats for our outings.

This was before all the safe environment requirements, so we were able to teach classes in our homes. There were a variety of courses being offered, one of which was a Comparative Religion course, which I taught. We visited a synagogue, an Episcopal church, an Orthodox Church. But I came to believe, even then, that our children did not know enough about their own religion to go comparing it to others. When the Episcopal pastor said to our students, "your Church may have more truth than ours…" I wondered how he could think or say that and not be Catholic. But I decided that what he said was absolutely right and that I needed to teach that truth. From then on, my class was called, "Did You Know…" and I taught as much about the dogma, doctrines, and devotions of our Church as I could.

The chapter on metaphysics this semester reminded me about my HACS Logic course and how critical it is for us to mean the same things when we say the same words. Dr. Toolin's chapter emphasizes the importance of knowing what we mean when we dialogue with each other. Especially significant in that would be: knowing what we mean within the same religion, before we go talking to others. That's such a huge issue in our faith. Our people don't know what we mean. If we can't dialogue within our own Church, how can we dialogue with others?

If we truly love one another, as Christ has loved us, we must tell the truth, whether convenient or inconvenient. Yes, with love. Love must motivate us to draw every soul to this message of hope in a hopeless world. As Paul VI says, Jesus gave us "a message to be spread far and wide." Dr. Toolin points out, "There is no love in dialogue when we know this information, but withhold it from others who desperately need it." To that I would add, especially within our own Church.

Response from David Tate:

… Many times interreligious dialogue gravitates to hot topics like trying to win the debate over a religious point of doctrine, and having the opponent ascent to the correct ideal. There is no need for dialogue to only be at that level. There are many baser needs that are common to all peoples, and this can easily be discussed without heated debate. Some examples of these needs include: food, clothing, shelter, medical care, and the care of children…

There is an initial premise that makes Catholic dialogue different from secular dialogue. The main difference is a theological difference for Catholics; and an anthropological difference for secular thinking. For the Catholic, God has revealed himself through the true Catholic Church, and sharing those truths with others is no different than trying to give information to someone who does not speak your language. You are trying your best to explain across a barrier of language what the truth is. When one follows the anthropological difference, there is the premise that all religions everywhere are a part of cultural development. In this perspective, all religions, and all cultures, have equal access to the truth. There is no hierarchical difference to be found.

Even though it was expressed that religious unity "is a lofty goal", it makes life easier to see what kind of unity one is working for. In my own mind, I see 'unity' as having three different scenarios: unity in receiving, unity in giving, and unity in living (existence). Very different groups can be unified in a common task depending on the situation.

A large mammal can be hunted down and killed for food. There are many different animals that consume the different parts of the animal. So, everyone works together to receive the animal as food. Next, in regards to giving, a field might need to be planted. Many people give of their specific abilities (i.e. some break the ground, some clear the weeds, some plant, some water, some guard the plants from predators, others help bring in the harvest. Everyone gives for the common task of seeing a field planted, so that crops can one day be harvested. Finally, and this is the most difficult to attain.

Unity for the purpose of daily living involves a much deeper relationship. There are many types of relationships. Each type helps afford a unity between different individuals. Relationships can be mutualistic or parasitic, just to give some examples. Catholic unity seeks to see all peoples find their place under the umbrella of the authority of God. Secular unity involves the idea that all may be united by some factor like geography or access to basic needs (i.e. water), but maintaining the old premise, "unity – not uniformity". In the fullest sense of secular unity, there should be nothing that is imposed upon another.

…The whole pathway of the topic of ecumenism is littered with questions regarding where God's grace is, and where it is not. When we look around in our daily life, we must have in our mind, "not wishing that any should perish, but that all should come to repentance." (2 Pt 3:9); and ""I take no pleasure in the death of the wicked, but rather that they turn from their ways and live." (Ez 33:11) God's habitual grace and his actual grace are not things that we control. So, it is only just that we should look at each human person as one who has been given the possibility for becoming a redeemed soul, who will "become, in the Holy Spirit, his adopted children and thus heirs of his blessed life." (CCC, 1) Dr. Toolin makes this premise with perfect clarity with her statement, "We are a proselytizing religion, sent on a mission to tell all people the Good News."