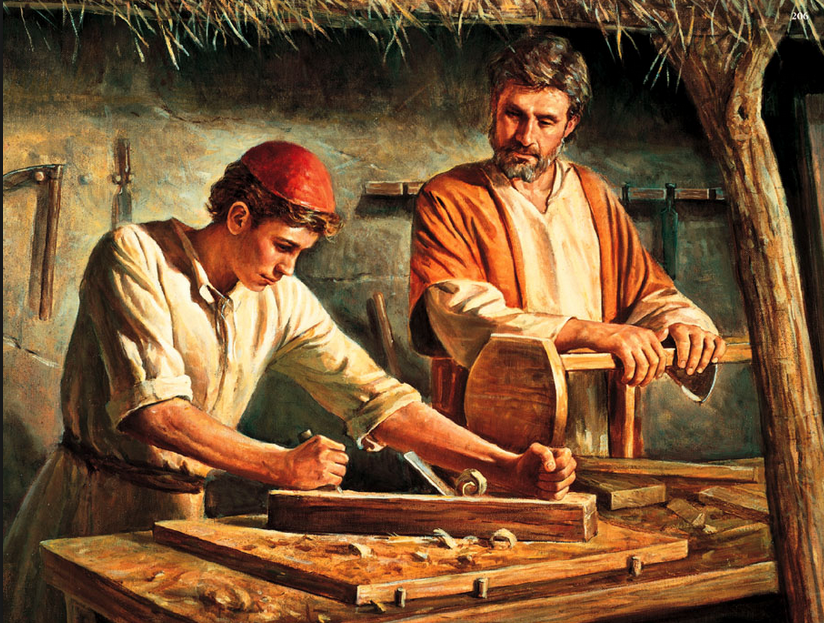 The Popular and Church Perspectives on Work
by
Cynthia Toolin, PhD
Dr. Toolin is a professor of dogmatic and moral theology at Holy Apostles College and Seminary where she has worked since 1997. She is married, with two married daughters and six grandchildren. She divides her time between Connecticut and Vermont.

Note from Dr. Chervin: Before reading and teaching John Paul II's encyclical on work, I was like most people, thinking of work primarily as a result of the Fall. I thought that work I enjoyed was simply a gift of God, not part of the basics of human nature even before the Fall. Certainly our twenty-first century Catholic synthesis needs to help us to appreciate that the crosses of work do not negate its basic goodness. In a way, people understand that better in our times because of the scourge of unemployment. Instead of complaining about work, many are praying to find it. Unfortunately, on the other side, we find more people who are characterized as work-aholics. What a balanced view we find in Church teaching about the nature of work.
John Paul II wrote an encyclical devoted entirely to work,
Laborem Exercens
(
On Human Work
), in 1981.1 In it, he wrote about work in a way that can only be described as countercultural. The three points we will discuss are his definition of work, his distinctions within work as concerns the objective and subjective aspects of it, and the communal aspects of work (personal, familial, and societal.)
The Definition of Work
Many people in our culture think of work as synonymous with employment. They believe work is drudgery, something we must do to earn a paycheck so we can pay the bills. This common perspective leads many to focus their goals on the exact opposite of work: leisure. Others, and I would suggest fewer, see work in a positive light, as personally fulfilling, as a process followed to accomplish something, or as a community of persons working towards a goal, that is towards the common good. This second perspective is closer to what the Church teaches about the true meaning of work.
In his encyclical, John Paul II was clear that work is not synonymous with employment; rather, he treats employment as a subset of work. He explained that work is a good for man, a process we were to undertake from the beginning, or from our creation in the Garden of Eden. It is to be seen in tandem with procreation, as is clear when we review the twin rules God gave us: to fill the earth and to subdue it (Genesis 1:28). Only man, as person made in the image and likeness of God, can work. Work is a universal experience that fills man's days. Unfortunately, our experience of work changed with the advent of Original Sin, and it is for that reason that our common perspective on work is that it is necessary drudgery. In the Introduction to
Laborem Exercens
, John Paul II said,
And work means any activity by man, whether manual or intellectual, whatever its nature or circumstances; it means any human activity that can and must be recognized as work, in the midst of all the many activities of which man is capable and to which he is predisposed by his very nature, by virtue of humanity itself. Man is made to be in the visible universe an image and likeness of God himself, and he is placed in it in order to subdue the earth. From the beginning therefore he is
called to work.
In this section we are presented with what John Paul II understood about the meaning of work. The statements "any activity," "any human activity," and "many activities of which man is capable" explain work as something larger than employment. Most of us are employed at some point during our lives—that is, we perform mental or physical tasks for pay—but that is only a subset of the activity we can do. We all do many things for which we do not receive pay: we take care of other people, we teach things to people, we build things for people, and so on. The number of things we do that are not part of our employment are much greater in variety and in quantity than what we do for actual pay.
We work all the time, only not always for pay. Making a meal for my family is work; cleaning my house is work; tilling my garden is work; typing a professional paper for my employment is work. But there is a difference between the first three kinds of work and the latter. Someday I may retire but I will still have to cook, clean the house, and garden. All four are work, but only the last one is for pay; only the last one is a requirement of my employment.
Thus, work does not equal employment; employment is a subset of work. As John Paul II explained, man is the only creature in the visible world made in the image and likeness of God. It is Church teaching that to be created in God's image and likeness means we are persons. Like the One God, we have intellect to know the truth and the will to love it; like the Triune God, we are a community. God creates the world and then gives it to man, the only person in visible creation, for his safekeeping and development. He gives man, his highest creation, the command (as recorded in Genesis) to subdue and dominate the earth. Revelation is telling us, even before the Fall, we are supposed to work, to bring God's visible creation to fulfillment. After the Fall, the work we were always supposed to do often becomes unpleasant and arduous. To be man means to be one who works. It has always been this way, and as long as we, as a species, are on earth, it will continue to be this way. Work is good for us.
John Paul II continued in his Introduction,
Work is one of the characteristics that distinguish
man from the rest of creatures, whose activity for sustaining their lives cannot be called work. Only man is capable of work, and only man works, at the same time by work occupying his existence on earth. Thus work bears a particular mark of man and of humanity, the mark of a person operating within a community of persons. And this mark decides its interior characteristics; in a sense it constitutes its very nature.
This is a wonderful passage. Only man, the person, can work. This is a very countercultural statement. We think animals work and machines work. Animals exert energy at the service of man, once we have trained them how to do so. Horses don't get together and decide to invent a harness and carriage so they can pull the carriage and carry man somewhere. We invent the harness and carriage; we capture and domesticate the horses; we train them how to pull the carriage to carry us where we want to go. We work doing all of these things. Animals do not have the intellect or will to work; only man does because only man is person. Nor can machines work. Because machines are not alive and, obviously, are not persons, they do not work; they are tools that we make to assist us in working. Note that these statements do not mean work animals should be "overworked" or abused. All of God's creation, including animal life, should be treated in keeping with how God wants us to treat it. When He said to subdue and dominate the earth, He did not say to brutalize and abuse it. Nor do these statements mean that man cannot be abused by other men who use machines. Both of these abuses occur all the time. When I see men abuse work animals, or managers abuse, degrade, or oppress men (for instance, in a factory), I reckon back to the effects of Original Sin.
John Paul II said work is a "fundamental dimension of human existence on earth." #4 This has always been the case, whether we were in the state of original justice or later in the state of Original Sin. John Paul II continued,
When man, who had been created "in the image of God…male and female," hears the words: "Be fruitful and multiply, and fill the earth and subdue it,", even though these words do not refer directly and explicitly to work, beyond any doubt they indirectly indicate it as an activity for man to carry out in the world.…Man is the image of God partly though the mandate received from his Creator to subdue, to dominate the earth. In carrying out this mandate, man, every human being, reflects the very action of the Creator of the universe. #4
We all work, for pay and/or not for pay, and we do this for most of our lives. Work occupies our existence on earth; our lives are full of work, and it is by work that we live and at the same time, build up our family, and the community, society, and culture that we live in. In our work we reflect God. He created and holds creation in its existence; we mirror him as we subdue and dominate the earth, bringing his creation to fruition. And as we do so, work impacts us.
Further we work most of our lives; it occupies our existence on earth. Work also occurs within a community of persons; it is both a solitary and a communal project. I work developing and typing this paper. Another professor works using it as a teaching tool. The students work learning it. And hopefully, when the students graduate, they will use what they learned in their work as Catholic leaders. Much of the work we do, whether for pay or not, is done alone; but note, it has a communal impact. Our work impacts the common good, either positively or negatively. Here is another example. I work tilling the garden. I bought tomato stakes at a garden store from a clerk, using money I earned as a theologian. Someone made those stakes and they were delivered to the store by someone else. My husband drove me home in his car with my stakes. Someone designed the car; it was produced by workers somewhere. It was delivered to a car lot by someone; it was bought by my husband with money he earned working in a campground, and so on, in a seemingly infinite group of workers.2 This all so I can grow tomatoes and serve fresh salads to the man I love. Do you see how our lives are consumed by work? That it is all related? That my product of a salad could not occur without all these other people working? And that this is a positive thing?
Objective and Subjective Aspects of Work
Now I think we have a basic idea of what work is, but we need to delve more deeply into the reality of work and draw some distinctions. One of the central concepts of this encyclical is that work has both an objective and subjective aspect. These aspects concern the issue of the true value of work. Usually, in our culture and I think in many others, when we think of work we think of the objective aspect, that is, what we do.To understand these aspects we have to realize that work is a transitive activity. John Paul II said,
[Work] begins within the "human subject and directed towards an external object. [This] presupposes a specific dominion by man over "the earth,", and in its turn it confirms and develops this dominion.… The expression "subdue the earth" has an immense range. It means all the resources that the earth (and indirectly the visible world) contains and which, through the conscious activity of man, can be discovered and used for his ends. #4
As we analyze the world, we identify an issue or problem, or have an idea, and we know that to bring it to fruition a piece of work must be done. Using our intellect we know that if we want to eat fresh tomatoes, we must plant a garden. With the engagement of our free will, we use our personal power to plant, till, and harvest a garden. That whole process began inside of us, and through intellect, will, and personal power, we impact something outside of us. There was no garden, just a plot of land with dirt, rocks, and weeds. Then we did something and now there is a bumper crop of tomatoes. As John Paul II said, [this activity] begins within the "human subject and [is] directed towards an external object."
John Paul II continued, saying,
this is a universal process, as it embraces all human beings, every generation, every phase of economic and cultural development, and
at the same time
it is a process that takes place
within each human being,
in each conscious human subject. Each and every individual is at the same time embraced by it. Each and every individual, to the proper extent and in an incalculable number of ways, takes part in the giant process whereby man "subdues the earth" through his work. #4
Dominating the earth occurs through work by harvesting resources, like clothing from animal skins; subduing the earth also occurs through work by transforming products, as in agriculture and industry. This is the objective sense of work. Man works and in the process dominates and subdues the earth.3 Something is done, originating in man, which results in a change in the external world.
When we think of work we usually think of this objective sense, as can be seen from job titles. We can see that someone is responsible for something being done. The mail person delivers the mail, the secretary types letters, the teacher conducts a class, the mother raises children, and the wife makes a home. The work done is what we call the objective aspect.
More important is the fact that man is the subject of work. This is what John Paul II said about this subjective aspect of work,
Man has to subdue the earth and dominate it, because as the "image of God" he is a person, that is to say, a subjective being capable of acting in a planned and rational way, capable of deciding about himself, and with a tendency to self-realization. As
a person, man is therefore the subject of work
. As a person he works, he performs various actions belonging to the work process; independently of their objective content, these actions must all serve to realize his humanity, to fulfill the calling to be a person that is his by reason of his very humanity.
Understood as a process whereby man and the human race subdue the earth, work corresponds to this basic biblical concept only when throughout the process man manifests himself and confirms himself
as the one who
"
dominates.
"
This dominion, in a certain sense, refers to the subjective dimension even more than to the objective one: this dimension conditions
the very ethical nature
of work. In fact there is no doubt that human work has an ethical value of its own, which clearly and directly remain linked to the fact that the one who carries it out is a person, a conscious and free subject, that is to say a subject that decides about himself. #6
John Paul II pointed out that, in the past, the type of work done has been used as part of a class system. Building on the Old Testament, Christianity changed the emphasis from the objective sense of work to the subjective one. Jesus worked as a manual laborer for most of his life on earth.
This circumstance constitutes in itself the most eloquent 'Gospel of work', showing that the basis for determining the value of human work is not primarily the kind of work being done but the fact that the one who is doing it is a person. The sources of the dignity of work are to be sought primarily in the subjective dimension, not in the objective one. #6
Now we understand the subjective aspect of work is more important than the objective one. This is an extremely countercultural understanding of work. Clearly work (for pay) has to be classified in a way that leads to fair compensation. The person who delivers the mail should not be compensated at the same level as the leading cardiac surgeon in the country. There is an objective difference in their work, in their skill in performing their work, and in their preparation to learn how to do their work. Yet, on the subjective level, what is important is that the work is done by persons.
From the objective point of view, human work cannot and must not be rated and qualified in any way. It only means that
the primary basis of the value of work is man himself,
who is its subject. This leads immediately to a very important conclusion of an ethical nature: however true it may be that man is destined for work and called to it, in the first place work is "for man" and not man "for work." #6
He said further,
[P]resupposing that the different sorts of work that people do can have greater or lesser objective value, let us try nevertheless to show that each sort is judged above all by
the measure of the dignity
of the subject of work, that is to say the person,
the individual who carries it out
. #6
Sphere of Values
Now that we understand the distinction between the objective and subjective aspects of work, we turn to another distinction within the concept of work, the sphere of values that come from the subjective aspect—personal, familial, and societal.
John Paul II pointed out that it is a universal experience to work and, ultimately, to toil. Simply stated, work is not an easy thing to do. It can be physically and mentally challenging, exhausting, unsuccessful, disappointing. This is a universal experience, and yet, work and toil is a good for man. It is so good that we were supposed to work in the Garden before the Fall; after the Fall, we are to continue to work, but it has unfortunately become difficult. It is through work that we obey the second of God's commands. It is through hard work, through toil, that we dominate and subject the world. John Paul II said,
Work is a good thing for man—a good thing for his humanity—because through work man
not only transforms nature,
adapting it to his own needs, but he also
achieves fulfillment
as a human being and indeed, in a sense, becomes "more a human being." #9
We are shaped by work. We are supposed to bring God's creation to fruition. This activity corresponds to the command to procreate, to fill Heaven and Earth with persons. We are to work with God—who worked in creating, and continues to work in sustaining creation through all its developments and changes. He entrusted creation to us with the task of working with him, of continuing his work and offering it back to him as we glorify him. How could either of these activities performed with God, commanded by God, not change us into better people. As John Paul II said, again, through work each of us "achieves fulfillment as a human being and indeed, in a sense, becomes 'more a human being.'"
We are all born into a family, and the overwhelming majority of people form a family when they are adults (although neither the family of origin or of choice is necessarily permanent, successful, nor good at achieving its ends.) In addition to work being good for us as individuals, it is good for us communally. Work is intimately tied to the family. We cannot start or maintain a family without work, and once the family is started, we need work so we can successfully educate our children, also in work.
John Paul II said,
In a way, work is a condition for making it possible to found a family, since the family requires the means of subsistence which man normally gains through work. Work and industriousness also influence the whole
process of education
in the family, for the very reason that everyone "becomes a human being" through, among other things, work, and becoming a human being is precisely the main purpose of the whole process of education. #10
He continued, "The family is simultaneously a
community made possible by work
and the first
school of work,
within the home, for every person." #10
The third part of this distinction is that through work we develop our culture. This is another universal experience. John Paul II said,
The
great society
to which man belongs on the basis of particular cultural and historical links…is not only the great "educator" of every man…it is also a great historical and social incarnation of the work of all generations. All of this brings it about that man combines his deepest human identity with membership of a nation, and intends his work also to increase the common good developed together with his compatriots, thus realizing that in this way work serves to add to the heritage of the whole human family, of all the people living in the world.4 #10
He tied the objective and subjective dimensions with the three spheres of value, saying,
These three spheres are always
important for human work
in its subjective dimension. And this dimension, that is to say, the concrete reality of the worker, takes precedence over the objective dimension. #10
The expression of this understanding of work is radically countercultural. Work is something God ordered us to do? Through it we dominate and subdue the earth? It is a good for us? It develops us as human beings, and its true value is based on the fact that persons do it? And growing from that subjective aspect, we are not only developed, but we found and support our families, fulfill our educational obligations to our children, and develop our culture?
Countercultural?
Throughout this paper I have pointed out several places in which the understanding of work in the encyclical, part of the universal Magisterium of the Church, and that of our culture, disagree. The definition of words are the most basic level at which people must agree if they are to proceed to develop theoretical or practical models of the concept of interest, and draw out pertinent distinctions. The Church definition of work is a countercultural one. To make this apparent to you, I looked up the word "work" on www.dictionary.com and read through, and organized, a wide variety of definitions.
Work is usually defined as labor or a chore, something being done, or being in a position where something is being done and it is usually an arduous or unpleasant task. Some synonyms for work are neutral. These include words like endeavor, performance, production, task, and function. These words describe work; they define it. Work as a function has neither positive nor negative overtones. "My function is to teach," is a neutral statement. It does not express the ease or difficulty of the work, nor my attitude towards it.
Other synonyms, that are positive, include application of oneself, gainful employment, freelance, having a job, doing business, and earning a living, imply something positive about work. They refer directly, or at least imply, some task or performance done for income or pay. The sentence, "I earn a living," implies I am socially responsible, supporting myself, and contributing to the support of my family, paying my bills. It doesn't matter if I am earning a living from a teaching job or a clerical one. I have a job. The antonyms for work, when it is defined as being employed or exerting oneself, are idle, lazy, relax, and rest. If I am earning a living, I am not idle or lazy.
There is a cluster of ways in which work is defined as something being done that ends in a result. Work in this cluster means manipulation, operation, power, instrumentality, and cultivation or forming, and it results in an achievement. The synonyms for this sense of the word include action verbs: accomplish, act, bring about, care for, carry out, cause, channel, contrive, control, create, direct, drive, effect, execute, force, function, handle, implement, influence, intercession, intervention, knead, make, manipulate, manage, maneuver, means, mediation, mold, move perform, ply, process, progress, react , run, serve, shape, take, tend, tick, use, and wield. These verbs are not only positive; they imply that the person working has at least some control over the process and/or the result. The sentences "I created this class" or "I helped that student achieve his educational goals" is very different from the sentence, "I am going to the salt mines." The major antonym for work in this sense is destroy. "I destroyed that student's attempt to achieve his educational goals."
But negative synonyms for work are legion. I think the sheer number of negative synonyms points to the cultural meaning of the word. If there was a count of the number of times neutral, positive, and negative synonyms for work are used, I think the negative ones would be used the most frequently. They include daily grind, dead end, drudgery, elbow grease, grindstone, hustle, knuckle down, labor, muscle, pains, plug away, punch a clock, push, salt mines, servitude, slave, slogging, stint, strain, stress, striving, struggle, sweat, toil, travail, trial, and trouble. "I am going to the daily grind now," is a value-laden sentence. I am doing something I don't really want to do, but must. The antonyms in this case are entertainment, fun, pastime. If I am going to the "salt mines," the implication is that I cannot be having fun at work. Drudgery is the word that is the most descriptive negative synonym for work. In this situation, life is not lived, but spent looking forward to rest, whether it be after work, in retirement, on vacation, or during weekends. Most thought is to a time away from the misery of toil and labor.
Remembering how much time John Paul II spent in his encyclical writing about how good work is for man, let us close with these countercultural words. Work is, as has been said,
an obligation,
that is to say, a
duty, on the part of man.
This is true
in all the many meanings of the word.
Man must work, both because the Creator has commanded it and because of his own humanity, which requires work in order to be maintained and developed. Man must work out of regard for others, especially his own family, but also for the society he belongs to, the country of which he is a child, and the whole human family of which he is a member, since he is the heir to the work of generations and at the same time a sharer in building the future of those who will come after him in the succession of history. #16
Endnotes
1 I use the official Vatican translation of this document, found at www.vatican.va, In this paper I quote John Paul II extensively and then see what information we can glean from each quotation. The goal is to understand his teaching on work and contrast it with popular conceptions of work in our culture. Note that within his quotations, italics are in the original.
There are many topics he covers in this encyclical which are not germane to this paper because they cover issues of employment, indirect and direct employers, workers' rights, labor movements, capital and labor, key to the social question, just wages, etc. A fascinating section of this encyclical, which I urge you to read prayerfully, concerns the Church's development of a spirituality of work.
2 Footnote on concentric circles
3 See #5.
4 This is interesting …Working at any workbench…a man can easily see that
through his work he enters into two inheritances:
the inheritance of what is given to the whole of humanity in the resources of nature, and the inheritance of what others have already developed on the basis of those resources, primarily by developing technology, that is to say, by producing a whole collection of increasingly perfect instruments for work. In working, man also "enters into the labor of others". #13
For Personal Reflection and Group Sharing
How would you define work? How does your definition compare with the one found in John Paul II's encyclical on work?
Do you agree that work is good for man? Describe some ways in which you see work as a good. Compare your descriptions with current cultural thoughts on work.
Do you see a relationship between God's command to procreate and to work? In what ways is work good for the family?
Response from Sean Hurt, former Peace Corp in Malawi, Africa:
This subject of work is surprisingly complex and multi-faceted. On one hand work can be a source of great misery. As Ronda pointed out in the introduction to this chapter, we associate it with the Fall. Furthermore, work can accompany an unhealthy focus on the material world. There are many people in American society who eat to work and not the other way around.
Superficially, it's strange that there should be a profound connection between worship and work. But in Christianity we're very familiar with the connection via the Third Commandment. We must carve out time consecrated to God. This saves us from a worldly perspective. So, we have a long history of understanding work as antithetical to worship. Therefore, it is interesting to consider how work can be complementary to worship of God.
As the author points out, work makes us a special, different part of God's Creation. We are unique from the rest of existence in this respect. Indeed, human work is a wondrous thing, because true work is creative. Through work, we create. Our nature of creation is what makes us, in part, an "image of God".
The Eucharist recapitulates this powerful connection between God's creation and human work. Jesus selects bread and wine for his body and blood. This is both "fruit of the Earth
and
work of human hands". He could easily have picked something that was His creation only, like wheat and grapes, olives and pomegranates or honey and water. Instead, Jesus picked bread and wine. This, and not God's creation alone, becomes our spiritual food and drink. Why does Jesus lift up human work in this way?
I think it's insightful to look at work in a peasant society. In Malawi, we have a long dry season. Everything dies. The roads become dust. During this time, farming, the primary mode of Malawian work, is impossible. There is no irrigation. Wild fires break out everywhere, burning, destroying tree-crops, homes and forests.
When the rains do return, which coincidentally come around Christmas, it's a joyous occasion. Life has returned! The water shocks the sterile dust; the trees bloom and make such a pungent odor. The sky thickens with flying ants and termites. Children dance, wildly, naked in the rains snatching them out of the air! The forests and orchards swell with fruits, mushrooms and tasty caterpillars!
Along with God's bounty, people feel the call back to their fields. A family leaves in the early morning after the first rain. The women carry babies on their backs. Young and old dig their gardens. Maybe three generations stand side by side, laughing, chatting, singing, swinging the hoe in unison. They till 3 acres this way, by hand. Two acres are for maize, and another is for soybeans or peanuts. Like the farmer from parables, they plant the seed, and while they sleep, the maize germinates. They know not how.
The harvest comes around Easter. The whole country-side rejoices, for the granary was empty. The mood is rapturous and festive. The harvest piles high into an ox-cart! This is also the season for weddings, and the village celebrates new life!
I'm telling you this because I want to paint a picture of work in Malawi. It's different than in America. In Malawi, it feels like you and God are working together, blessing creation with bountiful life. We are both creators, in a sense. Yes, the work is back-breaking and tedious, but it is their life, their culture, and, paradoxically, a celebration.
I hope you see that American work is different. I don't know what the difference is exactly, but there is a spiritual dimension to work that's missing here. Maybe we've removed ourselves too far from work's essence of co-creation. Maybe we're too specialized. Maybe we're so consumed by a man-made world that we no longer see God's role in our economic lives. In any case, much work in America has lost its divine glory, but retained its drudgery.
Response of David Tate, Seminarian at Holy Apostles:
John Paul II refers to an abstract sense of
work
that caused a great conflict within me as I was a teenager slowly entering the adult world becoming a fully autonomous 'person'. The beginnings of this started when I was in a para-Church youth organization. I was growing in my identity as a young man and as a young Christian. I was very happy in learning that according to God, my being had value. I was so happy in my growing faith, as well as the joys of being a child of God, that I started to feel that hungering after material possessions was a road that somehow seemed not worthy of my new spiritual life. Even until this day, I am troubled to understand the lack of certain abilities in my life at that time. One thing that does seem to come to my thoughts, which is hopefully something healthy in a young Christian mind, was that I recall that I felt like my home life with my parents was something secure. The thought never occurred to me that my parents might ask me to move out some day.
To return the topic of 'work', I had connected work with being a Christian. In my young mind, whatever I was motivated to do was 'work'; regardless of whether I got paid or not. This way of thinking was not acceptable to my dad. Even though my dad never threatened me with eviction, he did clearly state on more than one occasion that some of my activities were not a "real job". My dad did not connect your 'being' with your 'job'. He understood that you worked for people that didn't care about you, and in return, you walked away each day having a paycheck in your pocket. For him, the 'work' done was not in any way an extension of your being.
It appears that my dad and I were not in the same sphere. It is interesting that John Paul II has captured a place in between my dad and I. He has taught that 'work' is both an obligation and an extension of being. I believe my dad would be more satisfied with me today, but I also take great satisfaction in that somehow the Pope has given us a wink to say that we were both correct. Entertaining a Cheshire grin, I know one point that my dad and the Pope certainly agreed on, "
From the beginning therefore he is called to work
."
When I think of 'work', I instinctively go to two distinctions. The first is individual. The second is communal. Having gotten past the basic point, I see work as diving again into the Good that point to ME and the good which points to the community. In the first category, an individual directly works out of his own needs. He is willing to trade time and effort knowing he will receive in return something he wants. In the second version of this selfish activity is an indirect desire to serve others, in so doing he ends up serving himself because he loves or cares for those he says he is trying to benefit. On the needy side, we work for ourselves and for our community because we need our self-esteem to be bolstered. We need to feel some kind of self-gratification, as well as the approval of our society.
When all is said and done, we cannot stress too much over the motives and pseudo-motives behind why we work. What we really need to do is to understand that we were made to work. This work involves the expressing of our talents, desires, and mission. These three come directly from the fact that we have been created by God with these motivations imprinted upon us.
God knows about these motivations because He has them in Himself. In His making us in His image, He has given us a reflection of His own self. He gives to each one a function and purpose to fulfill. (No one is created purpose-less.) Secondly, God has planted within us appetites that demand a source of being satisfied. Does not an athlete hunger for the reward that is felt by the body after physical exertion? All appetites seek being satisfied. C.S. Lewis suggested that God does not give us true appetites that cannot be fulfilled. And finally, the Existent things of the Universe are all bound in movement back to God. This means that each and every creature has a mission to fulfill. There must be very few humans that pass through life without asking, "What is the meaning or purpose of my life?" In a broad answer, these three aspects (talents, desires, and mission) encompass the "why" of the work we do. To recall the work of grace in our lives, we can restate the answer this way: It is grace that initiates us; grace that motivates us; and grace that leads us to the many and the final finish lines of our work. Work is natural and work is good.
In quoting John Paul II, "[The family is] the first school of work", we are reminded that procreation is at the heart of the Sacrament of Marriage; and that parents are the first teachers of their children. Anyone that has ever been in a relationship of any kind understands that another person becomes a burden to you. By burden we mean something in addition to yourself. Their life, their joys, their sorrows become an additional part of your life that you now carry around with you. Any science teacher will agree that carrying something is truly work. It is no surprise that we are at our most virtuous when we come to desire the additional burden of another person. In a strange way, we are led by compassion to do that which is the most beneficial for our self. When care for others. We call into action our abilities and strengths to be used for the care of another. What parent doesn't carry a burden for their child? What spouse doesn't carry a burden for their beloved? What child, in their own way, doesn't carry a burden for their mommy or daddy? Work is an unavoidable participation in a community. Can we not marvel at the great fruit of our labor after looking over the years of our many relationships? If relational love is work, and God is love, then who can deny that this work is truly the best kind of labor?
Response from Kathleen Brouillette, student at Holy Apostles:
In his concept of work, as in every aspect of life, it seems that in our times man and his governments seek to remove God. How can man see the value of work if not with its connection to his having been made in the image and likeness of God? In each chapter this semester, we have seen man's attempt to make himself a god, whether by imposing his power and will over others, relying on his own efforts to impose peace rather than on love and respect for his fellow man, failing to see one another as children of God, failing to respect the father figure and the priest as an example of spiritual fatherhood, or failing to understand the selfless giving that is love rather than the use of another person for one's own fulfillment and gratification. Mankind as a whole tends to see what is expedient rather than what is beautiful and true and good.
We have reduced work to a source of income. Governments have stepped in to take care of people far beyond their temporary times of need, rather than ensuring opportunities for them to achieve their own fulfillment as persons in the image and likeness of God. There is no incentive to work. There is precious little joy in work, or in achievement. In our times, the value of our work, as Dr. Toolin points out, is not in the
person
doing the work, but in the work being done – or in the amount of pay being received for it. We take precious little pride or joy in our accomplishment, unless it is in the accomplishment of how much money we have made and how much "stuff" we have acquired.
Isn't it interesting that those who have the most money and the most "stuff" are, in too many cases, those who are least happy, least fulfilled, and least content. They are seeking escape in drugs, alcohol, and sex, rather than taking joy in building families, giving good example, and making the world a better place – now and, as Dr. Toolin makes note, for those who will come after us.
As Sean Hurt points out, we take no joy in our work in America, probably because our lives do not depend on what we do. Our
lifestyles
are dependent upon it, but not our very lives. Why work when there is no sense of working
for
something? Those to whom society looks in admiration are not the ones who are working hard to make a difference and lift man up, but rather the ones who score the most points or hit the most homeruns, and those in position to give out the most benefits and buy the most votes. Few of these people are changing the world for mankind and for generations to follow, at least not in a positive and hope-giving way.
One polarization resulting from this attitude is reflected in a bumper sticker I recently saw: "You are not
entitled
to what I
earned
." Surely we know how generous people are to others in need when disaster strikes, or when we share a common dilemma. We need to be careful of perpetuating a mindset of entitlement, which fails to inspire man to become his best self as a reflection of our very God. A very different world might emerge if the Church formed us as partners with God in His work.
Response from Tommie Kim, Korean Post Master's Student
"Thus the heavens and the earth were finished, and all their multitude. And on the seventh day God finished the work that he had done, and he rested on the seventh day from all the work that he had done." (Gen 2: 1-2)
I think the definition of "work" also evolved with time. In ancient times, the majority of work was physical labor. Work was, in a certain sense, self-employed work and the reward was more directly provided depending on how much effort was invested. A diligent farmer made more earnings. People were able to thank God for favorable weather that helped the farmers to bear more fruit. Work was a basic means for living and there was a clear reason to thank God for "being able to work."
In our times life has flourished with advanced technology and more conveniences. Along with this advancement, the definition of work changed along with new values in life. We live in a highly competitive environment where technology has replaced human physical labor. As more significant income resulted from real estate and capital speculation, we have become impatient expecting immediate rewards and substantially more income than from the actual labor. The subjective aspect of the enjoyment of the work hardly exists and it is all about making money to have enough to spend. In the younger generation, it is only about making more money and so they find it very difficult to see why it is good to work in a way that improves the quality of the product or to know how to appreciate the work.
Work is also involved in God's command to procreate. What children see in the labor of their parents helps them understand the value of work in their own future lives. When children grow up witnessing the hard work of the parents to nourish them, children grow up appreciating life and they will carry this value into their own lives. Children who grow up with wealth and do not witness the work involved, take everything in life for granted. Work and money are inseparable. Money earned through work provides the necessities to live but there is more than just financial income. The value and quality of man developed through work cannot be compensated with only money. There really is no good work or bad work because man does it all. Therefore, what is important is the fact that our work exists in harmony with the work of others. We must be able to appreciate the entire workforce.
"For even when we were with you, we gave you this command: Anyone unwilling to work should not eat." (Ths II 3:10)