I am teaching a Distance Learning course in Philosophical Anthropology. For those of you who studied at Catholic universities, this course has had many name changes. It used to be called Philosophy of Man. But that became "politically incorrect" so it was changed to Philosophy of Human Nature, but now, for reasons unknown to me, it is called Philosophical Anthropology.
One of my students, a vet from the war in Iraq wrote this in one of his responses. I thought it was absolutely terrific, and asked his permission to put it on my blog:

A Peak Experience
by Nathan Wagar: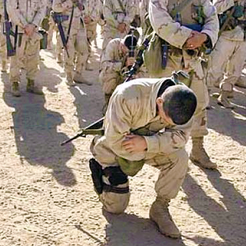 I've had so many (peak experiences), it's a bit difficult to even narrow it down to a hundred, it seems. One that springs to mind is when I became baptized conditionally (long story involving non-existent baptism records) into the Catholic Church while I was deployed to Iraq. Before I tell the brief story, a bit of background is necessary.
Our first Iraqi interpreter was captured, butchered and hung from a light pole in the middle of the city. He was replaced with an old man, and that old man became the bane of my existence for several months. He was lazy, always tired, always complaining, and out of breath after the most menial of tasks. One time he actually just laid down on the steps going into the vehicle, on his back, and started snoring. This is while we are out on mission in the middle of the city, mind you. I personally loathed this man, in fact we all did, and we were trying to figure out a way to get him replaced.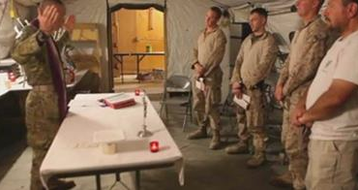 Fast forward several months. I had just finished getting baptized and receiving first communion and confirmation, in a bombed out connex building that was being used for the Iraqi army. We did missions with them, although many of them were terrorists, and a few of them we even ended up killing later. I stepped out of the room with the priest into the main bay where all the Iraqis were, and the old man was standing right in front of the doorway, waiting.
"Did you receive him?" he asked. I wasn't sure how to respond. "The blessed one, did you receive him?" he asked again. Confusion slowly dawned into realization, and then shock.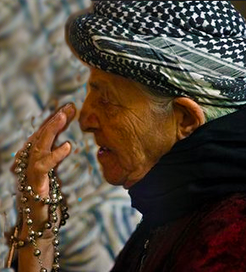 "You're not Muslim?" No, he was not. Apparently he was one of the few Chaldean Rite Catholics still living in Iraq. He proceeded to sit down with me in a room full of Muslims and began to speak about our faith, and his family's history. He showed me his cross that he had hidden under his shirt, and he talked about those in Christ that he had recently lost. He told me that it was my job to carry Christ on a "strong back" to the rest of the world, and soldiers for God would be needed "in these dark times."
"You know, they are probably going to try to kill you" I said as I looked around and noticed the murmuring soldiers crowding closer.
"I have served him in this land for sixty years. I will not deny him for a day."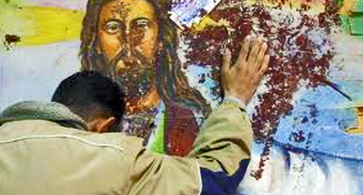 I learned a lot from that old man. I don't remember his name, and I wish I did. He taught me the gravity of the decision I had made, the brotherhood that connected me across time and space regardless of culture, and the fearlessness that must go with it. He taught me never to judge a book by its cover, even if it's an old book, and he taught me that sometimes it takes someone else to lend a helping hand when you get tired. He never caused issues for us again, and sometimes when I'd see him walking in the distance on a patrol with us, he'd smile and do the sign of the cross.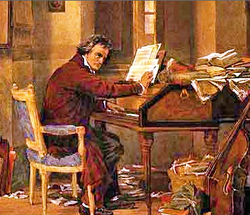 I don't think I mentioned that while spending a week with my daughters, one of my grandsons, Max, was practicing piano. The piece was Beethoven's Piano Sonata – the Pathetique. As soon as he started playing I recognized the music, but it had never been enough of a favorite to be part of my little CD collection. Tangent: my husband adored classical music. He had huge speakers and thousands and thousands of records and then CD tapes. When he died I gave all this to his best friend, Gabriel Meyer, who I knew would play everything again. Since I always want to have next to nothing, this worked out fine and I am down to about 20 favorite CD's. Anyhow, the combination of listening to the Beethoven Sonata with praying with my daughter in her cancer-pain, became incredible. That melody wound its way into the prayers and is still in my psyche now as some message that pain, such as that of Jesus, or our redemptive suffering, can be beautiful no matter how awful. I bet many of you know that piece inside out also. If not, google it.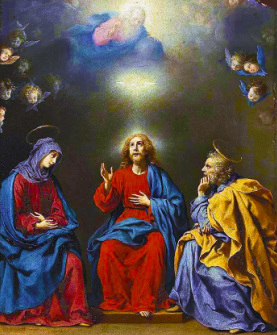 This summer is one of the only times I have been without either family or close, close, friends at the seminary. I was anxious, because I never like to be alone, even for a few hours. I thought maybe this would be a good time to become so close to the Trinity, Jesus, Mary and Joseph, my guardian angel, and my favorite saints that I would be okay. So far so good. Besides, I am finding that I am less in hyper-mind, and hyper emotions without those I love to talk to most. Talking to the Trinity, JMJ, and the angels is less manic! Smile!

Besides, the Vietnamese Sisters I am teaching Way of Love to for 6 weeks are very, very friendly. Since the kitchen is closed in the summer, they are sharing with me one Vietnamese hot meal a day. Yummy!