A horrible but also grace-filled incident happened here at the seminary. A jeep with a snow plow, driving in the dark, hit one of our young Vietnamese Sisters who studies here. She is now in a semi-coma in the ICU of Hartford Hospital. The driver was also taken to that hospital. He was inconsolable, partly because he had been the victim of the same kind of accident 2 years ago. He is a non-practicing Jew. Our seminary rector and others were at the hospital and reached out to him with such love that now he is visiting our chapel to pray for the Sister and also to get counsel from one of our seminarians! All the Vietnamese, some 50 between priests getting M.A. degrees, seminarians, and sisters, take turns sleeping in the waiting area outside ICU and visiting her room to pray for her on a relay. Also many of us non-Vietnamese visit and some stay overnight.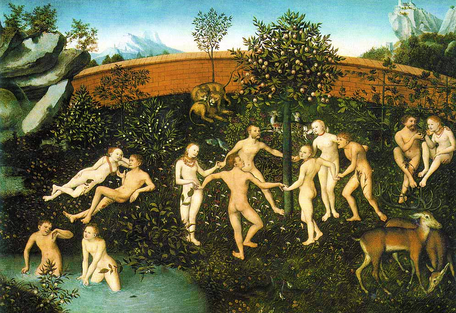 I have been reading a book about Christian social philosophy vs. non-religious political philosophy. The concept was that seeking utopia on earth through politics is misguided because only in heaven will we have perfect. It reminded me of a truth used in anger management when we are outraged that things don't go well: "perfection is a dream and an illusion." On earth that is. I think in the US many of us tend toward a kind of Pelagianism. (The heresy that we can be good out of our own efforts without needing grace.) This exhibits itself, perhaps, in the spirit of "fix it now." In daily life can this take the form of micro-management? By contrast the author I was reading emphasizes doing what is just in our sphere of influence without the dream that "if only we defeat party "x" life will be beautiful." I don't take this to mean that we don't need to vote against a party that is promoting evil, but that we can't do it with the illusion that if we succeed then sin will disappear from our country.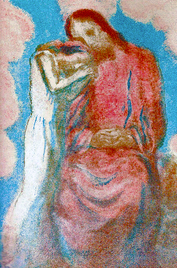 On the way to chapel, someone had written with a stick into the snow:  Jesus loves you, but I'm his favorite!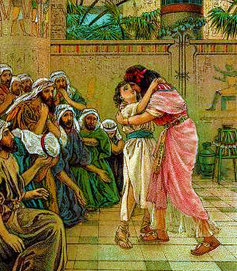 After confession I was given so much grace that I could see the same person afterwards and greet him with radiant friendliness.This incident reminded me that Jesus can take away a sinful emotion in a minute if He so chooses. (I don't mean that the feeling of justified anger is wrong in itself, but working it up into wanting to kill someone certainly is sinful.)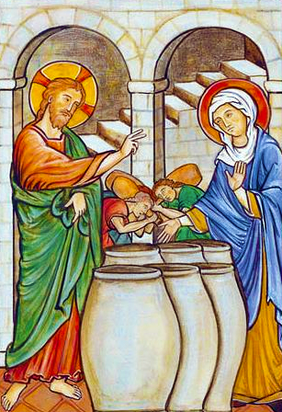 A lovely insight for the Feast of Our Lady of Lourdes. The priest, Fr. Dennis Kolinski, of the Canons Regular of St. John Cantius, suggested that a reason the reading was the Wedding at Cana for this feast, really about the Immaculate Conception, was that just as the angel greeted Mary as full of grace, not just having lots of grace; so the water jugs were to be filled to the brim! May all of us be full to the brim with love of God, neighbor and even smug enemies!