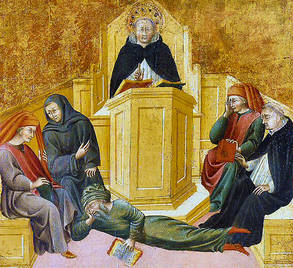 I have been reading a thesis in theology dealing with the issue of nature and grace. There is a famous dispute on this centering around a book of the famous French writer, Henri de Lubac. It is not a subject I ever dwell on as a philosopher and student of spirituality, but my readings led to a charming analogy. As I understand it, the theological dilemma concerns this: According to Thomas Aquinas, man has a natural desire to know God. If that is true does that mean that having created mankind that way, God is impelled to give each human being the grace to arrive at the beatific vision, or is it more accurate to say that the human being has its own type of earthly fulfillment with the beatific vision being a sheer super-added gift of grace. Catholic theologians can be found on either side of this matter.

Pondering this in the middle of the night, this analogy came to mind, for what it's worth.
CATholic DOGma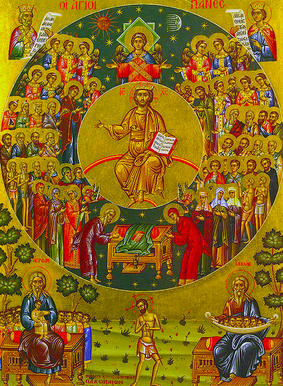 God created cats who live happily without any relationship to humans. But they also can be domesticated and enter into a close community with humans. This doesn't make them become human in spite of sentimental ways of dressing them in human attire, etc. However, it seems as if God knew that something in their make-up was such that they could be domesticated in a way much more satisfying to their nature than the way a wolf adjusts to a prison cell in the zoo!Similarly, can one say that without being determined toward the beatific vision, humans have a potency to it written into our natures?Fr. Dennis Kolinski, a priest in the order of the Canons Regular of St. John Cantius is a spiritual mentor not only to his seminarians who study at Holy Apostle but also to all of us via what I call our Catholic Café Society conducted around our 3 meals a day in the cafeteria where tables are filled by mixtures of seminarians, priests, sisters, faculty, staff, and B.A. and M.A. students.I know I have heard this before, but the joy in Fr. Kolinski's eyes and smile when he was explaining it delighted me. What he said was that men and women making the 3 vows in religious life shouldn't be thinking of it mainly as terrible sacrifice. Instead they should see that by making vows of poverty, chastity and obedience, they are living here on earth what they will have in heaven: no possessions, no sex, and obedience to God's will in all.
Watch the video imbedded below as Henri's Sartre-feline ennui muses against the thesis of a graced nature imbued with beatific potentiality.