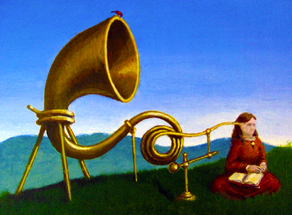 Assorted Problems and Graces:I happened to be reading the biography of a wonderful French missionary Archbishop of Kentucky, Flaget, who died around 1840 at age 87. He wrote just before his death this sterling sentence:"I forget everything: could I but forget myself I would be a perfect man." Ah the witty French.
I always try to pray to talk more softly, but I forget. Since I don't hear too well, I don't hear, either, that my voice is too loud. But it annoys lots of people that loudness. I got an insight into it in prayer today. Do I talk too loud and too vehemently because I am compensating for being a little, short person, and also a woman with, therefore seemingly less clout than taller men? If the shoe fits, any reader.....! I know I love a soft woman's voice and, myself, find louder women's voices jangling.
Incidents with tech: Most older people talk about the tech transition: a few with glee who adore the new gadgets; most with chagrin all the way to despair. Some absolutely refuse to engage in any tech thing from the TV remote to I-phones. Others like me, forced ourselves to learn enough computer and cell phone to be able to teach, write books, or simply to keep connected to beloved family.

But just a little incident, such as a faculty meeting where the Vice President of Academics is not present but is on the speaker phone, is enough to rattle my nerves. I realize how much I get clues to what others are thinking underlying what they are saying, from facial expressions or other body language. Without those signals I easily interpret anything negative said in words on a phone with the most dismal theories about the speaker's intentions! Sigh! So much do such things bother me that I begged that Vice President to give us a workshop face to face on campus for older faculty on adjusting to tech communication. He said he would. I will let you know any insights and healings I get from it!

Meanwhile, of course, the healing for insecurity is always trust in God's Providence.